Professional Photo Editing > Free Photoshop Overlays > Fireworks Overlay Free
Fireworks Overlay Free
Download these FREE Fireworks Overlays to add festive elements to your photographs or decorate a photo with multi-colored spectacular fireworks. These professionally designed firework overlays will help you easily and quickly add fireworks in Photoshop.
Using overlays is one of the easiest and most realistic ways to achieve fascinating results. The picture will be very beautiful and certainly inspire you to study Adobe Photoshop program in detail. Applying Photoshop firework overlays you get the instant result, which shows realistic results.
Such beautiful overlays will be of great help if you want to make your night shots more colorful and interesting. You can choose any fireworks overlay from the collection to emphasize the holiday mood of the photo. It can be a wedding image or a portrait, street photo or a landscape picture – anyway, these filters will help attract viewers' attention. The overlays differ in coloring and size, but all of them turn your photos into dream-like works.
---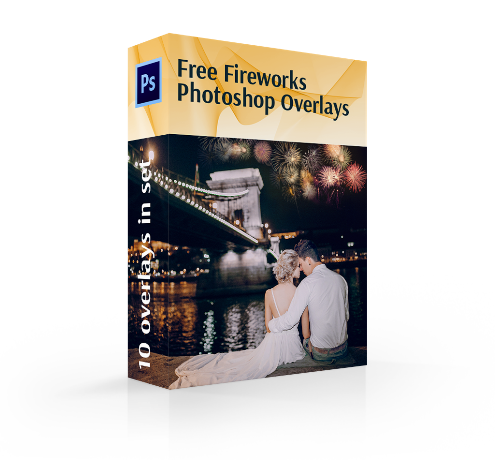 Free Fireworks Photoshop Overlays :
---
Photoshop Fireworks Overlays
If you aren't a very experienced shooter and can't take a clear night shot of your fireworks show right now, do not get upset. Below, we have prepared 10 Photoshop fireworks overlays for you to add beautiful fireworks to get a perfect picture.
All the filters are available in PNG format, so you can achieve high-quality results and share them in social networks, add to your portfolio or print. Firework overlays will greatly expand your creative possibilities and turn an average photo into a stunning shot. Simply choose a suitable plug-in and apply it to your images to create an atmospheric look.
Free Firework Overlay Photoshop
10 high-resolution fireworks Photoshop overlays
.PNG format plug-ins
Compatible with Creative Cloud and Photoshop
Quick downloading and installing
Completely FREE pack
PCs and Mac
Designed to improve RAW and JPG photos

Firework Photoshop Overlay - Free Collection
---
Free Fireworks Overlay Photoshop #1 "Sparkling Glow"