Professional Photo Editing > Free Photoshop Overlays > Free Sparkle Overlay
Free Sparkle Overlay
Hurry up to download these 10 FREE sparkle Photoshop overlays to make the scene more enchanting on your photos. Our free collection of 10 sparkle overlays will help you create a fairy magic shot fast and realistically. Some of the sparkle overlays for Photoshop we offer are available with a bokeh-like effect, gleaming streams, and galaxy systems.
No matter what photo genre you are engaged in ‒ portraiture, landscape, architecture or fantasy ‒ these sparkle overlays will turn your average photographs into magical photography. All you need is to drag the Photoshop sparkle overlay to your image and adapt the size. That's it! Your masterpiece is ready. Look through the sparkle overlays for Photoshop above and choose the overlay you like the most.
---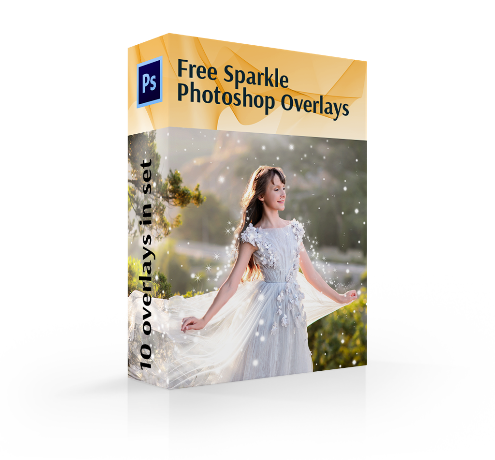 Sparkle Overlay Photoshop Free :
---
Free Photoshop Sparkle Overlay
By means of these creative sparkle overlays, the images become unique and special. Kids, family pictures and portraits acquire some exceptional shine. Sparkle Photoshop overlays turn usual scenes into original ones providing amazing results. They offer limitless possibilities for photographers and designers. They may play with position, intensity, size, and blur. Shining circles and stars add some allure to your images. If you want to create unique invitations for your guests which will definitely impress them, this sparkle overlay Photoshop set will come in handy. These overlays will improve any of your creative projects whether it is scrapbooking or printable. There should be a contrast to see the glimmer effect, so use dark background working with these digital sparkles.
Sparkle Overlays for Free
10 First-rate sparkle overlays
Available in .PNG
Supported by Adobe Creative Cloud and Ps 4, 5, and 6 editions
Completely free of charge
Compatible with almost all up-to-date PCs and Mac
Are developed to edit JPG and RAW files

Free Sparkle Photoshop Overlays
---
Sparkle Overlay #1 "Fairy Tale"