Professional Photo Editing > Free Photoshop Actions > Cinematic Photoshop Action Free
VSCO Photoshop Actions
Especially for people, who prefer working in Photoshop but like VSCO effects, FixThePhoto has designed Photoshop VSCO actions to make all their pictures VSCOishly beautiful. This Cinematic Photoshop action bundle is completely free and includes 6 universal and beautiful plugins. Use any VSCO action Photoshop you like to get a film, matte, contrast, B&W effect in several seconds. These VSCO actions for Photoshop will become an indispensable element of your photo editing toolkit and you'll keep using them again and again to imitate familiar and trendy vintage film style.
---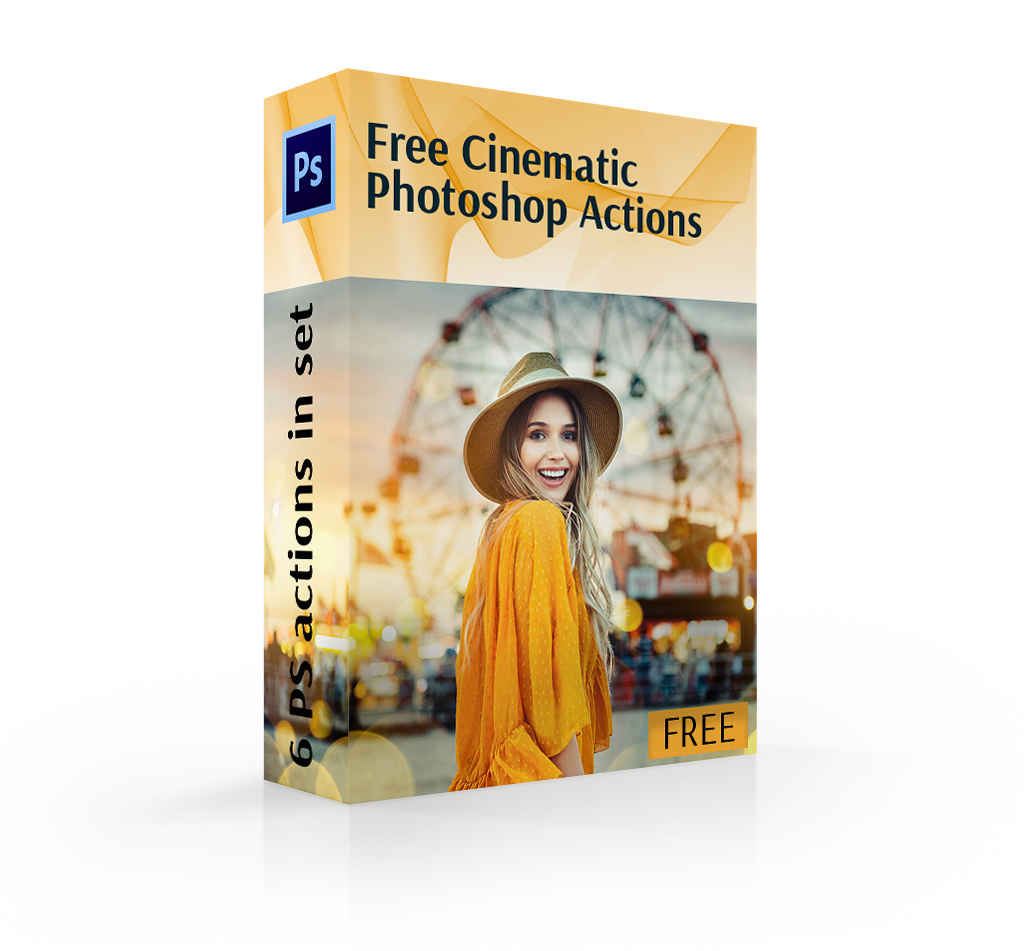 Photoshop Cinematic Actions Free Includes:
---
Cinematic Bundle – inspired by VSCO Actions Photoshop
Creating this collection, we wanted to make it universal and suitable for both beginners and more skillful photo retouchers. That's why these Photoshop actions VSCO provide the following advantages:
The actions are great and make images vibrant.
It takes several seconds to download, unzip and import these Cinematic Photoshop actions into the software. You don't need to have specific knowledge and skills to use the filters and achieve impressive results.
This is truly one of the best VSCO action Photoshop packages that you can use free. The edited photos are very atmospheric. Actually, each filter has its own "character" and affects the image in a unique way.
These VSCO Photoshop actions make every photographer and designer fully reveal his/her creative potential and experiment with different shots as much as he/she wishes. Just image how fascinating results you may get!
Though this collection is designed to enrich pictures with cinematic vibes, you can also conveniently use it to edit photos in a classic manner.
If you like taking pictures and you want to experiment, using excellent filters, you should definitely download this Photoshop actions VSCO kit.
---

Cinematic Photoshop Action
•Downloading this collection, you get 6 VSCO Photoshop actions to make image editing enjoyable and fast.
•Each filter is completely adjustable, so you may keep your style consistent.
•No matter what Photoshop version you use, all actions work without lags and delays. The same is relevant for Creative Cloud and PSE (starting with 11th edition).
•Mac and Windows.
•You can easily edit both JPG and RAW files.
Cinematic Action Photoshop - Free Collection
---
PS Action #1 "Black and White"
You can't go wrong, telling that B&W photos will always be popular. So, the first VSCO Photoshop action will make your pictures monochrome adding specific mood to each shot. If you are looking for a simple way to make your images classically beautiful, this filter is ideal.
Ps Action's Group:
Tip:
This action is often called universal, as you can apply it to different photo genres. Still, the most favorably it affects architecture, close-up portraits, and night shots.
---
PS Action #2 "Cold"
This Photoshop action VSCO is designed to make cold colors in the photo even more expressive. It beautifully accentuates blue sky and azure water, making them bright and vibrant. If you want to attract attention to the objects and people in the foreground and keep the background smooth, you may apply this filter.
Ps Action's Group:
Tip:
This action is suitable if your photo lacks a well-balanced look across the entire frame. You can adjust the filter and get the proper effect.
---

PS Action #3 "Contrast Green"
Do you enjoy shooting outdoors? Then you definitely know how direct sunlight may affect the photo and distort colors. To bring natural green shade to your photos, use this action Photoshop VSCO. It makes green objects (trees, bushes, plants, and grass) naturally bright and vivid while
Ps Action's Group:
Tip:
This filter will suit either you want to slightly brighten the colors or perform serious picture editing. You can boldly apply it to outdoor shots, portraits and lifestyle images.
---
PS Action #4 "Contrast"
If your aim is to change the tonal range of a photo and highlight the shadows, you surely need this Cinematic Look Photoshop action. Sometimes, the colors may look too flat, so don't miss a chance to add some dimension to the image in order to make the objects clearly visible. With this filter, you may regulate the contrast level depending on the mood you want to get.
Ps Action's Group:
Tip:
The action is equally useful for landscape, traveling, outdoor and fashion images.
---
PS Action #5 "Gold Filter"
Think that your photos lack bright colors and look too monotonous? We've created this VSCO filter Photoshop action to add some realistic glow to your pictures and make them cheerfully atmospheric. It looks gorgeous both in the back- and foreground, making other objects more prominent.
Ps Action's Group:
Tip:
Gold Filter helps to recollect sweet childhood memories and evokes a kind of nostalgia. You may use it for portraits, wedding, and travel photos.
---

PS Action #6 "Matte"
There is hardly a photographer, who doesn't like matte effect. Such photos look so lovely and touching. With this VSCO Photoshop action, you can add certain mood, dimension and feelings to an ordinary image and turn it into a memorable picture.
Ps Action's Group:
Tip:
This filter is well-balanced and can greatly enhance editorial, wedding, newborn, and street images.
---