Professional Photo Editing > Lightroom Presets > Film look lightroom presets
Lightroom Film Presets
Classic Films is a set of film Lightroom presets that recreate vintage look and transforms your photos. This type of photo retouching effects is very popular in fashion photography business. Now you can achieve this look without spending too much time in LR software, for reasonable price, and making several clicks only.
These creative film look Lightroom presets emulate the beauty and nostalgia of old photos. Some of the bundles that you can google in the web lack the sensitivity and color correction to really convey vintage aesthetic. They require much money and give you less quality. Our film look presets aim is achieving the pre-digital '90s aesthetic. View the examples to make sure how this filters work on real pictures.
Use Lightroom Presets for:
Comercial Use
Unlimited Number of Projects
JPG & RAW photos
Lightroom 4-6, CC
Comercial Use32
Size200 Kb
Downloads758
Rank
Custom-made by professionals this soft and subtle vintage look will work with a number of photography genres: close-ups, lifestyle, portraits, street, event, wedding photography. All images will get beautiful lighting, subject and concept. You can easily adjust the settings of each preset to your style.
With the help of these Lightroom film presets your photos will turn into something much more compelling and attract many new clients to you. Film presets Lightroom show beautiful results. Create old photos effect with quick and easy Lightroom presets film. Once you do this you will never go back to any other style of editing! Film look Lightroom presets are iconic and immediately recognizable!
---
Preset Lightroom film bundle: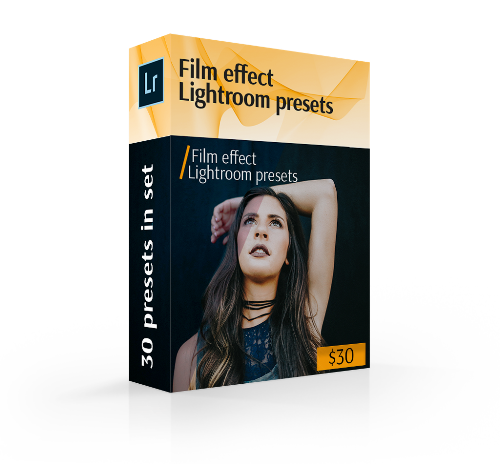 Beautiful 31 Lightroom filters
Suited for work with LR 4, 5, 6 and CC
Works on both Mac and PC devices
Сan be applied to RAW as well as JPEG images
Fully adjustable and easy in application.
Film presets for Lightroom – What they can do
fade blacks, reduces saturation and vibrance to create matte look
create dreamy "haze" that results in a film look Lightroom preset
give warmer highlights and colder shadows
brighten mid-tones a little to make an undeniable vintage look
add noise and give a unique color and grain structure
add a matte look
give your works an antique look without washing out color completely
make the total contrast level even
add slight cross-processing
warm up your photo using temperature
correct luminance
---
Customers who buy this item also buy: