Professional Photo Editing > Free Photoshop Actions > Free Photoshop Actions Wedding
Free Photoshop Actions Wedding
Free Photoshop actions wedding are designed for bridal, family, couple, engagement, anniversary and baby photographs. Photo retouching is the most important stage in creating fancy shots and give them that glamour gloss. How to do it quickly and easy even if you are not good at Photoshop?
In this collection, we have gathered unique wedding Photoshop actions free for working with event pictures and giving you that creamy, matte, classical black and white, cool, party and soft contrast effects. We suggest you making sure in the quality of our Photoshop actions wedding free and start retouching photos like a professional photographer. No hidden payments, clear downloading via email and easy installation – benefit from our photo retouching freebies right now.
---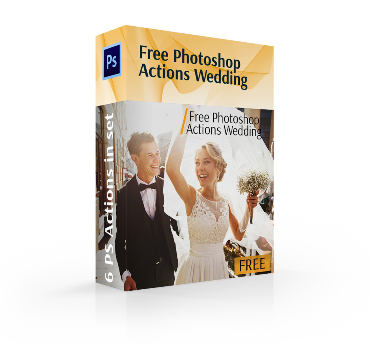 Free Wedding Photoshop Actions Bundle:
---
Free Photoshop Wedding Actions
Wedding photoshoot is hundreds of portraits, group photos, still-lives with decorations that must be adjusted in any photo retouching software. Here photographers do photo color correction. But how to make it natural, stylized and still fashionable? We have gathered 6 free professional wedding Photoshop actions with all color settings to make your photos pop and shine. These plugins are useful in any situation: to carry out basic color correction, make images stylish or classical, brighten up colors, etc., and to reduce time on photo retouching twice.
The bundle of these wedding actions for Photoshop free works according to several principles: to make light toning, smoothing sharp lines, to make the colors softer or clearer, depending on the type of action. They perform all the complicated photo retouching steps within a few seconds to a whole wedding album if you need. Portrait photographs from the ceremony and party will be improved, their quality will be increased, and colors will be better. Any wedding shooter will find a favorite style of free wedding actions for Photoshop that can give vintage, black & white, matte look and make the colors catchy and clear. It's time to download these freebies, install them on your Photoshop menu, and come to grips with a pleasant job because you can forget about the long photo retouching.
---
Wedding Photoshop Actions Free
• 6 stylish PS actions.
• You can create your own style adapting each action as you like.
• Modified to any program compatible with Photoshop CS3-CS6, Creative Cloud or Elements, version 11-18.
• Highly recommended to use RAW/JPG photo formats.
• Support computers on Mac and Windows.
Free Wedding Actions Photoshop
---
PS Action #1 "Creamy"
Wedding photography is always associated with light colors, which sometimes look very bright or with blue shades on the photo. This variation of Photoshop actions free download wedding will make the image softer, the colors warmer, and a light burnt effect will appear.
Action's group: Free Photoshop Actions Wedding
Tips:
It is used to give the picture a lightness, airiness and some mystery.
This effect is often used when retouching portraits of the bride and her white dress. The action corrects white balance naturally.
---
PS Action #2 "Matte Effect"
Matte is a must have color effect on each wedding shot. A classic effect of roughness, barely noticeable blur and muffled tones. It will take viewers a few decades back, adding vintage look.
Action's group: Free Wedding Photoshop Actions
Tips:
A special charm gives the wedding photos a warm matte effect. From photographs that have been treated by free Photoshop actions wedding, you can feel the breath of peace and tranquility.
This matte effect adds creamy and ice-cream look to the wedding photos took outdoors.
---

PS Action #3 "Perfect Black and White"
The eternal classic of two colors will attach cleanliness to the wedding dress of the bride and chic elegance to the groom's costume. Use together with Matte Action and after using these free wedding Photoshop actions, the lines become soft, and the black-and-white toning removes all the color flaws in the image.
Action's group: Free Photoshop Wedding Actions
Tips:
Black and white photographs should be in every modern wedding photo album. With the help of such free Photoshop wedding actions, you can successfully underline the delicate beauty of the bride or highlight some details. Looks great on party photos made at night at the dancing hall.
The photographs in B&W colors are irreplaceable where you need to convey a state of light sadness or thoughtfulness. Couple photographs gets much benefit from this color correction.
---
PS Action #4 "Cool"
This free wedding PS action refreshes the frame, colors, and shades become a little colder by adding a light blue tone. The wedding photo made in too warm and soft colors, will noticeably change and will be filled with clarity. Looks great on winter wedding shots.
Action's group: Wedding Photoshop Actions Free
Tips:
This action will make the photos beautiful and bright, even with low quality.
The adjustments are suitable for reporting in a church, restaurant, dancing, etc.
---
PS Action #5 "Party"
If the photo looks faded and you need clarity of lines, details and light color saturation, then this plugin from the wedding actions Photoshop free collection will serve as a magic wand that will instantly it. Apply it to the shots made after official ceremony at the restaurant when the guests are dancing and there are much artificial lighting.
Action's group: Free Wedding Actions Photoshop
Tips:
In the case of «non-ideal» lighting, a very dark picture may appear. Often, it also has a polluting shade. These free wedding actions Photoshop are able to correct the situation, brightening the dark areas and giving richness to the colors and give a film look.
Noise in photos irritates everyone, use this action to reduce it.
---

PS Action #6 "Soft Contrast"
The combination of lightening the frame and softening the lines creates a unique style that can only be achieved with the settings of this variant of Photoshop free wedding actions. It increases contrast settings and correct hues and temperature to make the photos look warm.
Action's group: Photoshop Actions Wedding Free
Tips:
Looks great on the images on the nature background.
This action allows you to «revive» externally correct, but boring image. By adjusting the contrast, you can completely change the impression of viewing such a picture.
---
These Photoshop actions wedding will cope with volume color correction and speed up your working time twice. Choose the style you need and play with color settings. Glossy results are guaranteed.