Professional Photo Editing > Free Photoshop Actions > Dramatic Action Photoshop Free
Dramatic Action Photoshop Free
Dramatic PS actions make primitive and dull photos be full of warm chocolate tints. They add clarity to lines, depth to colors, cold shades and dramatic atmosphere in the frame. The image retouching becomes much easier and brings more fun, allowing you to get new moody effects with this dramatic action for Photoshop collection.
Our dramatic effect Photoshop action set is represented by six fully adjustable effects that serve as a tool for creating stunning results. These are commands that can adjust the contrast and sharpness, make colors more intense, hide flaws and shade details of the image. Want to make the sky more vivid, person's feeling more intense, interior more expensive and nature melancholic on the photos? Download this bundle right now!
For beginners Photoshop dramatic effect actions will be an excellent way to learn how to retouch themed pictures and give them a unique style. Professionals will also appreciate the quality of every action because they take all the main work and they no longer need to perform the same manipulations with a whole series of photos.
Got interested? It's time to move all your ideas into the process of working with the dramatic effect Photoshop actions and create your own unique photo effects.
---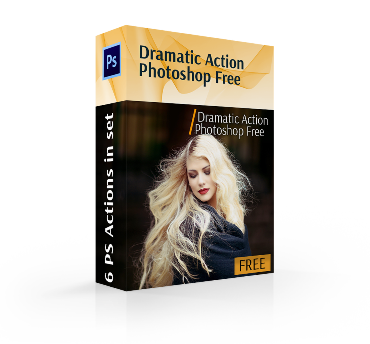 6 Dramatic Effect Photoshop Action Free Bundle:
---
Free Photoshop Dramatic Action
Our collection of tools meets all requirements of professional Photoshop actions. Each dramatic effect action Photoshop can give millions of different effects having used additional settings or a combination of other actions. All of them can change the boring photo and turn it into a professional picture.
The dramatic effect Photoshop action can be useful for photographers and photo retouchers who value their time and seek inspiration and new creative ideas. Even ordinary people who just want to enhance their photos will be able to cope with these actions because they are user-friendly, professional and ready to download right now.
All you need is to click on "Download", enter your Name and Email Address. Then a whole series of your photos will be immediately changed for the better. This will allow you to choose the boldest and brightest results to surprise the public with new dramatic photographs in your portfolio.
---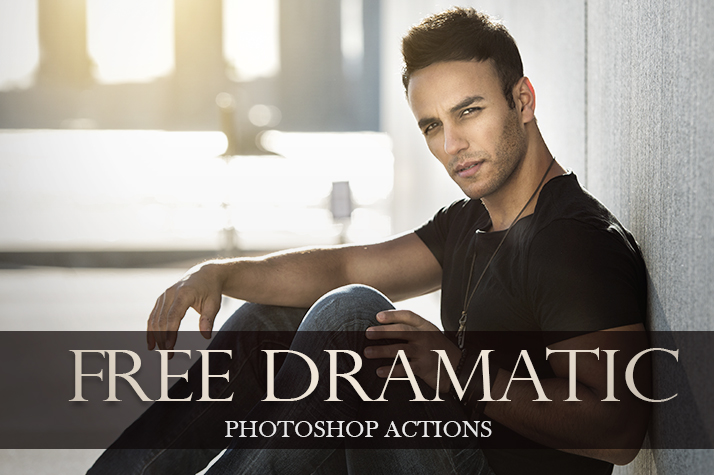 Dramatic Photoshop Action Download Free
• 6 dramatic Photoshop actions

• Fully adjustable and can be used together with other Photoshop actions

• Photoshop versions CS3-CS6 is the most suitable program for working (Creative Cloud and all new releases of Photoshop Elements are accepted too)

• You can use them on your computers or laptops, tablets or mobile phones (Mac and Windows)

• Photos are uploaded to the program in RAW and JPG formats
Free Dramatic Action for Photoshop
---
PS Action #1 "Black and White"
This is a new style of digital Black and White effect, which not only discolored the image but works out every detail to make a photo look clearer, more saturated and spacious. Dramatic character of this Photoshop dramatic action is achieved due to the richness of combinations of two colors and in the absence of a cloudy film from above.
Action's group: Dramatic Action Photoshop Free
Tips:
The black-and-white effect is indispensable if you need fast effective enhancement and you need to hide minor flaws. Highly recommend to apply to melancholic portraits.
This dramatic action Photoshop free is ideal for the images, where many incompatible and bright colors.

---
PS Action #2 "Soft"
When you need clear details on your shots then try this dramatic action for Photoshop. This effect combines dramatic and clear lines, which allows the viewer look deeper into the frame and feel the character and mood of the object.
Action's group: Dramatic Effect Photoshop Action Free
Tips:
The dramatic effect Photoshop action usually is used for an expansion of the basic parameters but if necessary the settings are changed manually to give an optimal view.
Use for portraits. This action will draw and emphasize all facial features and won't destroy the skin texture.
---

PS Action #3 "Style"
This bold dramatic effect action Photoshop is created for those who are tired of boring, flat and soft colors on the photos. This Style effect will literally make the photo live, darken some parts, place the accents and make the palette brighter.
Action's group: Free Photoshop Dramatic Action
Tips:
Resort to this action if you want to make the details clearer in the background and the foreground of the picture. Highly recommended for interior photos.
Do not use it for the photos with very bright saturated colors, otherwise, the effect will turn out to be unnatural and similar to the animated frame.
---
PS Action #4 "Hard Contrast"
This is the only dramatic action, which works with the texture and increase the brightness of the colors by changing the contrast settings. The colors themselves are not distorted, but they become saturated, making the frame look fashionable.
Action's group: Dramatic Photoshop Action Download Free
Tips:
The details and texture of the image will be noticeably improved and become brighter by adding contrast, which can be customized additionally.
Try to apply this Photoshop dramatic effect action to the photos taken on the street and among the urban territory. Especially great it will look on the male photos, where the serious character appears.

---
PS Action #5 "Sepia"
This dramatic effect Photoshop action repeats the classic sepia effect but makes the colors brighter, and the lines sharper. The image will have only a brown gamut of hues, but there is no blurring and softness of the details.
Action's group: Dramatic Action Photoshop Free
Tips:
Despite the richness of brown hues, the photo will seem softer and more harmonious.
Be careful when selecting a photo to retouch: some colors (for example, light blue and pink) will be equally light brown in the sepia photography, which is not always good.
---

PS Action #6 "Warm Toning"
The idea of this Photoshop dramatic action is to work out the palette of the whole image, not the individual parts, which is achieved by certain color toning. The colors have acquired the necessary drama, but not filled with cold shades. The images became slightly darker, saturated and more pleasant to perception.
Action's group: Dramatic Action Photoshop Free
Tips:
To make the picture even more realistic, you can dim the brightness and contrast.
A photo with this effect is one of the most neutral, well-harmonized with the majority of backgrounds.
---
In the talented hands, these dramatic Photoshop actions will create masterpieces. They will allow you design and correct colors of the images that become quite realistic and lack of flaws. Download these actions and your photos will acquire character and will not let the viewer for a long time.