Professional Photo Editing > Free Photoshop Actions > Dramatic Action Photoshop Free
Dramatic Action Photoshop Free
Dramatic PS actions make primitive and dull photos be full of warm chocolate tints. They add clarity to lines, depth to colors, cold shades and dramatic atmosphere in the frame. The image retouching becomes much easier and brings more fun, allowing you to get new moody effects with this dramatic action for Photoshop collection.
Our dramatic effect Photoshop action set is represented by six fully adjustable effects that serve as a tool for creating stunning results. These are commands that can adjust the contrast and sharpness, make colors more intense, hide flaws and shade details of the image. Want to make the sky more vivid, person's feeling more intense, interior more expensive and nature melancholic on the photos? Download this bundle right now!
For beginners Photoshop dramatic effect actions will be an excellent way to learn how to retouch themed pictures and give them a unique style. Professionals will also appreciate the quality of every action because they take all the main work and they no longer need to perform the same manipulations with a whole series of photos.
Got interested? It's time to move all your ideas into the process of working with the dramatic effect Photoshop actions and create your own unique photo effects.
---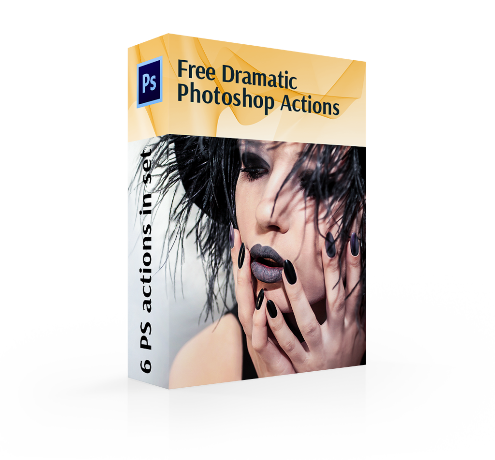 6 Dramatic Effect Photoshop Action Free Bundle:
---
Free Photoshop Dramatic Action
Our collection of tools meets all requirements of professional Photoshop actions. Each dramatic effect action Photoshop can give millions of different effects having used additional settings or a combination of other actions. All of them can change the boring photo and turn it into a professional picture.
The dramatic effect Photoshop action can be useful for photographers and photo retouchers who value their time and seek inspiration and new creative ideas. Even ordinary people who just want to enhance their photos will be able to cope with these actions because they are user-friendly, professional and ready to download right now.
Dramatic Photoshop Action Download Free
6 dramatic Photoshop actions
Fully adjustable and can be used together with other Photoshop actions
Photoshop versions CS3-CS6 is the most suitable program for working (Creative Cloud and all new releases of Photoshop Elements are accepted too)
You can use them on your computers or laptops, tablets or mobile phones (Mac and Windows)
Photos are uploaded to the program in RAW and JPG formats

Free Dramatic Action for Photoshop
---
Dramatic Action for Photoshop #1 "Black and White"