Portrait Photo Shooting: The Basic Rules About Posing A Model
Daily each photographer faces various problems such as statement of light, what lens to choose, in what time of day to shoot, etc. But one of the most complex facets of their job is the posing. Apart from experience during any kind of photo shoot when a model steps in front of your camera the first time round he or she will expect some recommendation. You should make the decision quickly and give the right guidance in order photos to look not just simply good but in the best way. Any model with mixed-up feelings and mild photographer will break hope for a great shot.
At first, the experienced photographer knows that any model raises chin sky high and with a blank stare and widening his/her eyes maniacally places hand on a hip making `the teapot`. Each model should push face forward and doing the simple chin-looking-over-the-shoulder pose create a masterpiece of art but without any exception it is only photographer who assumes control of a situation.
Key pillars of poses during a photo shoot
Have a plan in mind! Professional photographer Lynn Herrick specializing in portrait photography in north London created the excellent management for beginners. He gathered more than 200 most applied poses for portrait photographing which are available for everyone. Please do remember not each pose suites concrete model. Generally, the photographer comes across such situation during wedding session. It isn`t enough time, everything has to be done quickly and the main thing is a bride being satisfied with final result. Not always wedding photo editing will save your situation.
In order to help you FixThePhoto`s professionals have gathered the basic rules to pose models where you will find all the necessary rules to shoot portraits.
1. The shoulders: The round-shouldered back and lowered shoulders are unattractive. The round-shouldered model loses her/his neck in this case. If your beautiful `creature` forgot about a bearing, delicately remind her/him that the back should be held straight.
2. The angle and ducking: Profile view, full face view, and three-quarter view are the most widespread. Don`t forget that view changes each time the photographer asks model to tilt slightly the head or to turn closer to a light source. `Twist` model to see which ducking characterizes her/him from the best angle. If your model does not like the way you shoot each insignificant inclination, remind that the well-known actors and actresses often select a pose for a photo shoot so as to find the view which turns out to look best of all.
3. Chin: You should remember that some people without feeling that show out the second chin on the images. To get rid of this unpleasant trifle with guarantee, ask model to tilt the body forward (to lean on a back of a chair or a handrail) and to lower slightly a chin.
4. Mouth: Opening mouse on the photo creates a completely different spirit and photo. If model`s mouth is closed, it may also show negative energy on a picture or give it a bored neutral look.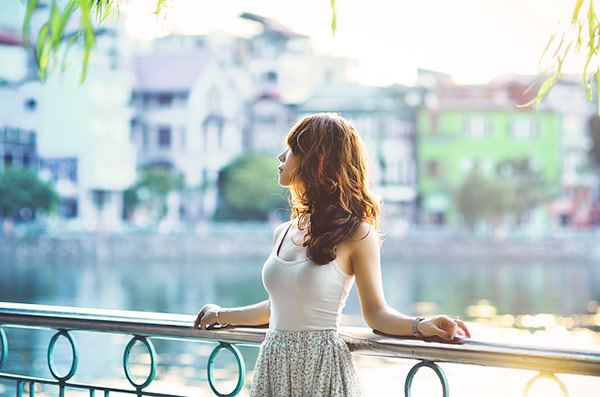 Take care of the composition
Composition in a portrait is a very wide concept. It includes both the model`s pose and building a shot. Even the background and clothing play partially an important role here. Here some tips which can help you to look about in this important issue:
1. The Golden Rule of Thirds: The better you know it, the more precisely you will be able to guess when to break it. Put it in a nutshell: following this rule of thirds the visual centers on the photo settle down in red points crossing the vertical and horizontal lines. In our previous post we were discussing it closer, if you want to receive more information about composition and Golden Rule of Thirds click 5 Simple Tips How To Improve Your Photos.
2. Center of the photo: If there are significant details do not pose the model on the center of the picture, do it at the left or at the right corner. If the background is neutral and the model looks straight, on the contrary, the photographer should figure it on the center.
3. Keep attention on eyes: It is bad if you use sharpness on ears or hair instead of the face. Always focus on the eyes. You may look at our retouching examples to see how it works.
4. How headshot works: When shooting a portrait close up, the point of shooting has to be slightly on the top in order not to show smellers – they, as a rule, look unsavory. Besides, such angle is the best choice for ample models who want to look thinner at the photos.
Do not forget about Photo Background
1. Odd details and unpleasant trifles: Taking portraits pay more attention to the room`s order. It will help you significantly to save time making retouch in the graphic editor. The clean and spacious room always looks better than the room in which magazines, newspapers, toys and books are scattered. Having cleaned unnecessary subjects for the time being, you will concentrate viewer`s attention on the model. Nevertheless, if you have problems with photo background, people or softbox appeared, you can use our photo post production services.
2. Environment: If it is an outdoor session, it is also important to look after the background. It looks funny when a tree or a lamppost appears close to model`s head. If the photographer steps away to the left or to the right or will ask model to do the same, the problem will be solved.
3. Planning of shooting and creative resources: If it is a commercial shooting, discuss beforehand with the client what backgrounds will he/she wants more – an interior of apartment or a uniform background. The second variant can be created not only by means of studio, it can be monophonic wall or the blurred by lens wood landscape.
So, we have discussed the main key moments in portrait shooting. Though do remember that sometimes you may touch upon quite difficult cases when it isn`t so easy to understand how to pose the model correctly. FixThePhoto is always ready to help. We suggest affordable photo retouching price, fast and qualitative services. Always cover different opportunities because all people are individuals and making experiments you can open a new interesting way of shooting.
Remember: there are no ugly people, there are bad photographers. Attend different portrait photography classes, develop your skills. Each person can look great in a picture. Those who seek will find! It is quite difficult to cover all points of portrait photographing in one article. If you know any important detail in this area, don`t hesitate – write your opinion in the comments.
Do you like the article? Please feel free to share it via your social accounts.
---
Pay attention this photography blog which does not require credit for the pictures and photo post production examples listed here . All photographs used in the article are only copyright to their respectful creators . These shots posted as a big admiration of portfolio and photo retouching talent the experienced rt masters have . If you found the photo on this post that is yours and do not want to be promoted on our website , please do not hesitate to write us via online chat on your right and it will be quickly deleted .
---
Rate the article!
The article's rating:
---
You comments or questions are welcome; please share your opinion on the topic.
Use Facebook:
Use Disqus: