Quick Guide How To Select A Camera Lens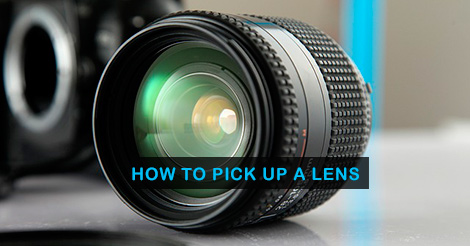 The choice of a new camera lens is the responsible process connected most often with a waste of not one hundred (sometimes thousands) dollars. For this reason it is important to know what characteristic of the camera lens should be considered during making a purchase. Choosing which lens to buy for your DSLR or interchangeable lens camera is always a problematic decision. In some cases the lens has a greater influence on quality of photos than the camera. But before passing to practical pieces of advice about lens's models, let`s deal with data you should know and what characteristic can influence on shooting.
Variations Of Focal Length
It is one of the main characteristics of a camera lens which defines the lens can `approach` or `distance` an object. Focal length is expressed in mm. There were no problems with focal distance in "film" times when the majority of DSLR had a format 24х36 mm. Nowadays in any shop you will find reflex cameras with different formats of a picture. On a camera lens the focal length can be constant or changeable (a so-called zoom lens). The more variable distances a zoom lens has the better. Reduction range of such lens is determined by a division of the longest focal length by the smallest.
For example, for the lens 17mm-55mm it will be equal 3. Choosing the camera lens you should remember that the camera does not approach the objects the corner of the image of a camera lens is changing.
The following types of lenses are allocated:
Wide-angle lens (focal length is to 35mm, as a rule, are used for bigger increase of close located subjects and bigger reduction of the far standing ones)
Long-focal-length lens (the focus distance is more than 85mm, it is used for reduction of close located subjects and increase in the far)
Ordinary lens (the focal length is in the range from 35 to 85mm, the photo turns out to be the most identical to reality)
Summing up above written information, we recommend you to use a standard camera lens for portraits shooting; wide-angle lens should be used for taking photos of landscapes and interior; animals, flying birds or your beautiful girlfriend in a balloon are better to be shot by the long-focal-length lens.
Rapidity And Other Important Features
Focal length is important characteristic but it is not the only one. Well to understand how to choose a camera lens for your DSLR or interchangeable lens camera, it is necessary to deal with several characteristics of optics. First of all it is the rapidity. It shows how good the lens is shooting in one or another conditions of insufficient illumination. Physically this characteristic reflects the maximum size of an open diaphragm of a camera lens.
One of receptions of the creative photo is blurring of a background. Rapidity definitely influences on the depth of sharply represented space. If you want to know more tricks how to make your picture look better read our previous blog article 5 Simple Tips How To Improve Your Photos.
There is still such concept as the Image Stabilization which compensates trembling of hands and greasing of the image. Different brands can designate the stabilizer variously. For example, Canon uses IS abbreviation, and Nikon - VR. The ultrasonic drive makes focusing silent, smooth, and the brightened-up lenses minimizing distortions and losses. Choosing a camera lens, it makes sense to pay attention to these factors too.
Life Peculiarities While Choosing New Camera Lens
Before making a purchase of a lens, pay attention to life factors. While examining a lens on light there should not be motes and grits inside. It is impossible to take them out. Unfortunately, they will be visible very well you can be sure that they will sport shots. Rings of a zoom and diaphragm have to move smoothly without wrench, scraping noise, and stops. Existence of other sounds says that the lens was dropped.
The first and latest lenses have to be absolutely pure without stains and spots. The case of a new has to be without scratches and damages. Do not hesitate to check work of focus in the shop. If there are problems with auto focusing, all you need is to refuse. It is necessary to use a lens with the special protective neutral filter. It is established at once in order to protect a forward camera lens from dust and garbage.
But if you just a beginner in photography art click here Best Camera For Amateur Photographers and start making a miracle.
The most popular camera lenses
Fix The Photo made a list of lenses which are the most frequently used nowadays. Remember that except characteristics, it is necessary to be convinced, that any lens will combine with a bayonet joint to your camera.
18-55 DC III
Maybe it is the one of the most inexpensive and universal camera lenses. It has no image stabilizer therefore the picture can be greased. Trepied is required to shoot win great patience. Generally when the main purpose is to buy the first DSLR at the most minimum price, the choice is quite justified.
18-135
It is a typical universal lens with the increased opportunities on a zoom. It is better to stop on this model since focus 55 mm can be small even for beginners.
18-200
This lens also is universal. But you cannot call it cheap. It costs the same as the amateur DSLR, but according to its opportunities it will replace at once some cheaper and specialized lenses.
55-250 IS II
It is a telephoto lens which perfectly will be suitable for shooting of the wild nature. It provides the accurate picture from long distance.
It is not the full list, but for the beginning photographer it is quite sufficient. We didn`t speak about macro shooting. Such lenses are very expensive so at the initial stage of training it is better to use sets of macrofilters or a macroring. But not only a good camera lens is capable to give your photo brightness and color, don`t forget that good post production photo editing can always replace the most expensive device.
We wish you good luck!
Do you like the article? Please feel free to share it via your social accounts.
---
Pay attention this photography blog which does not require credit for the pictures and photo post production examples listed here . All photographs used in the article are only copyright to their respectful creators . These shots posted as a big admiration of portfolio and photo retouching talent the experienced rt masters have . If you found the photo on this post that is yours and do not want to be promoted on our website , please do not hesitate to write us via online chat on your right and it will be quickly deleted .
---
Rate the article!
The article's rating:
---
You comments or questions are welcome; please share your opinion on the topic.
Use Facebook:
Use Disqus: