Professional Photo Editing > Free Photoshop Brushes > Photoshop Grunge Brushes Free
Photoshop Grunge Brushes Free
If you are tired of fashion, glamorous shots and you want to try something new - a grunge picture is what you need. Grunge is one of the most controversial fashion photography trends. Grunge is a combination of styles, colors and textures. Download 10 free grunge Photoshop brushes and see how they will help you improve and supplement your photos.
Free Photoshop grunge brushes help you perfect your designs and add a beautiful vintage effect for your work. You can edit Photoshop free grunge brushes the way you like, work with color, size and style. If you want to have amazing backgrounds for your images, websites and posters with incredible textures, gradients and brushes, you need use amazing grunge brushes Photoshop free from FixThePhoto.
Here you will find the best set of 10 free Photoshop grunge brushes. You can download grunge brushes for free. Use them in your work right now.
---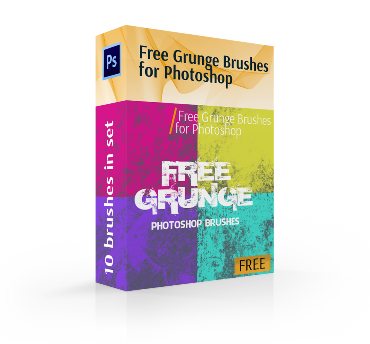 10 Grunge Brushes Photoshop Free Bundle :
---
Grunge Photoshop Brushes Free Download
The effects of rubbing, rust, old age, with the presence of other elements or even fonts should be visible on the photos in grunge style. Therefore, after the photo session, you need to retouch photos in Photoshop, give them a touch of surrealism, so that negligence is well visible. You can achieve this goal by using color correction, applying effects and using grunge brush Photoshop free.
The ability to download and install ready-made brushes, as well as create your own ones, incredibly saves time and efforts for Photoshop users. Effective work with brushes is simple and easy to master. These free Photoshop brushes grunge will become vital in your work, no matter what level of Photoshop you have.
Grunge brush set Photoshop free is 10 exclusive brushes for work in different styles and the ability to create unique photos without limiting your imagination. Different color shades will give an opportunity to experiment and create a completely new product. You can easily download best grunge brushes Photoshop free right now and start your work.
---
Free Grunge Brushes for Photoshop
• 10 unique free grunge Photoshop brushes
• Compatible with all versions of Adobe Lightroom
• Be applied to JPEG and RAW photos
• Fully managed
• Easy in use
• For Mac and PC
• Quick download
• .abr format
Grunge Brush Set Photoshop Free
---
PS Grunge Brush #1
This grunge brush has yellow texture with scratches and attritions throughout the area. This background for a Photoshop looks like an old worn concrete wall. The texture is perfect for working in cityscape, fashion, urban styles. Bright paint and the effect of the aged surface will inspire you to create a masterpiece.
Brush's group: Grunge Brush Photoshop Free
Recommendations:
To get the grunge effect and to accentuate the viewer's attention, textures with bright saturated spots of paint are added to the image.