Professional Photo Editing > Free Photoshop Brushes > Fog Brushes Photoshop Free
Fog Brushes Photoshop Free
Weather conditions betray you during a photoshoot? Don't worry, FixThePhoto prepared a collection of Free Fog Brushes for you to make your photos moody. In this free bundle of 10 Photoshop brushes we have gathered a set of different shapes, colors, sizes of fog that may help you create an effect of natural fog in Photoshop. A beautiful mist will not just enhance your photos, but also give them some incredible atmosphere and mystery. With the help of these free Photoshop fog brushes, you will be able to create the haze or draw hazy clouds above the surface easily.
If you ever wanted to add some mystery, or some drama to your picture, create a mysterious and even scary forest scene, or sullen climate of some street in the suburb of your town, this freebie is right for you. Wanted to convey the atmosphere of the concert where everything filled with smoke? Did you know how to do it? Or you just tried to create a feeling of fog in vain? Now it will be easier and faster for you, because this amazing collection of fog brushes for Photoshop will give you the opportunity to make a photo mist without worrying about the transparency, color and intensity to get it look realistic and fine.
---
10 Free Photoshop Fog Brushes Bundle :
---
Free Fog Brushes Photoshop
Today we want to give you 10 Photoshop brushes: free fog and mist. This will allow you to add magical touch and express your mood on your images. Remember that wonderful feeling when you catch the tranquility of the early morning or chilly misty dawn? It is really hard to capture it and convey that atmosphere. Fortunately, there is a way to simulate such effects very easily due to the Photoshop software and its wide choice of effects and brushes. By the way, it is very important to choose the right pictures for such photo retouching to make the effect look more realistic.
You should understand that these free fog Photoshop brushes are created to emphasize the mood and the environment on the photo, but not to create it in the photos where there is no sign of it. So in order to succeed in this case, choose the natural pictures with feeling of misty and foggy. What is also very important is not to be afraid to experiment and try something new with this collection of fog brushes for Photoshop.
---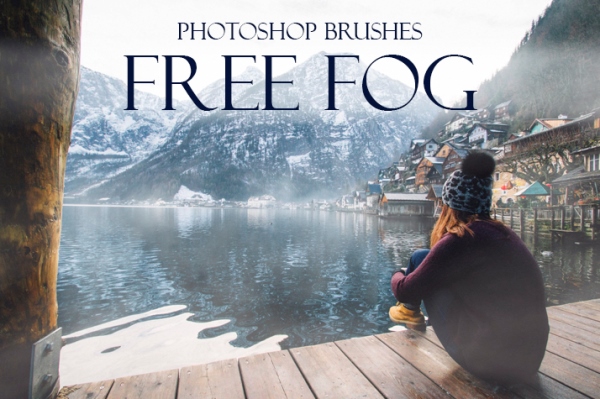 Free Photoshop Brushes Fog
• This set contains 10 original free fog brushes Photoshop;
• The file format of the brushes is .abr;
• Works well on Photoshop 4-6;
• You can apply these brushes to Raw and JPG photos;
• Free download and quick installing.
Photoshop Fog Brushes Free Download
---
PS Fog Brush #1
With the help of this type of free fog Photoshop brushes, you are guaranteed to create some dense mist together with the corresponding cold atmosphere. It will add the feeling of deepness and coldness and even some estrangement. Such brush will be especially suitable for gloomy photos of the nature and people on the nature far away from the city life where the peace and quiet dominate.
Brush's group: Fog Brushes Photoshop Free
Tips:
Add a little mist to the portrait or the subject, creating an illusion as if she or he stays in a fog.
Highly recommend to use on black and white images.