Professional Photo Editing > Lightroom Presets > Lightroom presets weddings
Preset Lightroom Wedding
Specialists of our company which offer various photo services are always ready to become a reliable partner in the field of photo post processing and save time for the customers - photographers, beginning retouchers and professional graphic designers. For wedding photographers and interest group our wedding photography Lightroom presets are offered and ready to download. They present a collection with saved settings of various parameters and indications that automatically transform a photo and give it a certain style.
Lightroom wedding presets bundle:
Comercial Use
Unlimited Number of Projects
JPG & RAW photos
Lightroom 4-6, CC
Comercial Use30
Size119
Downloads1023
Rank
Our selection of Lightroom presets weddings includes 30 effects, each of which can be applied to the photo with one click. Any preset Lightroom wedding aims to improve the quality of the wedding photography, to give it a unique style, to emphasize the tender tones in the wedding photo, to align the skin color and add art effects. Using wedding photo Lightroom presets you increase the efficiency of your workflow, save time and you can perform additional settings after applying a separate Lightroom preset for wedding.
---
Lightroom wedding presets bundle: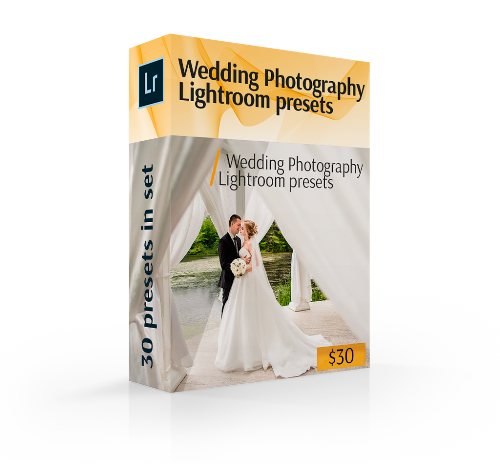 The wedding photography presets package offers 23 color effects that improve the quality of photos and increase the brightness of the color gamut of the image.
7 black & white wedding photo Lightroom presets the quality of which is much higher than the usual black and white coloring.
Any version of Lightroom, release 4,5,6 and SS, will warrant the successful usage of our Lightroom wedding presets.
Photographers and retouchers can use Lightroom presets for wedding and download them to their computer, laptop or tablet based on Mac or Windows.
In order to avoid the quality deterioration of photos, it is recommended to apply wedding presets Lightroom to images in RAW and JPEG format.
Each preset Lightroom wedding can be adjustable to additional changes if the received result does not satisfy the photo editor.
Wedding Lightroom presets
(functional features of the effects package)
FixThePhoto company focuses on the quality, naturalness and ideal combination of parameters that will simplify and speed up the labor-intensive photo editing process when creating Adobe Lightroom presets for weddings.
All the wedding Lightroom presets are designed with a wedding style and have the following characteristics:
Each Lightroom preset for wedding has a universal character and clearly adjusted indicators, which are aimed exclusively to improve the wedding image.
In the package of Lightroom wedding presets there are kinds of plugins that will add sunlight to the image, improve the quality and perform automatic skin retouching. Select and apply wedding presets for Lightroom numerous times.
The wedding Lightroom presets set contains luxury effects, like sepia, black and white, and film effect, which give the image a distinctive and elegant look.
Any kinds of retouching such as toning, vignetting, matting, etc. are now available in automatic mode using the provided wedding presets for Lightroom.
A photo of any quality, dark or illuminated, with defects or made in different light conditions, can be transformed after applying different types of wedding photography presets.
---
Experiment with our Adobe Lightroom presets for weddings, simplify the photo editing process and value your time.
Customers who buy this item also buy: