Professional Photo Editing > Free Lightroom Presets > Free Film Lightroom Presets
Lightroom Film Presets Free Ready to Download
The top-line program LR has in their arsenal many presets and action sets to create a film effect. You can create presets by yourself, but more easy is ready-made ones from our company and film presets for Lightroom free. Our developers took the bestselling samples of films and tried to replicate as naturally as possible their color correction, graininess and color contrast.
Download our free film presets, and experiment with the adjustments of colors, curves and grain. In a few very simple steps everyone can create an effect of film tape that will attach the photos a very exclusive mood. Using Adobe Lightroom in combination with really high-level free Lightroom film presets, you can instantly get astonishing results.
---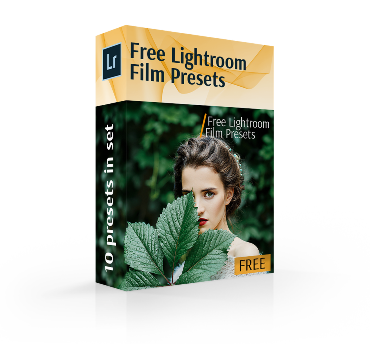 10 Lightroom Film Presets Free Bundle Include:
---
Peculiarities of Free Film Lightroom Presets
Our plugins are generated by taking into account all the special aspects of film photographs. One of the key features of film photography is the low contrast of white and black image points. The film is developed in medium colors, and it goes to show only dilute or low colors. Our effects will simplify a problem to achievement the desired result at the click of a button.
The peculiarity of the Lightroom presets with the film imprint involves the correct color and grain settings. Generalize the color characteristics of the film photography are impossible because of the fact that the film is very different and transmits colors in different ways. Creating a film effect, you can choose a more suitable frame color gamut from the variety of our presets.
Regardless of the quality of the photosensitive surface, granularity is a constant companion of most kinds of film. This particular thing gives the photo a zest. You can obtain this effect by selecting one of our presets.
---
All Kinds of Film Presets Lightroom Free
---
LR Preset #1 "B&W Matte"
This preset shows the result of the displacement of the black and white points, which is so characteristic for the film. In the left part of the image is the darkest point of the whole image, but this area is far from black, it is dark gray. Despite the fact that this preset has a black and white effect, the tone of the photo turns out to be warm and matte, and the graininess of the film filters free gives uniqueness.

---
LR Preset #2 "Film Soft"
Most photographers, retouchers resort to such film presets to imitate cinematic tone. It gives the image deep, easy roughness and some kind of romanticism. This plugin can be applied to all genres of photography, but advisably to wedding photos, portraits and shots from travelling.
---
LR Preset #3 "Contrast"
Today it is very popular film preset Lightroom free of many users. This effect is something like an old photograph, because it provokes romantic associations. The preset practically does not affect the original colors of the image, only the contrast is reduced and the options of the lights / shadows are made. Often used to emphasize the color contrast of scenery and photos with nature, but also suitable for retouching portraits.
---
LR Preset #4 "Tonning Warm"
This effect imparts warmth, tenderness, lightness and certain coziness the photography. Ideal for women's portraits or children's photographs, for fashion photographs or soften lines in the fine arts.

---
LR Preset #5 "Grains"
This one gives the photo a granularity, which will be especially noticeable in the shadow areas. The most successful this effect will look at portraits or in photographs, where the object is shot close-up.
---
LR Preset #6 "Film 1960"
After using this plugin, the wedding photographs, ordinary images with subjects at the fore will get a nice subtle fade effect by blurring the background. The dullness of the colors and low contrast make the skin of depicted people color more natural and details will be full of grains and dimmed colors.
---
LR Preset #7 "Soft Skin"
This one is bright and airy with hints of pastel undertones and an emphasis on soft and peachy skin tones. Ideally emphasize the skin texture in portraits, nude photos and boudoir.
---
LR Preset #8 "Vintage"
These free Lightroom film presets of such old school effect will change the colors to a bit subdued, and the images will become clear and expressive. The given plugin presents a warm "vintage" picture, quite popular recently. It works best with pictures that have a lot of blue and its shades, such as sky, water, etc.
---
LR Preset #9 "Contrast for Dark"
The given film for Lightroom action is used when a retoucher wants to highlight some dark areas on a photograph to catch an eye of public. It approaches by low and undersaturated colours. Such preset can be applied according to individual photographers' taste, but in common to portraits.
---
LR Preset #10 "Film Beige"
Beige preset endows a picture with a combination of soft colors, light blurring inherent in film photos and a pint size vignetting.
---
Not every professional photographer has such collections of presets, so our service offers free professional Lightroom presets for photographers of different genres. The ready synergy of settings will significantly save time for photographers to image processing and will provide an opportunity to enrich their portfolio with new styles of photos.
Now you have a better idea of how with the help of LR presets dramatically reduce the time spent on photo post processing, while getting the best result and improving your creativity. Spend free time looking for fresh presets.
---
Helpful Video Guide about Lightroom Presets
---
More Free Lightroom Presets by FixThePhoto
Do you want more Free Lightroom Presets? Check out what we have.
---
---
---