Professional Photo Editing > Free Lightroom Presets > Free Lightroom Wedding Presets
10 Free Lightroom Presets Wedding Photography
Even pictures done by professional photographers don't always turn out beautiful. It is impossible to make everything perfect. It's unpleasant, when a photographer sees flaws in your wedding photos, but don't get upset! Our free Lightroom wedding presets will easily turn any shot into a real masterpiece.
Our Adobe presets are good for amateurs and professional photographers. You can use free Lightroom presets to edit wedding, fashion and portrait photography to make the pictures unique and magnificent. With free photography presets you easily make the necessary changes to your images. These free Lightroom presets for wedding photographers let the photos look gorgeous.
---
10 Free Preset Lightroom Wedding Bundle Includes: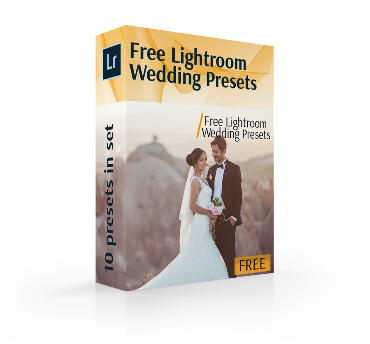 ---
Why Should you Use Free Lightroom Wedding Presets
After the wedding photoshooting, photographers spend a lot of time on image editing. Therefore, we have developed best Lightroom presets for weddings. You can find the Adobe Lightroom presets that best fit your photos in no time, including: best free Lightroom presets for portraits, Lightroom presets for outdoor photos, Lightroom black and white, Lightroom vintage filters. The process of wedding photos editing is complex and some photographers are afraid of entrusting photo retouching to LR plugins.If you are still doubtful, check out the advantages of professional Lightroom presets we provide:
It saves time. Using Lightroom presets, with just one click you can instantly make your photo 85-90% edited, and sometimes one click is enough to completely make the photo editing!
Variety. Using Lightroom presets for professional photographers will give you a lot of creative possibilities that will allow you to effectively apply different styles and see which fits a particular photo or the entire photo shoot best.
Full customization. All the Lightroom HDR presets are fully customizable and the changes can be applied with a few clicks.
Batch photo post processing. One of the biggest advantages of using LR is the ability to edit a lot of photos very quickly by synchronization. If you combine Adobe Lightroom presets HDR with batch editing, you can significantly reduce the time you spend on photo post production.
Features of Presets Lightroom Wedding Free
10 plugins for LR
Compatible with all versions of Adobe LR
Suitable for editing of JPEG and RAWimages
You can work with both Mac and PC
They are fully managed
Detailed Information about Free Wedding Lightroom Presets
---
Free Lightroom Preset #1 "Cold Wind"