Professional Photo Editing > Free Lightroom Presets > Free Lightroom Wedding Presets
10 Free Lightroom Presets Wedding Photography
Even pictures done by professional photographers don't always turn out beautiful. It is impossible to make everything perfect. It's unpleasant, when a photographer sees flaws in your wedding photos, but don't get upset! Our free Lightroom wedding presets will easily turn any shot into a real masterpiece.
Our Adobe presets are good for amateurs and professional photographers. You can use free Lightroom presets to edit wedding, fashion and portrait photography to make the pictures unique and magnificent. With free photography presets you easily make the necessary changes to your images. These free Lightroom presets for wedding photographers let the photos look gorgeous.
---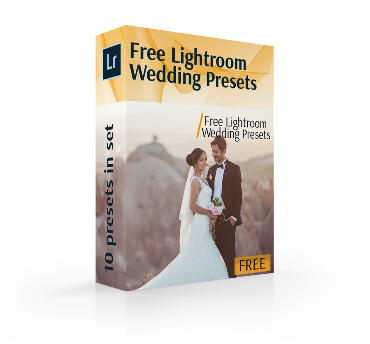 10 Free Preset Lightroom Wedding Bundle Includes:
---
Why Should you Use Free Lightroom Wedding Presets
After the wedding photoshooting, photographers spend a lot of time on image editing. Therefore, we have developed best Lightroom presets for weddings. You can find the Adobe Lightroom presets that best fit your photos in no time, including: best free Lightroom presets for portraits, Lightroom presets for outdoor photos, Lightroom black and white, Lightroom vintage filters.
The process of wedding photos editing is complex and some photographers are afraid of entrusting photo retouching to LR plugins. If you are still doubtful, check out the advantages of professional Lightroom presets we provide:
It saves time. Using Lightroom presets, with just one click you can instantly make your photo 85-90% edited, and sometimes one click is enough to completely make the photo editing!
Variety. Using Lightroom presets for professional photographers will give you a lot of creative possibilities that will allow you to effectively apply different styles and see which fits a particular photo or the entire photo shoot best.
Full customization. All the Lightroom HDR presets are fully customizable and the changes can be applied with a few clicks.
Batch photo post processing. One of the biggest advantages of using LR is the ability to edit a lot of photos very quickly by synchronization. If you combine Adobe Lightroom presets HDR with batch editing, you can significantly reduce the time you spend on photo post production.
---
Detailed Information about Free Wedding Lightroom Presets
---
LR Preset #1 "Cold light"
This free wedding preset for Lightroom is perfect for creating images in warm and soft tones. It will give you pictures a special cozy vibe.

---
LR Preset #2 "Warm filter"
This free wedding presets for Lightroom CC will make the wedding photo more warm and cheerful. The yellow and purple shades are emphasized here. There's also a small dark vignette which is almost invisible, but still, adds to the frame an original atmosphere.
---
LR Preset #3 "Medium contrast"
This free Lightroom preset for weddings adds vibrance and contrast to your image in order to complete the look and enhance the beauty of it.
---
LR Preset #4 "Toning"
This free Lightroom wedding preset gives your pictures a split toned effect. Split toning allows you to add different colors to the shadows and highlights, which makes your pictures look more professional.

These are the examples of the best presets for Lightroom, which are usually used by professional retouchers during the portrait enhancing. The whole presets are created by specialists and are meant to be used exactly for portrait retouching. If you need really good portrait Lightroom presets free, download these ones and you will make great progress in photo retouching.
---
LR Preset #5 "Warm matte"
This Lightroom preset creates a matte and cinematic look. It will really help to take your pictures to another level and creating breath-taking post processing results!
---
LR Preset #6 "Warm white balance"
This Adobe Lightroom preset adjusts white balance to warm colors. White balance is an important part of picture editing, this plugin can make all the difference in creating images that will stand out in your memory!
---
LR Preset #7 "Soft light"
This is a wonderful, light and toning plugin for LR — perfect for photos from the beach, made in the evening in cloudy weather. The effect is not so good for photography made in bright daylight, but it will surely cope with evening pictures.
---
LR Preset #8 "B&W soft"
Black-and-white photographs are considered more emotional than ordinary pictures — they convey emotions and feelings much better. A good black and white photo expresses a story about what is happening behind, how this story develops and ends.
---
LR Preset #9 "Vintage soft"
This free wedding preset for Lightroom gives your pictures a warm "vintage" look, which has been so in trend recently. The preset works best with pictures that have a lot of blue and its shades in it — sky, water, etc.
---
LR Preset #10 "Toning orange"
This free wedding Lightroom preset is very eye-catching. It creates a beautiful color contrast by adjusting highlights and shadows, rather than the temperature of your entire image.
---
Helpful Video Guide about Lightroom Presets
---
More Free Lightroom Presets by FixThePhoto
Do you want more Free Lightroom Presets? Check out what we have.
---
---
---