Professional Photo Editing > Free Photoshop Overlays > Free Fog Overlays for Photoshop
Free Fog Overlays for Photoshop
What to do if you cannot photograph a real fog, but really want? A set of free Photoshop fog overlays from our team will help give your photos some mystery and drama by creating a photorealistic fog. With these filters you can create a fog in Photoshop on any photo in just a few minutes. The fog gives the photos an atmosphere of mystery and helps to hide the unattractive background. Using these Photoshop mist overlays is the easiest and fastest way to make a fog.
If you need to add depth, realism and drama to your photos, then the best choice is to use the fog overlay for Photoshop from FixThePhoto's pack. All filters in this package have brightness, contrast and color changes that you can see on foggy days. Also our retouchers added a little noise for the photos not to look overretouched. Our overlays let you create a mist for a variety of styles and shapes to suit any genre of digital photography.
---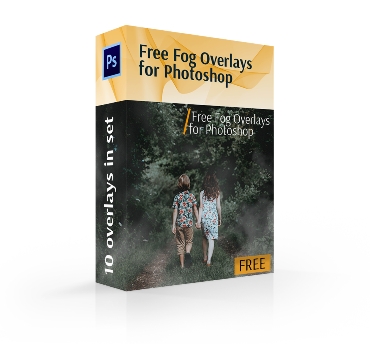 10 Fog Overlay Photoshop Free Bundle :
---
Free Photoshop Fog Overlay
These 10 free fog overlays for Photoshop allow you to make a wide variety of photos – spooky, romantic, dreamy, dark or gloomy. These overlays were designed using real smoke to provide the most realistic touch on your photographs. No matter what you need – a subtle fog over the mountains or a model surrounded by a cloud of mist – our overlays will help you.
Do you want to create a high-quality photo with fog on the background, but you do not have enough time? No problem, because our Photoshop fog overlays allow you to create the desired result almost instantly. Instead of long and monotonous photo retouching, use our overlays in different versions for your photos to be more diverse and spooky.
We understand that creating such effects manually can be frustrating and frightening, especially if you are an inexperienced Adobe Photoshop user who enjoys photography as a hobby or runs your own blog. Even if you already have a lot of experience in this matter, you do not want to spend your day sitting at the computer and retouching photos to create a fog effect by hand, make your workflow much easier and raise the quality of the result using our fog overlays for Photoshop.
---
Photoshop Free Fog Overlay
• 10 different fog overlays Photoshop
• All overlays are in *. jpg format
• Compatibility with Adobe Creative Cloud and Photoshop 4-6
• Instant downloading
• Works for Mac and PC users
• Works with Raw and JPG photos
Mist Overlay Photoshop Free
---
PS Overlay #1 "In the Woods"
A scattered fog looks great if the image already contains an element of fog, and you want just to strengthen individual details.

---
PS Overlay #2 "Dramatic Look"
On this overlay you can see the haze, the weakest kind of fog. Light, translucent fog gives the photo a special charm.
---

PS Overlay #3 "Mist"
This free fog overlay will add a mystical, impenetrable, and dense fog to your photos.
---
PS Overlay #4 "Mystical Haze"
If you want to get the evening or morning mist, which slowly spreads over the ground's surface or water (for example, the fog over the river), download this fog overlay Photoshop free.

---
PS Overlay #5 "Translucent Smoke"
On this overlay the fog acquires an unusual form of a spiral, which envelops everything around.
---

PS Overlay #6 "Forest Mist"
A thick tangle of white fog that is located in the left corner of the picture. This fog in landscape photography brings mystery and softness.
---
PS Overlay #7 "Hidden Place"
A solid fog. The objects of the image are almost invisible, it is very difficult to distinguish them. This overlay is mostly the evening, night and morning fog.
---
PS Overlay #8 "Shimmer"
A dissipating fog densely covers your photos. Highly recommended to apply when you need to make a mystic and spooky photos.
---

PS Overlay #9 "Light Mist"
A dense, white, diffuse fog that will tightly cover your entire photo. Make a fast fog overlay Photoshop download and get romantic images.
---
PS Overlay #10 "Before the Sunrise"
A white solid and dense cloud of smoke. You get the feeling of seeing nothing at the touching distance after applying this fog overlay for Photoshop.
---
If you need to add a romantic or dramatic atmosphere to your pictures, then our fog overlays for Photoshop are precisely what you want. They can create an exalted mood and ethereal hint on your images, permanently leaving a big impact on anybody who saw them.