Professional Photo Editing > Free Photoshop Overlays > Free Dust Photoshop Overlays
Dust Overlay Free
Use a free dust overlay designed by FixThePhoto to create vintage photos or add realistic snow to your photos in several clicks. Add a little noise, scratches, and minor damages that will carefully make your picture look older and give it an old fashion look. The dust overlays won't spoil your photos anyway, on the contrary, this effect will add mood and atmosphere, sometimes lightness and informality.
Every photographer must have at least one free photo dust overlay at his/her disposal. After all, sometimes such a small stroke can help create an amazing photo that will delight you and everyone around. 10 quality overlays are completely ready for use. Just download them and see what effects you will get after their application.
---
Dust Overlay Photoshop Free :
---
Photoshop Dust Overlay Free
Add some dust, glowing particles or clouds to your photos. You will get incredible images after using any free dust Photoshop overlay of the set. We offer you 10 beautiful overlays that will add sparkling fountains, Bokeh effect, galactic spirals or thick fog to your pictures.
Bring a piece of magic into your photos. You can apply this set of free overlays to various pictures: landscapes, portraits, architectural objects, and many others. Choose the necessary size, decide on the placement and get the desired result. Experiment with dusty clouds and find the most suitable option for you. 10 different textures of dust, powder, and particles are available to you absolutely free. Select the dust overlay you like and get stunning photographs.
---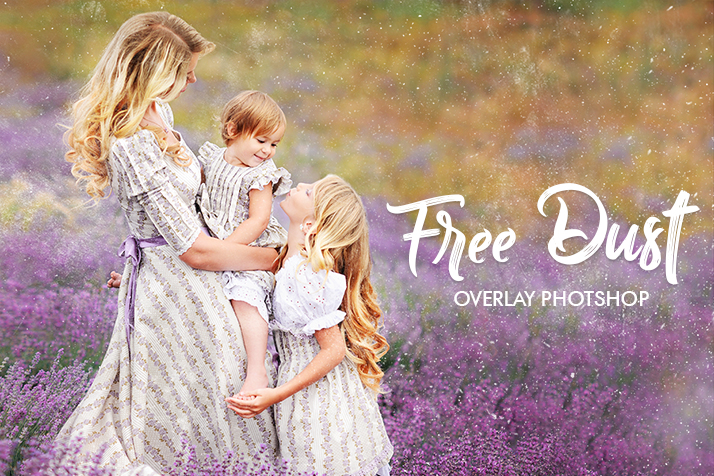 Free Overlay Dust
• 10 free dust overlays
• Files of *. JPG format
• You can work with these overlays in Adobe Creative Cloud and Photoshop 4-6
• Get the desired free photo dust overlay in a few seconds
• PC and Mac users can work with this set
• You can edit JPG and RAW images
Free Dust Overlay Photoshop Bundle
---
PS Overlay #1"Snow Pellets"
This amazing free dust photo overlay will make your picture softer and gentler. Small particles of snow will reduce the brightness and saturation so the photo looks incredibly tender.
Overlay's group: Dust Overlay
Advice: To make photos look like nice old images with some retro traits, use this wonderful dust overlay.

---
PS Overlay #2 "White Particles"
Change the clarity of the photo by applying this dust photo overlay. Adjust the transparency and size of the white particles and get a wonderful effect.
Overlay's group: Dust Overlay Free
Advice: You should lighten shaded photos before applying this free dust overlay.
---
PS Overlay #3 "Small Scuffs"
Do you want to make your photo look old and stylish? Add a few scratches, cracks and scuffs by the dint of this dust overlay.
Overlay's group: Free Photo Dust Overlay
Advice: It is possible to apply this overlay as a background.
---
PS Overlay #4 "Vintage"
Turn the photos into frames from the old movie. Thin vertical stripes will bring vintage features to your image. Use this Photoshop dust overlay free and create a real masterpiece of digital art.
Overlay's group: Photoshop Dust Overlay Free
Advice: Apply to beach photographs.

---
PS Overlay #5 "Sand Dust"
Small grains of sand are hardly noticeable in the photograph, but they do a great job.
Overlay's group: Free Dust Overlay
Advice: Play with this sandy dust overlay combining various options.
---

PS Dust overlay #6 "Tiny Scratches"
This free dust overlay will add a bit of vintage and dreaminess to your images. It will soften all the tones and make them less saturated.
Overlay's group: Free Dust Photoshop Overlay
Advice: If you do not want the entire picture to be covered with particles, you can apply a mask to clear some parts.
---
PS Overlay #7 "Powder"
Use this free dust photo overlay to make the image a bit lighter. The effect of powder looks great on bright photographs making them softer. You can apply it to the whole picture or highlight only some of its parts.
Overlay's group: Dust Overlay Photoshop Free
Advice: It is suitable for lifestyle photos, not studio ones.
---
PS Overlay #8 "Noise"
This free overlay dust adds bright highlights to images. Apply the overlay as you like and make the picture more energetic and lively.
Overlay's group: Dust Photo Overlay
Advice: Add some dynamics to your pictures and make them more vivid.
---

PS Overlay #9 "Fairy Dust"
Cover your photograph with fine magic dust and get an incredible dance of particles on top of the main image. The photo will look less sharp and bright but will not lose its appeal due to this free dust overlay.
Overlay's group: Free Overlay Dust
Advice: This free dust Photoshop overlay suits perfectly the photos taken in bright sunlight.
---
PS Overlay #10 "Lens Flare"
This dust overlay gives a little portion of fog to the picture. The image will become less clear thanks to the appeared haze.
Overlay's group: Free Dust Photo Overlay
Advice: It is very easy to work with such an overlay. The only thing you should do is to drag the selected Photoshop dust overlay free onto the image and set the "Screen" mode in the layer adjustments.
---