National Geographic Top 20 Best Photos Without Landscape Retouching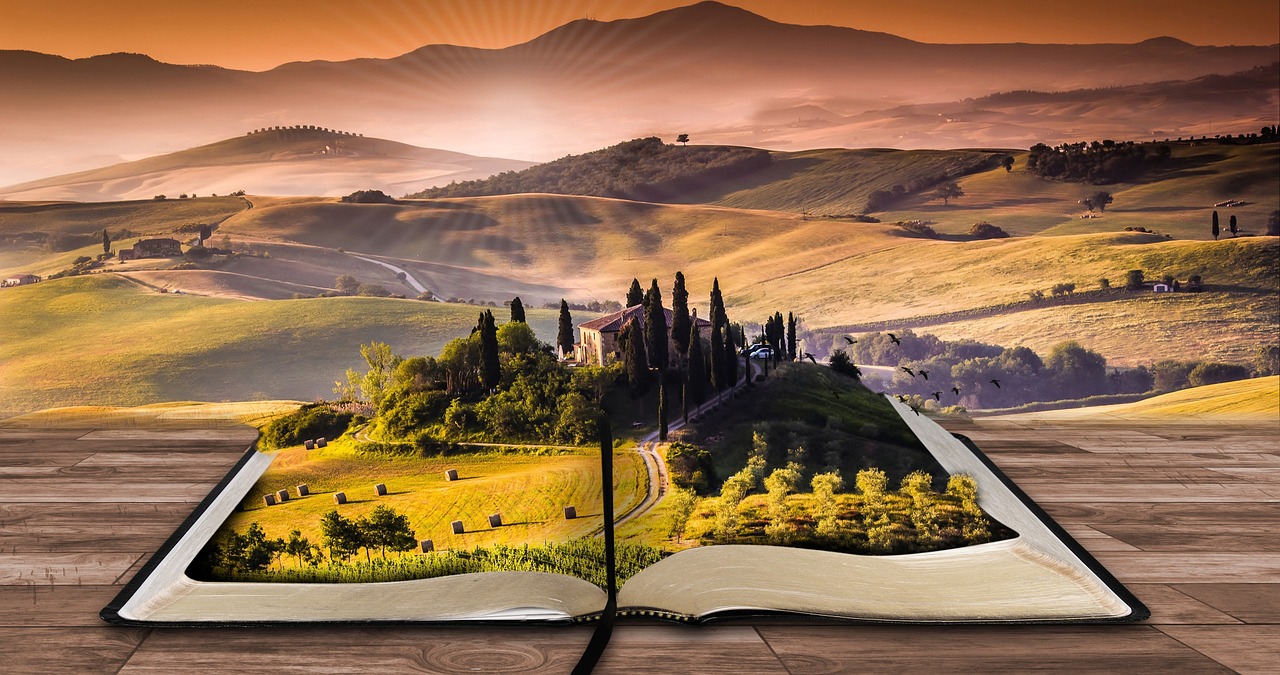 National Geographic Magazine is a world-known edition that features educational and extremely interesting articles – it specializes in geography, history, science, nature and culture. Daily the set of pictures from different corners of our planet gets to the editorial office of National Geographic and their photographers do not edit landscape photos Photoshop. Thousands of photographers wait for a right moment and take tremendous pictures from which the whole world just takes the breath away. All the pictures are without landscape retouching. Imagine how difficult it is to capture the precise moment and find the best light. The stories which National Geographic Magazine shares with us touch upon subjects of long controversy, eternal secrets of our complicated world and universe. The same can be said about the photographs they feature – professional shots undergone post production photo editing amaze with their beauty and naturalness.
Top Best Photos without extra landscape photo editing
If you do not know how to edit landscape photos in Photoshop, but you are a wonderful shooter - this contest if for you. Here you may observe photographs which show people, animals, cityscapes and natural phenomenon. Some of these works won at the worldwide or local photo contests, others became the illustrations to materials or newspapers or even got to our weekly selections of the best shots and photographers in the whole world. In 2016 they repeatedly caught sight of millions — but in this selection you won't see them. They are considered to be the most smashing and outstanding ones, according to National Geographic. So, let`s enjoy them! Now you understand that even without knowledge of how to edit landscape photos in Photoshop you can be the first and make stunning photographs. Check this out!
The best nature photos without Photoshop landscape editing
1. The photo was made in Kaktovik, Alaska. Polar bears may seem to be clumsy because of their huge size, but these predators are very nimble, active and always ready to attack quickly. They like low temperatures and usually aren`t afraid of people. This beguiling shot shows so cute bear and you may think, how it can eat somebody? Now ecologists of Alaska try to draw to it the attention of the state. They intend to forbid any economic activity near Alaska which is capable to do much harm to populations of polar bears. The problem which has reached critical level will be solved at the federal level.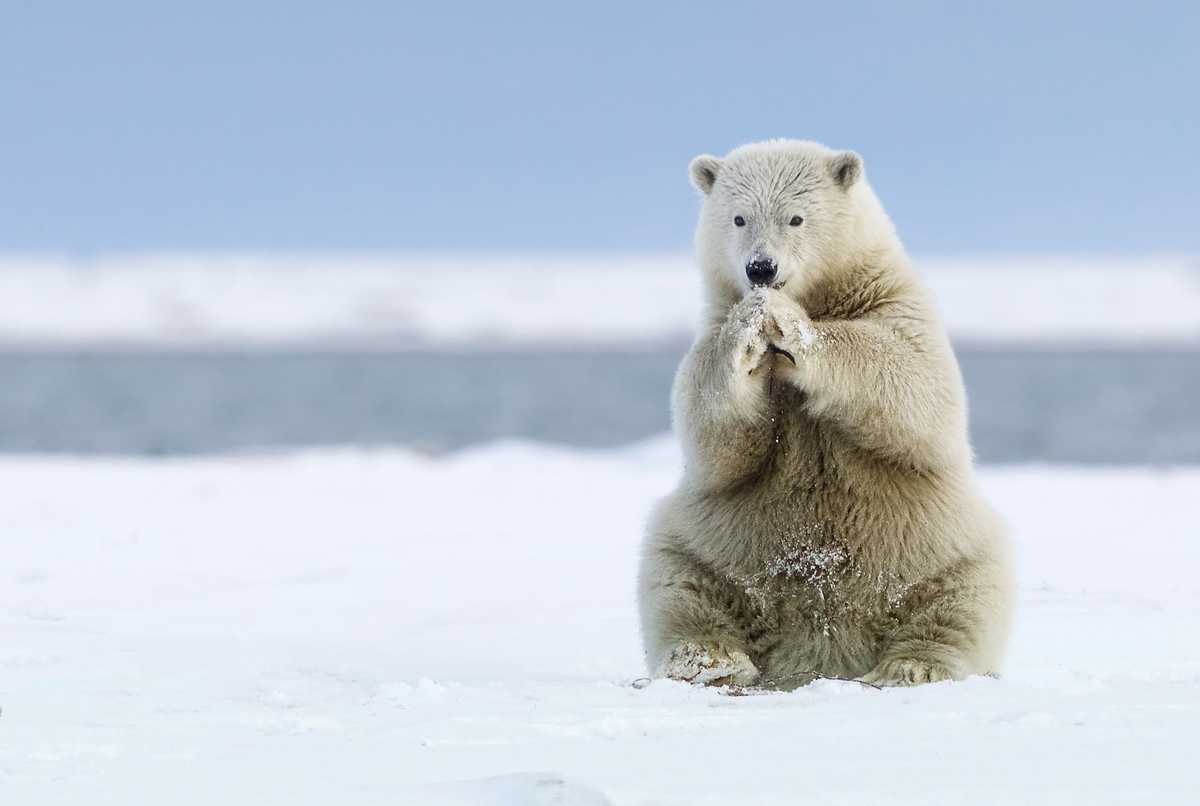 2. The Nemophila flower fields. In this marvelous picture we may see what spring they have in Japan. Hitachi seaside park, Ibaraki, can boast such scenic backdrops – blue carpet flowers or Nemophila blue flowers. Everybody can be in raptures walking there, as this place is like a miracle. And besides with the help of photo retouching and photo color correction services one is able to make this picture even more beautiful. This place is a must to be visited and, moreover, this photograph can be used to attract tourists to this erea.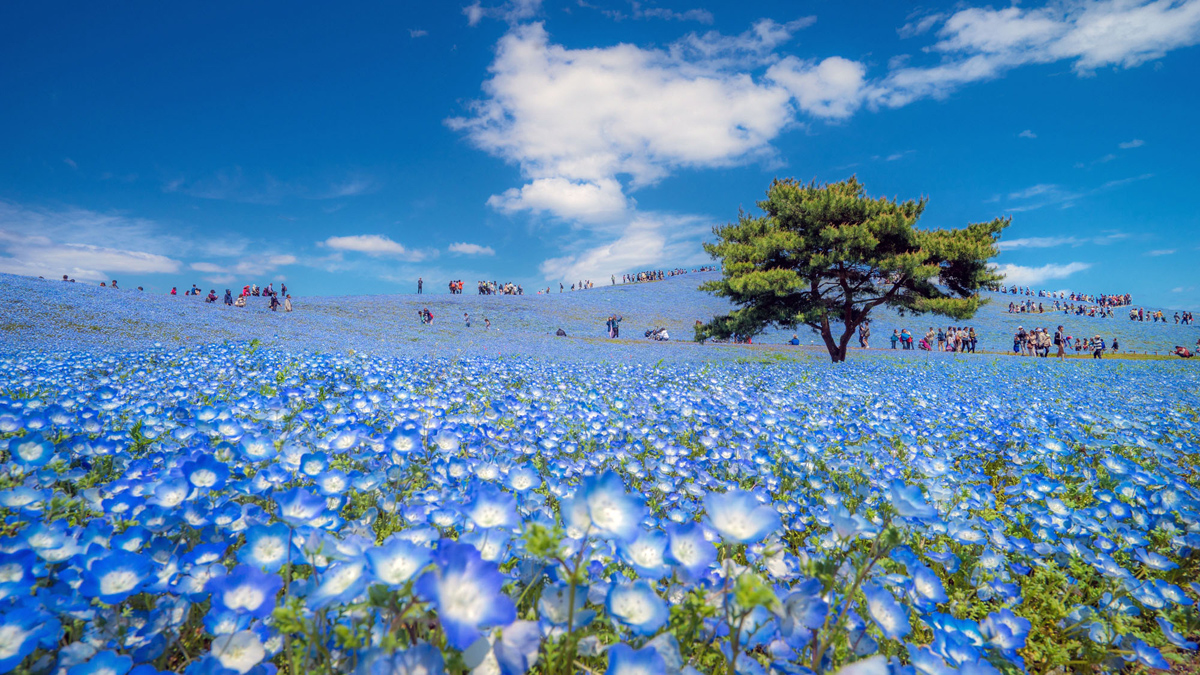 3. The picture is also made in Japan and it provokes the most pleasant emotions as we see two lovely foxes playing with each other. Perhaps, they are in love? It has landscape photo editing, doesn't it? Share with your thoughts in comments, please. Only these two little creatures know the answer to this tricky question.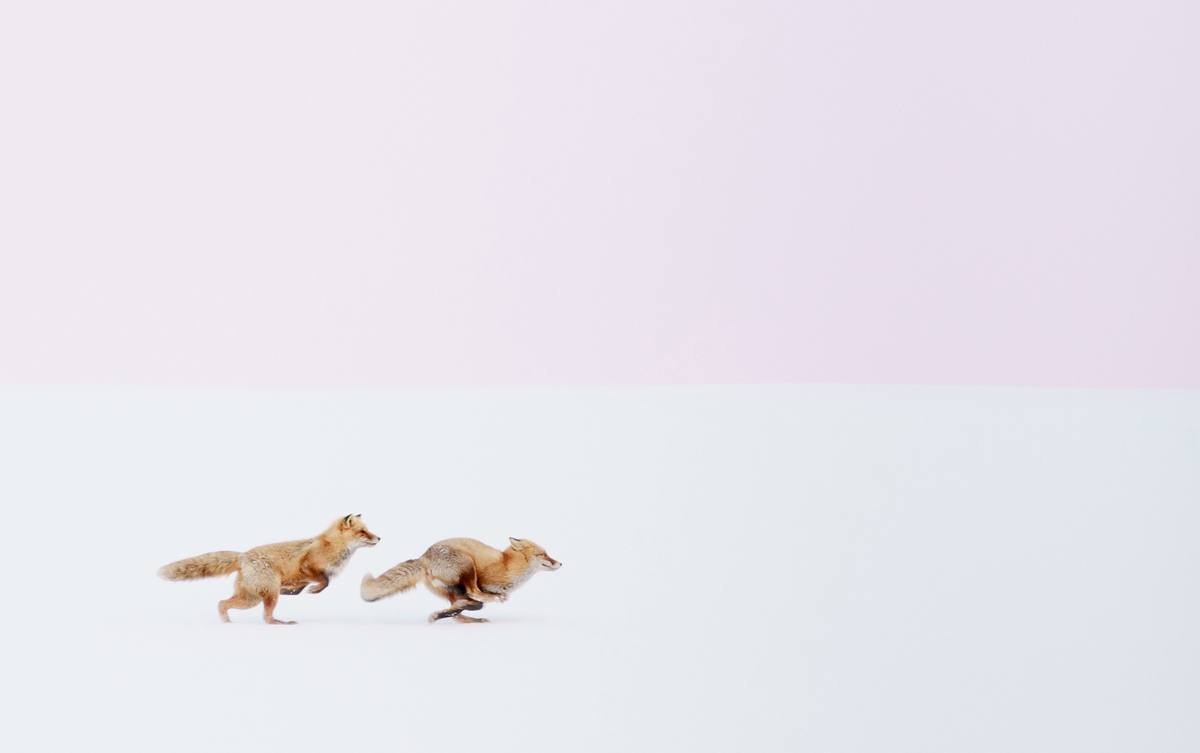 4. The photo was made in cloudy December when this alligator was seeking for the warmth of the Sun. Here no photo manipulation services are used and the symmetry is really magic. Photographers usually outsource photo editing to get such eye-popping pictures, but this "model" looks perfect with its natural make-up and exquisite black and white style.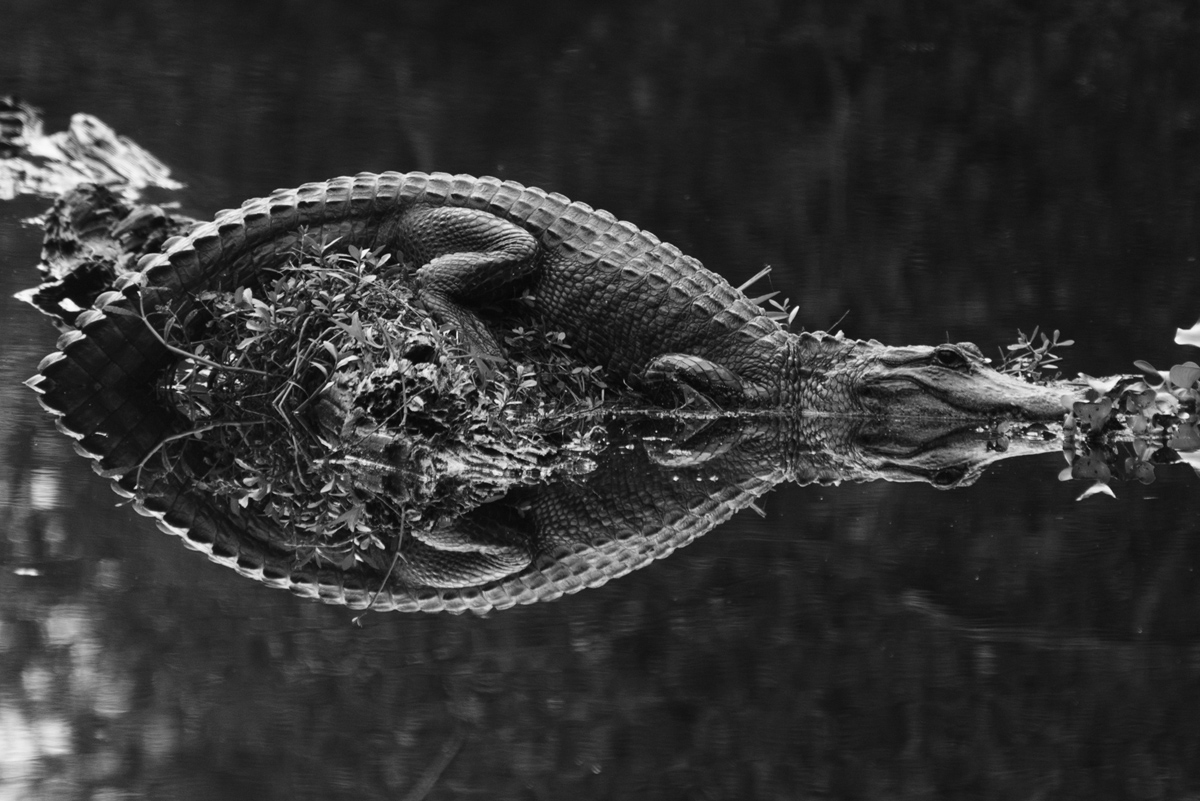 5. The ray of light in this photograph reminds the one streaming from heaven. May be Jomblang cave in Yogyakarta, Indonesia the place where people get into paradise? A person is jumping and wants to reach the light. The shot is sure to be thought-provoking and makes our imagination work. Can it be added to the list of Most controversial photos of all time? The choice is yours. But this is a great example of photo without landscape photo editing.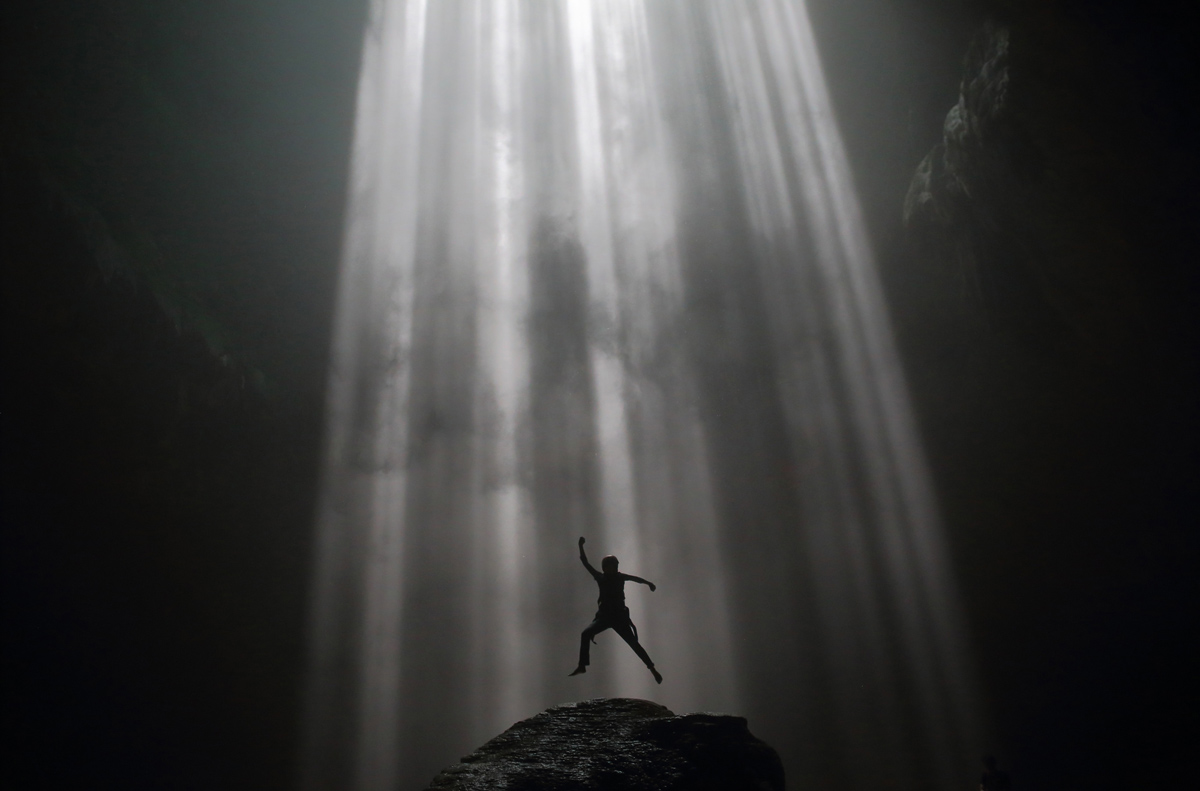 6. When heavy sand clouds infinite hectares of the scorched ground, the new desert is born in the world. And if you think that all of them are similar at each other as twin brothers, you are mistaken. They are different, every one in its own way. And it is unique & beautiful. The mute kingdom of smooth sand and dry winds is presented in the image. These people seem to be tiny figures in comparison with the tallest dunes, the Great Sand Dunes National Park in Colorado. Being taken before thunderstorm the photo captures the moment of piece. The photograph breathed life into the image and here the question may arise: Photoshop & Reality – do we need photo retouching services?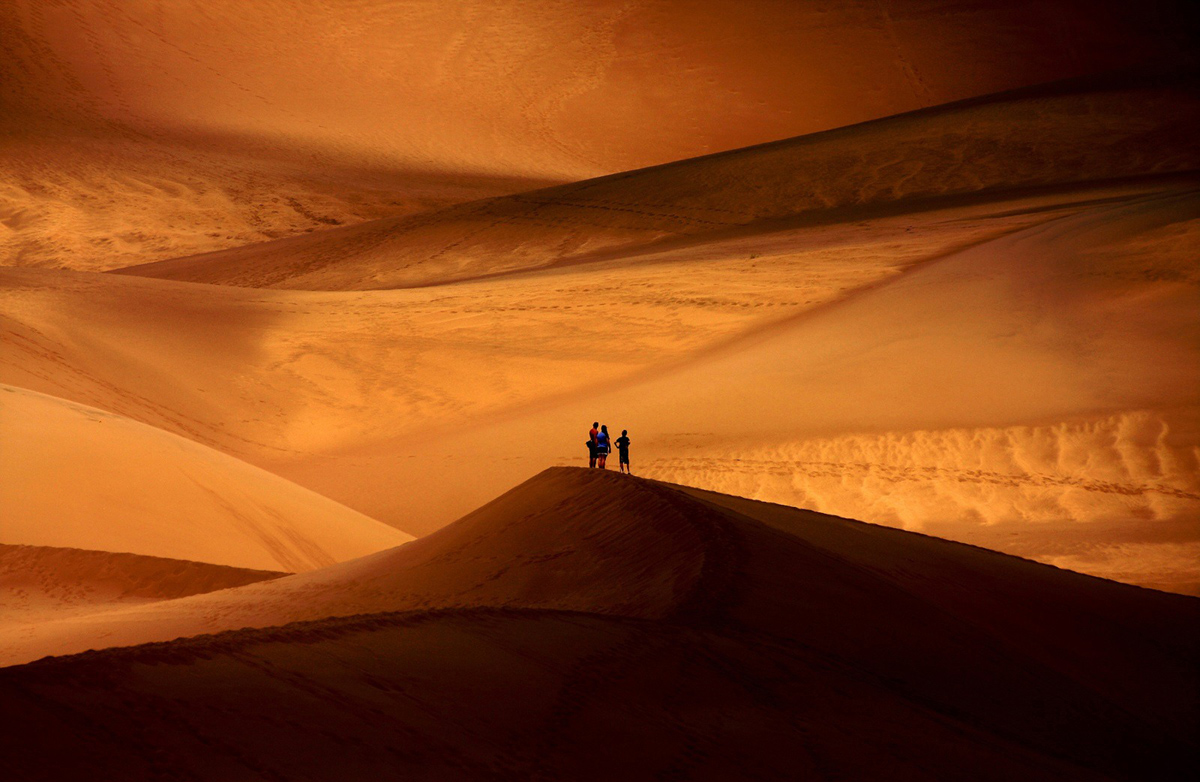 7. Early in the morning this wild cat is not sleeping – it is in search of food, water or adventures. In the heart of Botswana the animal is engaged in its everyday business. The shot is so delightful and adorable that one can`t but admire it. If you want to repeat this composition, please do pay attention. The important point for any photographer who shoots wild nature: the wild nature is first of all, the photo process – on the second. We have come to the territory where animals are owners, we're just guests here. To respect the wild animals means not to force an animal to make any actions or to harm it. Allow everything to take its course and you will get an outstanding photo masterpiece.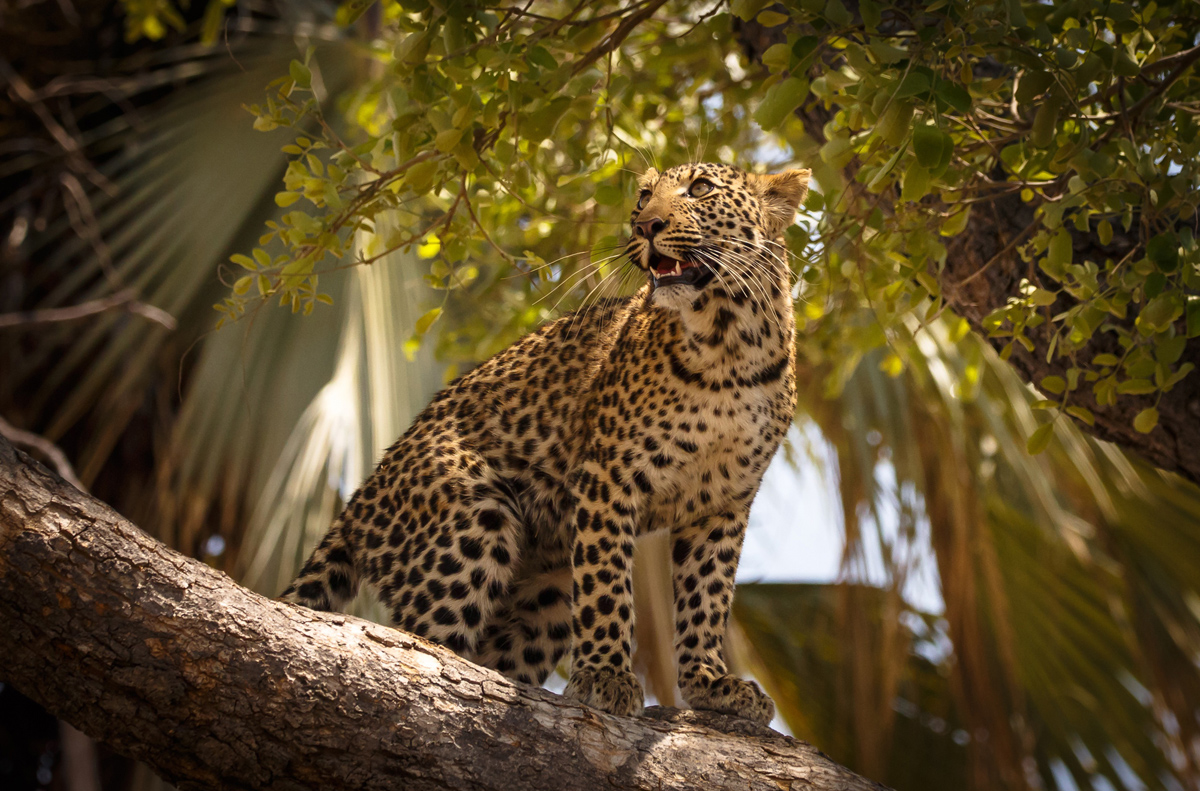 8. What can you say about the most crooked street in the world? Having eight turns this dangerous road meanders between the houses of San Francisco. It is called Lombard Street and it is one of the most eye-catching landscapes of Cisco. The photo is made from the air so that one may clearly see this snake.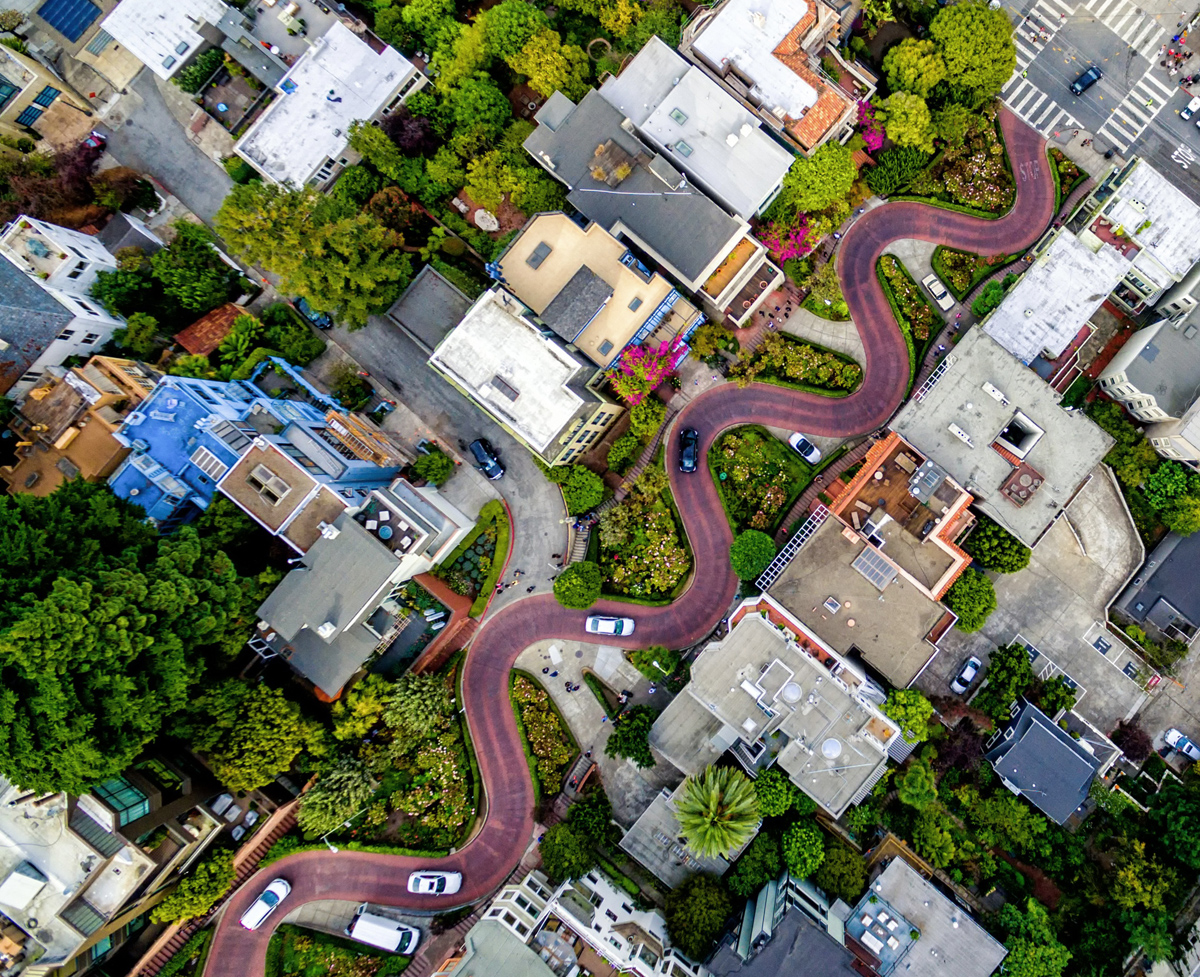 9. This small kookaburra is observing fantastic view of Sydney Harbour, Australia. Here you may also see the bridge in the background. Do you believe that it is without landscape retouching? The picture conveys the spirit of freshness and special charm of Australia with its most unusual animals and most versatile people. Photography and retouching services in Australia are sure to tell about this amazing country even more. Evidently one is eager to photograph this little bird and enrich his or her retouching portfolio.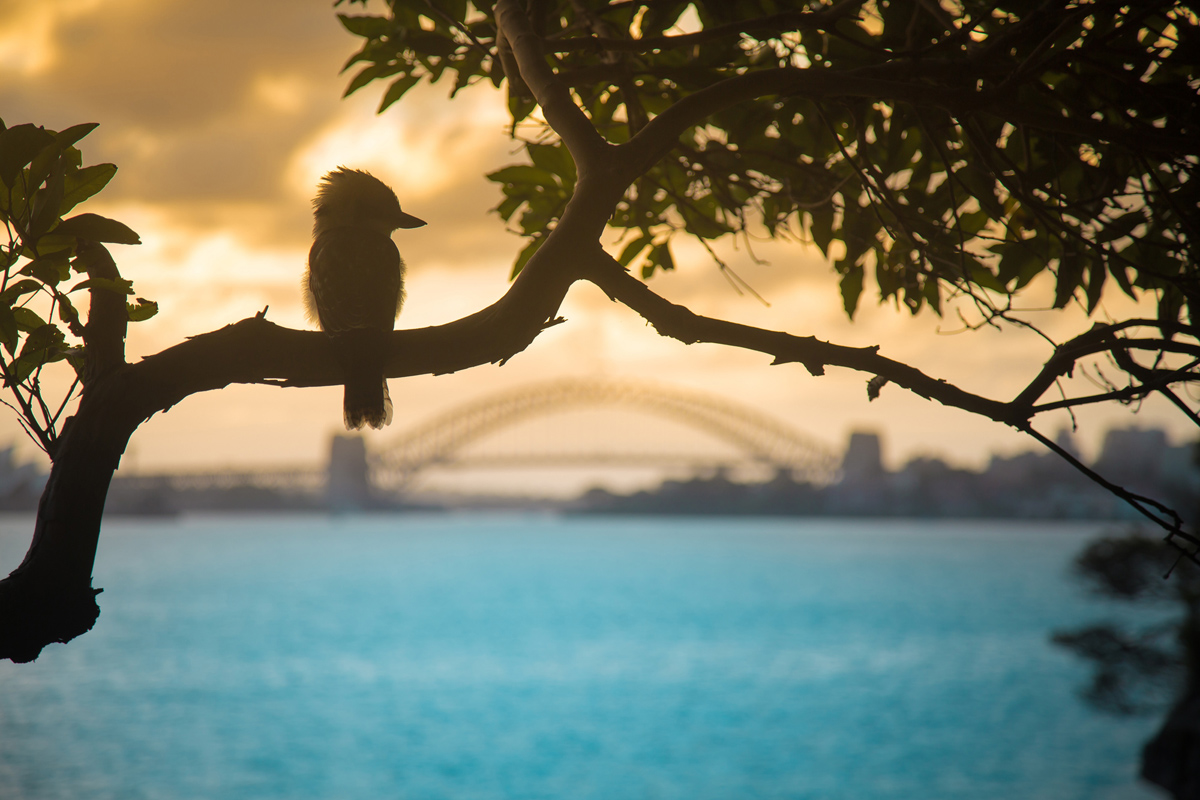 10. An unusual kind of selfie – the one taken with the help of a drone. It goes without saying that people in Hampshire, the USA, have extremely fertile creativity and rich imagination to make such shots. They may know Everything about USA photography industry and that is why have such striking and romantic photographs. Check this out!
11. As we can see bears are strong and dangerous wild animals. Here, in the picture, two brown bears in Katmai National Park (Alaska) are fighting for salmon – the battle for dear life. It can be a crucial moment for one of them, but nevertheless they look aggressive and gracious at the same time.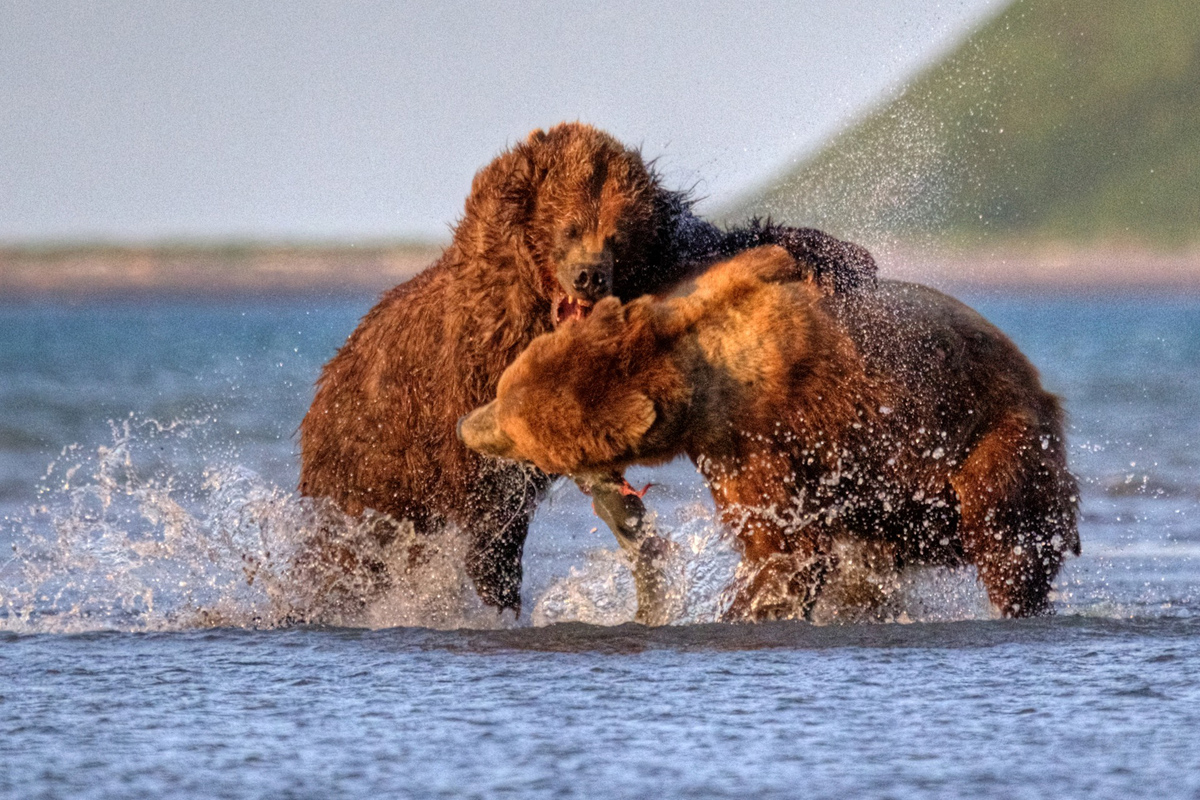 12. It is a group portrait of African children with painted faces. Somewhere in Ethiopia tribes of natives lead their special way of life and curious tourists have a huge appetite for some bizarre and remarkable traditions, and, of course are likely to make such memorable pictures.
13. Everybody of us saw the Eiffel Tower – either in Paris or in photographs. But we got used to observe it from the particular angle and not beneath it. This photo gives us a unique possibility to see something we haven`t seen before. Certainly, it can be one of the Amazing examples of Black and White photography.
14. Each country has its own hero and Indonesia isn`t an exception. Look at this poor man who is taking part in pacu jawi – bull race which is considered to be an element of national culture. Only imagine, how dangerous and exciting it is! It looks as if much landscape retouching was made but it was not. The photographer knows his/her work. If you know how to enhance it or add Photoshop landscape editing to it, we are waiting for your comments.
15. These elderly people in China don`t hurry anywhere – they just have their lunch. Due to portraiture skin retouching the faces of people look natural – we may vividly see the hand of a master. The image speaks of the spirit of the previous generation and one should show the highest level of respect and love.
16. This is urban jungle in Hong Kong, China. From the air one may see the area of dense population and enchanting landscape at the same time. Hong Kong is like a separate country – it is a huge and highly developed city. But even in this jungle we may find such breathtaking views. This professional photo without landscape editing make us stare at this image for hours.
17. Thirst may catch everybody, especially in the middle of the night. The African buffaloes have decided to drink some water under the starry sky and the photograph has captured the moment. If is difficult to shoot pictures in the dark but this photo is unretouched and the author didn't use editing landscape photos in Photoshop at all.
18. One more picture from South Africa that shows tenderness and love of two elephants – even in wild nature there exist warm and pleasant feelings. However, in our modern society it isn`t sometimes easy to find the same kindness and devotion.
19. The next photo example without landscape editing is this breathtaking image. The lightning in Uluru, Australia can`t but attract and mesmerize. This natural phenomenon is dangerous, but very spectacular and fascinating. It really looks as if there is much editing landscape photos in Lightroom was done. Do you believe this miracle?
20. In the photo we see the latest eruption La Fournaise Volcano, Réunion Island. Would you like to visit this place of interest? It is scary and surprisingly it has no edit foto landscape. Could you believe it? It is worth to be on the top lace in this list.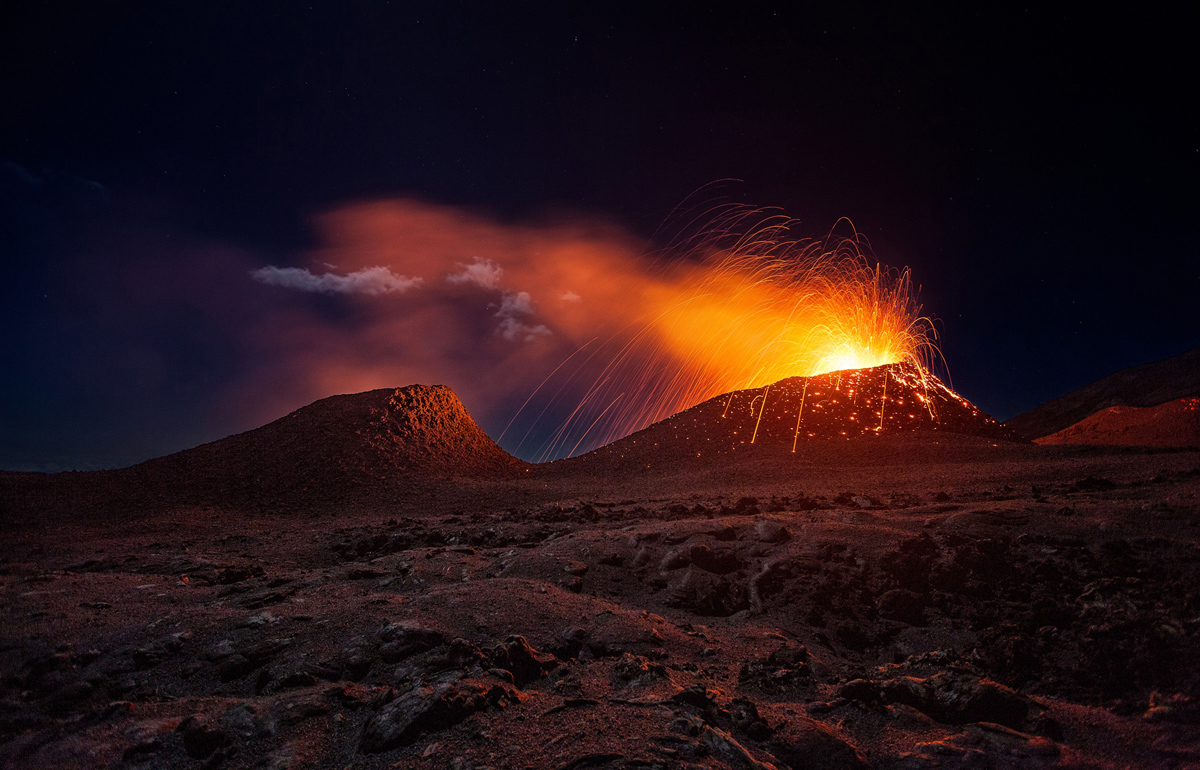 How to edit foto landscape by means of our service
If you want to make that photos which were pictured above but you are a fresher in it, you are always welcome to use editing landscape photos services online or ask freelance digital artists to show you how to do that. This is very difficult to do without experience and treining. The main purpose of this article is to share our and only our experience with enhancing landscape photography and admiring these stunning National Geographic photographs. Is it real to have editing landscape photos in a day? The answer is yes! We are ready to help you with that. Also the reasons concerning the correct algorithm of post processing of photos and the general approaches in this question are shown. We recommend you to watch videos on YouTube about Photoshop landscape editing and impress us with your masterpieces. Also if you have your own videos or lessons about editing landscape photos in Lightroom, you can send them on our email.
Is editing landscape photos in Photoshop a must have?
These were the most compelling, impressive and unrivalled pictures which certainly deserve repeated viewing. They were made by creative shooters and undergone professional image editing. To make your shots more appealing and enhance their quality you may outsource retouching services. As for photo retouching rates FixThePhoto offers the most reasonable pricing and the top quality of editing landscape photos services. Our editors are welcome to hear your instructions about how to edit landscape photos Photoshop or other suggestions.
Create and be creative!
Do you like the article? Please feel free to share it via your social accounts.
---
Pay attention this photography blog which does not require credit for the pictures and photo post production examples listed here . All photographs used in the article are only copyright to their respectful creators . These shots posted as a big admiration of portfolio and photo retouching talent the experienced rt masters have . If you found the photo on this post that is yours and do not want to be promoted on our website , please do not hesitate to write us via online chat on your right and it will be quickly deleted .
---
Rate the article!
The article's rating:
---
You comments or questions are welcome; please share your opinion on the topic.
Use Facebook:
Use Disqus: