Free Urban Lightroom Presets – Beautiful Additions to Your Toolset
Urban photography is a very popular genre, that is why we advise all photographers to download this Lightroom Presets Urban Bundle for color correction. This collection was designed by professionals and tested on various images to make the necessary adjustments and provide high-quality and simple in use presets. When designing them, we've accounted for all the main nuances of urban photography including lighting, subject matter (architecture, parks, people, a large number of objects, etc.) That's why if you're into this particular photography genre or want to dive into it, don't hesitate to download and start using these urban Lightroom presets. With 10 effects to choose from, you'll definitely find the most fitting one for each of your photographs.
This set includes all the essential Lightroom city presets – HDR to create clear, volumetric photos, B&W for interesting and mysterious cityscapes, Matte to work with sunset/sunrise photos and receiving warm, gentle tones, etc. You can find the full list of presets together with examples below.
Using free cityscape Lightroom presets is very simple. You don't need special Lightroom skills. However, if any questions arise while you're working with these presets, you can find the answers in the articles we offer in the "How to install LR Presets" section.
---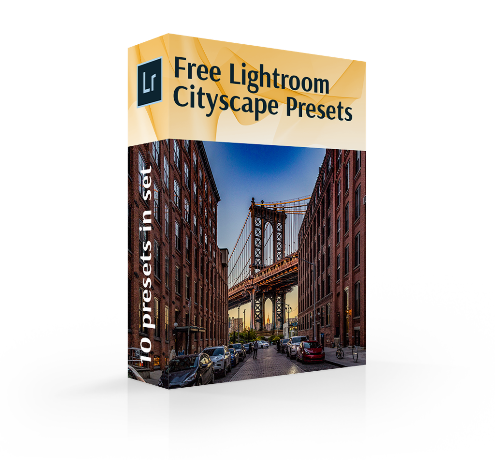 10 Lightroom Presets Urban Style Collection Contains:
---
Free Lightroom Presets Urban
Urban photography can exist in many shapes and forms so you have to treat each picture you edit with a Lightroom cityscape preset with care and pay attention to lighting, vibrancy, color rendering, clarity, etc.
All these free Adobe Lightroom presets were designed with care and attention by our professional retouchers. We hope they'll give your city photography the creative and aesthetic push it needs.
Lightroom Presets City Free:
10 Free City Lr Presets
Can be used in all Lightroom editions
Can be applied to both JPG and RAW photos
Compatible with Mac and PCs
Easily manageable and customizable
New XMP preset format
Compatible with Lightroom Mobile
Free Lightroom Presets Urban Style – Pick the One You Need
---
Lightroom Preset City #1"Vintage"