Professional Photo Editing > Free Photoshop Brushes > Free Grunge Photoshop Brushes
Free Grunge Photoshop Brushes
Grunge is one of the most vivid and extraordinary artistic styles of photography. Cool posters for films, portrait photos, snapshots for collages and social networks are often made out in this way. Giving images the grunge style is can be done via free grunge Photoshop brushes.
After downloading our 10 free Photoshop grunge brushes, you will significantly reduce the time of photo editing, get a lot of new and creative ideas for work, and also have the opportunity to create a unique fashion photo. All brushes are tested on a large number of pictures and created by professional designers and retouchers, so you can start working with Photoshop free grunge brushes right now without worrying about your photograph's quality.
---
10 Free Photoshop Grunge Brushes Bundle :
---
Photoshop Grunge Brushes Free
The following Photoshop grunge brushes free can be used at any time when you need to add a fashion touch to the picture. You can create a ragged edge effect, or you can apply the grunge brush set Photoshop free in the form of rusty streaks and scratches for the photos with text. The grunge style provides a broad platform for experiments.
Though the photos become shabby, dirty and aged after Photoshop free grunge brushes, the quality does not deteriorate, and all your results are saved in a separate folder, so you can always go back to the original image. Brushes for Photoshop are an excellent resource for designers and graphic designers in order to decorate the layout, make it more expressive and just save your time. In the network, you can find a lot of grunge brushes Photoshop free download, but most of them, unfortunately, are provided in the low resolution, which makes them useless for large format works. In this collection, you will find 10 kinds of free grunge Photoshop brushes in high resolution for your creativity.
---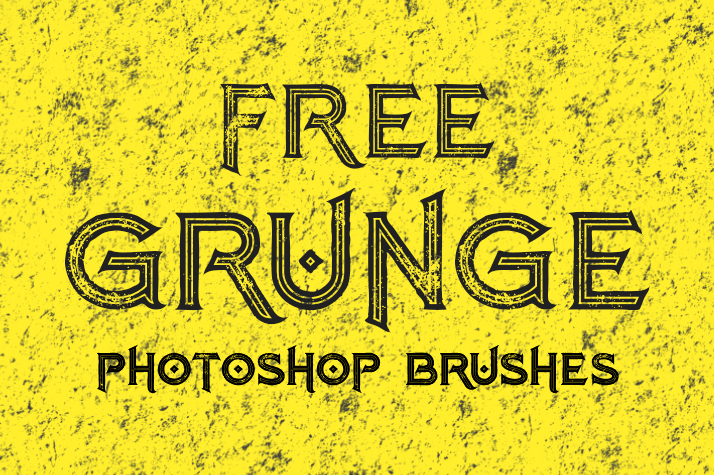 Free Grunge Brushes Photoshop
• 10 wonderful grunge Photoshop brushes
• This set of free grunge brushes Photoshop has a standard format .abr
• For any version of Photoshop, from 4 to 6 editions.
• Transform your images in Raw or Jpg format to preserve quality
• Instant download.
Photoshop Free Grunge Brushes
---
PS Grunge Brush #1
The first Photoshop brush grunge free is an imitation of a faded film with chaotic tin glimpses. From a distance it can resemble a leaden sea before a storm, at which light reflections of the moon appear through the thick clouds. The tool can give a certain amount of depth and volume to your images. They are suitable for chamber photos, made in dark colors, which will only strengthen this effect. It can be both portraits and background for posters.
Brush's group: Free Grunge Photoshop Brushes
Tips:
You can use free Photoshop brushes grunge to create a new background.
To perform additional settings and change brushes you will need a good knowledge of the Photoshop.