Professional Photo Editing > Free Lightroom Presets > Pastel Lightroom Presets Free
Professional Pastel Lightroom Presets Free
Some photos greatly benefit from the use of the pastel photo filter by softening the tone pattern, creating a tender, gentle image mood. Particular attention is paid to pastel tones these are clarified and slightly softened shades of color, such as blue, green, red and numerous combinations of these colors. If you add a little white to the main color, you will obtain shades such as light green, beige, soft blue, gently pink. So, if you like to experiment with images using color shades, then try our pastel presets for Lightroom free.
Pastel LR plugins were created to generate a well-graced unique pastel photo effect for your wedding, fashion, portrait, children's and family images. Now it is not necessary to expend time in giving your images fine tones in LR. Thanks to excellent lighting and exceptional color renditions, these eye-filling soft effects will allow you to convey your style with minimum efforts and time.
---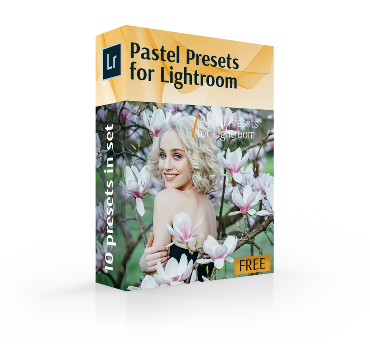 10 Pastel Lightroom Presets Free Bundle Includes:
---
Free Pastel Lightroom Presets
Any photographer knows how to make successful photo and how to make photos pastel, but not everyone has enough time to create a preset to all his/her pictures.
Our ready-made free pastel presets Lightroom were originated for users who needs the softness of colors or muted paint pastel filter presets.
Wedding photos, semi-nude photoshoots and bride's boudoir, children's photos, fashion photos will be retouched at the moment with our Lightroom pastel presets free. To emphasize the tenderness, softness and airiness of the captured atmosphere in the frame will be helped by soft pastel tones Lightroom presets.
Our developers decided to simplify the work of photographers and retouchers, providing these plugins in the style of Pastel. Interested people need to download Lightroom pastel presets free, choose a suitable effect or which you will like, and start image post processing.
---
The Description of Lightroom Preset Pastel Free
---
LR Preset #1 "Pastel Soft Warm"
One of the most universal and top Lightroom presets, which is most often used and downloaded. This filter is suitable for any genre of photography and is used exclusively at the artist's will, taking into account which object should be softened and selected. Regardless of the light used, this preset will fill the image with a warm atmosphere.

---
LR Preset #2 "Pastel Pink Toning"
This pastel tone Lightroom preset is used primarily for women's portraits or children's photographs to emphasize the soft texture of the skin and a light glow on the cheeks. By rendering the images, the processing glow effect is attached, which includes all shades of pink.
---
LR Preset #3 "Pastel Warm"
This pastel tone Lightroom preset brightens the photo, makes the tones warmer and more tender by adding a green tint that is applied to the entire photo. We recommend using this filter for outdoor wedding photography.
---
LR Preset #4 "Pastel White Balance"
This Lightroom preset pastel free is responsible for changing and setting the required white balance proportions. Due to modifications with a light installation, the image becomes warmer, and the colors turn yellow.

---
LR Preset #5 "Pastel Purple Toning"
Toning in purple pastel shades will help to lighten the skin of the body, add Lightroom soft glow to the overall image palette.
---
LR Preset #6 "Pastel Nature Colors"
Natural Colors is an incredible preset, due to its natural coloring effect, yet striking lightening results to create an amazing effect, without distorting natural colors and light of photographs, making it suitable for a vast range of photographs.

---
LR Preset #7 "Pastel Soft Light"
Universal Lightroom preset pastel free is suitable for many types of photographs taken at dawn, sunset, subject photography, portrait photography and many others. This plugin is superimposed on the photo very harmoniously, so you can try it for almost all photos.
---
LR Preset #8 "Pastel HL"
A beautiful and warm preset for LR, makes the bodily and green tones warmer and gives a fabulous raisin to every photo applied by this preset. The plugin is good for photographs taken outside and also with backlighting by the sun, the pastel tone Lightroom preset enhances the playful rays of the sun and the contour of the human body that is highlighted by the sun.

---
LR Preset #9 "Pastel Cold Green"
This Lightroom glow effect gives depth to the green and brown hues; the effect gives the image of velvety blacks. Photo editing in this style is suitable for landscapes and evening photographers, which need richness of deep colors.
---
LR Preset #10 "Pastel Bright Light"
An excellent classic preset for Lightroom with minimal adjusting and not a big soft toning. Aided by this filter you can quickly and easily edit one photo, or a whole package of photos, not much warming the tone of the photo and adding a soft toning by Lightroom soft glow. Highly recommended for a wedding photoshoot outside.
---
All these filters are made by professionals and are selected for different types of photos and are already ready for free download. If you have questions about how to install or download these plugins, contact us via email or write our manager to the chat box.
---
Helpful Video Guide about Lightroom Presets
---
More Free Lightroom Presets by FixThePhoto
Do you want more Free Lightroom Presets? Check out what we have.
---
---
---