Professional Photo Editing > Lightroom Presets > Interior Design Lightroom Presets
Interior Design Lightroom Presets
Interior photography requires huge attention to the details. You should know all interior photography lighting techniques and camera settings for indoor photography. It demands much efforts and time.
When it comes to real estate photo editing, professional photographers tend to rely on Adobe Lightroom software. They use interior photography Lightroom presets. These are the sets of saved settings that bring out the best out of your indoor photos and give them a lasting visual impact. This collection of Lightroom presets for interior photography will upgrade your dull images to high-quality property photographs. The bundle consists of 40 Lightroom presets for interior photography that enables you to have a fast and streamlined workflow. They will make any interior scene remarkable in a matter of seconds. The LR plugins are well-worth trying out and once you use these interior design Lightroom presets by FixThePhoto you will never go back.
Interior Lightroom Presets
Adobe Lightroom 5.2 and higher
Unlimited Number of Projects
Windows and Mac
RAW and JPEG
Comercial Use

40

Size

200 kb

Downloads

1371

Rank
You will see a significant improvement - 40 Lightroom interior design presets are guaranteed to give your pictures an extra boost, as well as save your precious time. Each Lightroom preset for interior photography is versatile, it will work well with any photo you've taken. They are perfect if you want to give your images a professional feel and attract more clients to your services.
---
Lightroom presets for interior photography bundle: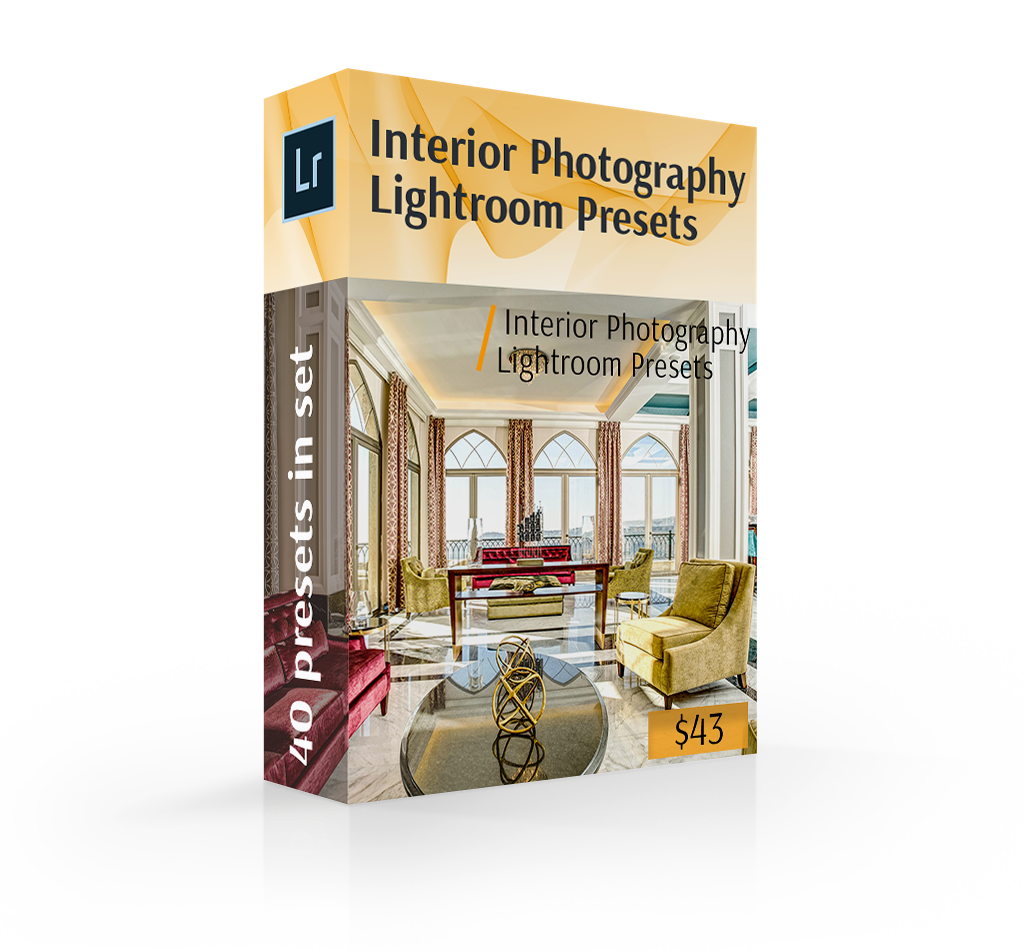 40 best Lightroom presets for interior photography
Work well with all Adobe Lightroom versions, as well as Creative Cloud one.
Can be used on both Mac and PC operating systems.
Work on RAW and JPEG image formats.
Completely customizable.
Interior photography Lightroom presets
Instead of editing your interior photos from scratch and producing inconsistent results use these Lightroom presets for interior photography. This bundle is the best collection for your indoor photos, that enhance colors, corrects lighting, shadows without sacrificing the quality of the original image. The functionality of these 40 interior design Lightroom presets will help you bridge the gap between the amateur and professional real estate photography. This Lightroom presets interior design will create breathtaking results that you will be proud to share with your clients. They are fully customizable and you are free to change the camera settings to achieve the desired look. Our team of professional photo editors has tested each every LR plugin to make sure that they work flawlessly with different photos. We have designed these interior photography Lightroom presets to speed up the editing process and help you keep your productivity in check. They are sure to deliver incredible results and enhance your interior photography.
Main features of these interior photography Lightroom presets are:
Produce amazing effects in one single click.
High-quality professional results.
Easy manual tweaking to create the individual look.
Make non-destructive edits.
Every interior photography Lightroom preset was tested and refined by a knowledgeable team of FixThePhoto's editors.
Suitable for: Interior photographers, Graphic designers, Architects, Real-estate agencies, Brokers.
Deep Colors, Perfect Black, Contrast, Correcting Noise, Exposure, HDR effects are available.
---
Customers who buy this item also buy: