Professional Photo Editing > Free Photoshop Actions > Free Photoshop Actions for Portraits
Free Photoshop Actions for Portraits
One of the most popular and common directions in photography is portrait photography. But how to make a portrait ideal? It's not enough just to follow all the rules of proper camera settings and lightning. You need to retouch the pictures in Photoshop.
Our bundle of free portrait Photoshop actions will help you. This bundle consists of 6 main filters for retouching eyes, teeth and skin.
Skin retouching is one of the most advanced skills in photo retouching. Our actions will help you retouch like a pro with only skills of a beginner in short time. These free Photoshop actions for portraits help make your customers' skin ideal by getting rid of excess gloss and minor imperfections in a few simple clicks. Our free Photoshop elements actions for portraits include additional opportunities of whitening eyes and adding a contrast to the photos' colors. Our free portrait actions for Photoshop don't make an additional contrast by using highlights or shadows.
---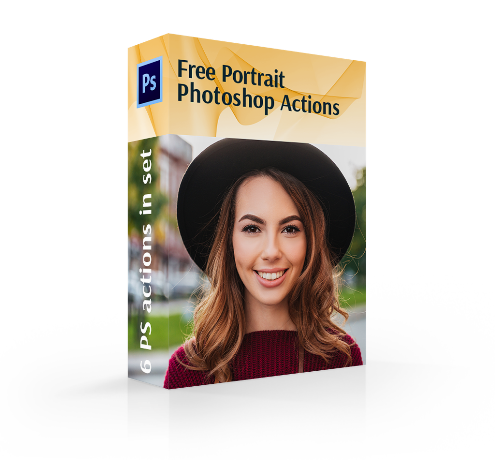 6 Free Photoshop Elements Actions for Portraits Bundle:
---
Free Portrait Photoshop Actions
You can be a professional or a beginner, but it's so easy to generate incredible quality photos by using these free Photoshop portrait actions that our designers created specifically for you. This set of six actions will change your long and tedious routine of retouching photos forever.
This collection of free portrait actions for Photoshop was created in order to satisfy the entire spectrum of headshot and portrait photographers' specific needs. With this bundle, you can get everything from color corrections to professional teeth whitening.
Use our Photoshop free portrait actions and the retouching process will take a couple of minutes to make a perfect portrait. Imagine designing a highly professional photo with just a couple of clicks and all these thanks to our free Photoshop portrait art actions. In addition, all our actions are very easy to install and easy to use.
Features of Free Photoshop Portrait Actions
6 actions for perfect retouching
Adjust to your individual style
Adapted Photoshop CS3-CS6, Creative Cloud and PSE 11-18
Successfully interact with Mac and PC
Work in a format that is convenient for you (RAW or JPG)

Photoshop Portrait Actions Free
---
Portrait Photoshop Action #1 "Clean Eyes"