Professional Photo Editing > Free Photoshop Overlays > Free Lightning Photoshop Overlays
Free Lightning Photoshop Overlays
Make your photo manipulations pop with these free lightning Photoshop overlays. Lightning is difficult to capture, so these photo editing freebies are very helpful and easy to use even for amateur Photoshop users. All plug-ins are presented in different colors, shapes, patterns, and sizes.
Get beautiful and dramatic pictures without waiting for the lightning to appear. Lightning Photoshop overlays save a lot of time for any landscape photographer.
---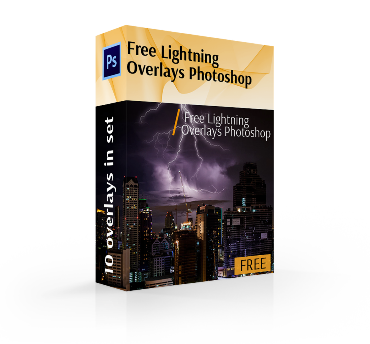 Lightning Overlay Photoshop Free Bundle :
---
Photoshop Lightning Overlays
Ten quality and natural PS overlays created by experienced designers will not only reduce image manipulation time but also help create a unique, beautiful snapshot that you and your viewers will admire. All overlays are very realistic so no one will say that you added lightning during picture editing. All these Photoshop overlays are suitable for all nature pictures: a summer stormy sky in the mountains, a gray heavy autumn sky or a dramatic portrait photo made somewhere on the beach during the beginning of the rain. These and other images are great to work with Photoshop lightning overlays. Use fantasy to get an excellent result. All recommendations about using these Photoshop overlays are given below.
---
Photoshop Lightning Overlays Free
• 10 free Photoshop Lightning overlays;
• All files are available in .jpg format;
• For Photoshop 4-6 and Adobe Creative Cloud;
• Fast loading;
• Available for people who use a Mac or PC.
• They work fine with Raw and JPG images.
Lightning Overlays for Photoshop
---
PS Overlay #1 "Electrifying"
This lightning overlay Photoshop adds atmospheric mood to the photo, highlighting the dark colors. Highly recommended to use on sea/ocean photos in storm.

---
PS Overlay #2 "Strike Effect"
If you want to add a small, slightly visible lighting to the photo, choose this Lightning overlay for Photoshop. For better look, add a smoke as on the example.
---

PS Overlay #3 "Rainy Day"
Be very attentive, choosing this lightning overlay as it doesn't suit every landscape photo. It is great if you want to accentuate the upper part of the photo and create a visual line of the horizon.
---
PS Overlay #4 "Storm"
This Photoshop lightning overlay is scarcely visible, but you can adjust its opacity as you like. Still, it is recommended to be placed in the middle upper part of the photo.

---
PS Overlay #5 "Purple"
The lighting seems invisible at the first glance, but if you have a closer look, you'll see how beautifully this overlay outlines the dark sky.
---

PS Overlay #6 "Mess"
This lightning Photoshop overlay are recommended to use for creative photo manipulation. The lightning bolt is very intense, so in such a way you will draw the attention to the upper part of the photo, mainly to the sky.
---
PS Overlay #7 "White Nightmare"
This overlay is great for the pictures with smooth cold colors, as it will stand out against the dark blue sky.
---
PS Overlay #8 "Electric"
A delightful lightning overlay is applied against the background of large objects. This allows us to show the full scale of the elements. Use this overlay for your Halloween photos.
---

PS Overlay #9 "Screaming Sky"
Add this overlay on the background where the white color dominates. It perfectly conveys the atmosphere of a raging storm.
---
PS Overlay #10 "Energy'
It allows you to make the photo more atmospheric to convey the mood. As a rule, it is used on the shots, where light colors predominate.
---
All these lightning overlays will make your photo manipulation work quick and comfortable. They can make each of your photos special, moody, and dramatic in several clicks. Add them to your Photoshop plug-ins collection and create masterpieces with lightning overlays for Photoshop right now.