Professional Photo Editing > Free Lightroom Presets > Free Interior Design Lightroom Presets
Free Interior Design Lightroom Presets
For all photographers who have a job in real estate industry, appreciate their time, we prepared a special offer. This is a bundle of free Lightroom presets for interior photography for producing a brilliant picture of rooms, apartments, cafes, restaurants, it's very fast to install into your PC as well as changing the settings.
All Lightroom presets from this bundle are designed for interior pictures to make them amazing by adopting elementary standard settings just as noise reduction or color balance, likewise coloring.
Are you new to property photography? Or are you a professional with established requirements for own work? These free presets for Lightroom 6, 5, 4 and CC will satisfy everyone, and your customer or agent will be impressed with the outcomes you have done. Try Lightroom interior design presets and exhausting work will turn into the part of the past.
This collection of 10 best Lightroom presets for interior photography is designed specifically to improve the photos for your websites of hotels or catering establishments, as well as realtor sites.
---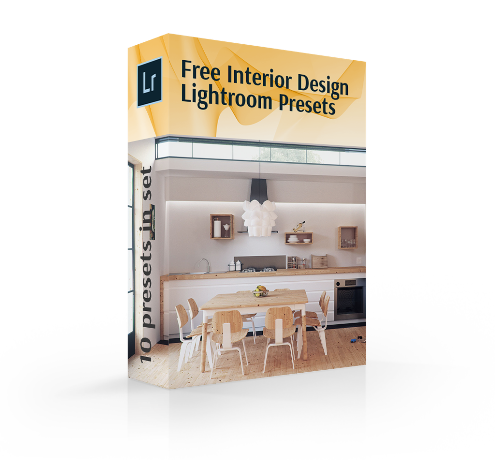 10 Free Lightroom Presets for Interior Photography Bundle:
---
Interior Design Lightroom Presets Free
Do you work with the interior design daily and face definite problems of editing the photos? This collection of interior photography Lightroom presets was developed specially for you. It is made for home interior or for collections of images of restaurants, cafes, bars, nightclubs, offices or other interiors. Our free pack helps to remove excessive darkness or add brightness, warm shades to the room or dazzle to the interior.
Benefits of the Lightroom Interior Design Presets
10 beautiful Lightroom presets that are 100% free to download
Can be installed to any version of the Lightroom software
Elementary 2 minutes download via email
Editable after being applied
Friendly to all kinds of operation system (PC or MAC)
Both for professionals and amateur photographers for personal or commercial work
The Collection of our 10 Lightroom Presets Interior Design
---
Free Interior Design Lr Preset #1 "White Balance"