Professional Photo Editing > Free Photoshop Actions > Fashion Photoshop Actions Free
Fashion Photoshop Actions Free
A collection of 6 FREE Photoshop actions to provide your ordinary portrait images a glamorous and stylish look. This bundle is great if you want your images stand out among the total mass of photographs. Any photo made for a glossy magazine, editorial purpose, for fashionable apparel catalogues, wedding printing, lifestyle and just everyday photography acquires a character, style, and professionalism with the following free Photoshop actions fashion.
Having studied all 2018 fashion trends, we chose 6 styles for the best free fashion photography actions for Photoshop, which are focused on making the photo vibrant, dramatic, original, bold, clear and professional. Having used any action from this bundle will not only save time but also bring pleasure. Experiment and create beautiful photographs with FixThePhoto.
---
6 Free Fashion Actions for Photoshop Bundle:
---
Free Fashion Photography Actions for Photoshop
Fashion photography passes the style of the era – it is always stylish. Fashion images advertise and sale branded things and products, so it should be catchy and perfectly edited. These Photoshop fashion actions free is the first step of enhancing your glossy photos. These plugins help editors create and maintain their own photographic style. By means of them you can bring the highlight and drama that attracts the viewer and make them buy your advertised product.
Learn something new, create your own photographic trends and your own recognizable photo retouching style with our best free fashion photography actions for Photoshop.
---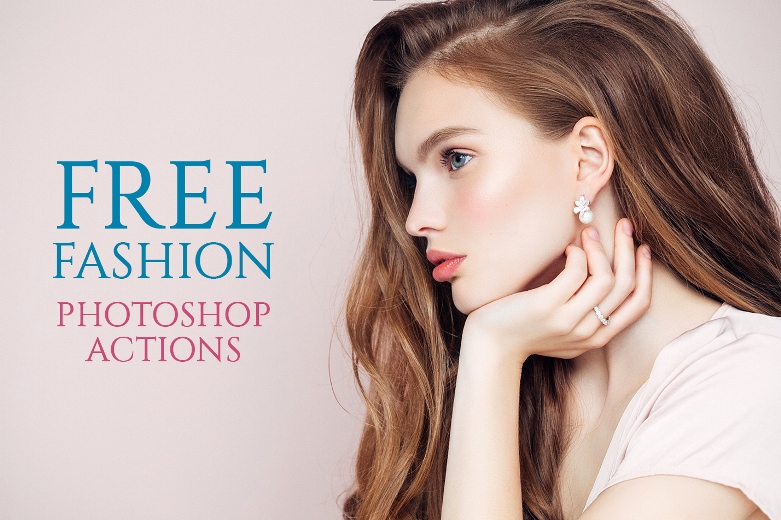 Photoshop Actions for Fashion Free
• 6 unique Photoshop actions for fashion photography
• Fully customizable and adjustable
• Can be installed on Photoshop (editions CS 3-6), Creative Cloud and Photoshop Elements (versions from 2011 till 2018)
• Supported by Windows and Mac operating systems
• Can be used for the images in JPEG and RAW formats.
Photoshop Fashion Actions Free
---
PS Action #1 "Black and White"
If you like black and white, grey tints instead of bright colors, this Photoshop action is the best choice in this bundle. Transform your dull photo into the elegant black and white image. This discoloration is suitable for any genre of photography since it is considered a living classic.
Action's group: Fashion Photoshop Actions Free
Tips:
This type of fashion show actions Photoshop free is ideal for the photos that do not match colors (if you see that the colors in the photo do not fit well together, black and white conversion is exactly what will help solve this problem)
It is a bad practice to use this action with a picture where there are many bright white areas.

---
PS Action #2 "Brighten"
If the picture seems boring, then it needs to be upgraded with the help of bright colors, which are introduced with this kind of free download fashion action Photoshop. Colors become brighter, but they look harmonious thanks to a warm tone.
Action's group: Free Fashion Actions for Photoshop
Tips:
To give your pictures a professional look, use these free Photoshop fashion actions as the initial stage of photo retouching and combine it with other actions.
To achieve a different result, play with the layers, adjusting each one separately.
---

PS Action #3 "Colors PoP"
To bring the warmth of the soft ray of the sun into a woman's portrait, a wedding photo or a studio photograph, make the colors brighter with these free fashion photography actions for Photoshop. They will make the photo clearer, and the color palette warmer.
Action's group: Free Fashion Photography Actions for Photoshop
Tips:
Users can always return to the original image because the action is not destructive and can always be canceled by overlaying layers.
To change the structure of the action, its settings, you will have to go deeper into the nuances of the Photoshop software.
---
PS Action #4 "Matte"
This action is aimed at giving the photos a stylish effect, like in popular smartphone apps. It will make the photo lighter by adding natural light and airy touches. The adjustments of these fashion Photoshop actions free are perfect for different photos taken both on the street and indoors, regardless of who or what is depicted on them.
Action's group: Photoshop Actions for Fashion Free
Tips:
The free download fashion action Photoshop can be used for any photo size. Remember that the same image at different sizes may look completely different.
It is not a good idea to apply pictures taken in bright daylight. As a result, you will get a fuzzy, unnaturally bright photo.
---
PS Actiont #5 "Glow"
This action is similar to the effect of images taken on Polaroid. The preferences of the Photoshop actions fashion free are aimed at reducing the brightness and saturation of colors and giving a warm and soft tone. Particularly beneficial this action looks on lifestyle shots, as well as on the wedding and editorials photos.
Action's group: Photoshop Fashion Actions Free
Tips:
Choose bright saturated pictures for retouching. Otherwise, after applying, the result can be too faded.
The best effect of these free Photoshop actions fashion will appear on the images where the correct exposure and the white balance are not spoiled.
---

PS Action #6 "HDR"
This effect always adds daring saturation and drama to the photos, which is often necessary for fashion photos. This fashion action Photoshop free download is best suited for photographs where small details are depicted on clothes or in a frame. It makes the hair volume, and the picture cleaner. Male and female portraits close-up will look very memorable.
Action's group: Free Photoshop Actions Fashion
Tips:
Use this preset for the images that depict details, both in the dark and light parts of the theme.
Apply the basic free fashion Photoshop actions if you need to detail both the background and the foreground of the picture.
---