Inspiring Vibes of Most Famous Street Photographers
Street photography is one of those artistic domains which can breathe life into a lifeless piece of paper, a piece of photographic paper. When you think about studio photo sessions or any kind of arranged photo sessions, it dawns upon your mind that it is mostly staged. The way models look, they way subjects pose, their gestures, countenances – it all appear to be staged and unnatural, and therefore bogus and a bit pretentious. That is quite understandable. They all try to look their best. Surprisingly, no one wants to be caught in the moment, since they mostly feel vulnerable that others will see them the way they really are, unshielded with staged emotions, smiles, positions whatever. In the world when you have to get tough and keep a firm hand on your emotions, people are just afraid to be open, to show their souls. Well, that is a shame. Street photography corroborates this idea, since it vividly shows that the beauty lies in our candid emotions. They are what fulfill our lives, what makes it truly precious. There are tons of street photography examples that can tell and incredible stories just with one shot, with a single sincere look. And that is exactly what makes street photography so special. It catches the essence of its subjects, no matter what it is a person, a building or a cityscape. Matthew Taylor, a riveting street photographer from Manchester, has the same point of view. In the short documentary shot by Fraggel Productions, he explains why he considers street photography settings to be so captivating. Just follow the link to Street Photography short documentary in order to see with your own eyes the beauty of street photography that not everyone can get .
Most famous street photographers in history
There were always people who appreciated life as it was, with all its flaws, imperfections and nuisances. There was always someone who saw value in simple things which surround us all but have no sacral meaning to us, alas, since they are all just a fraction of the routine, a piece of a usual puzzle everyone tries to solve day after day. Perhaps, some people just have an eye for the beauty of everyday things and can find something precious in things we would probably never think about in any particular way. How can we, actually, do that when all of us just try to find our way around the concrete labyrinth, survive in the urban glass jungle? We simply have no time, energy or desire to look up and cherish the moment. Thankfully, there are always people who will pause the moment, and find the beauty of the surrounding world, no matter how dreary and cruel it gets, how heartless and soulless it first seems to be. Street photography settings have always fascinated keen and perspicacious photographers, since they could catch sincere living moments of people in their most natural habitat. That is how candid photography appears to be, as we have already discussed in in on of our articles in the blog – "Candid photography meaning for you: art or a kind of wedding photography". Here are some of those sagacious, incredibly gifted photography artists with sensitive souls who could see comeliness and beauty of everyday turmoil: in how people cross the road, how they commute to work, how children spend their leisure time outside, how lovebirds somberly saunter in a park, forgetting about the outside world, etc. These are those ingenious people who tried to open our eyes to the beauty of our fussy and hectic urban lives long ago, and successfully managed to accomplish this goal.
William Klein
William Klein started his career as a fashion photographer and was perfectly lucrative. He was one of the leading photographers in Vogue and was quite distinguished for it. However, he didn't feel complete enough, working in that domain. He was totally infuriated by all the conventionalism, by classic riles that were constantly imposed on him and required in his job. He hated the fact, that everyone should do everything by the same patterns and rules, even when it comes to art. The whole idea was absolutely preposterous to him. That is why he decided to take up street photography and express his full potential. Klein get it down to experimenting and making something new, searching for himself in the art and looking for new means of expressing and transmitting it to others. First, he was not understood by his contemporaries and even received a hostile attitude from Vogue, from people he used to work and closely communicate with. He felt down at first and was quite discouraged, but notwithstanding such a social opposition he never stopped being devoted to his passion. For such devotion he was soon rewarded by he public recognition and numerous awards in photography. The greatest thing avout him was that he was always supportive of the idea of communicating with his subjects, getting to know them better in order to obtain fabulous photo images. That was his idea of street photography which he tried to take into masses: communicate but not sneak, help to get those people open to the lens, and as soon ad you do that, it does not matter how expansive you photo gear is.
Robert Doisneau
This French street photographer was enraptured over raw emotions and true feelings. He was one of the representatives of the humanist current of street photography. Doisneau was always bewitches by the stories of average pedestrians, strangest on the streets. With his camera he would rather capture characters, meaningful moments, people's souls, but not just outer beauty. For Doisneau appearances meant nothing on their own. It's what is inside that made him be bewitched with people he met. Virtually, he studied to be a lithographer but never turned out to be one. Instead, he made up his mind to devote himself completely to photography, to pay tribute to this art and show how beautiful Paris of the time was. Robert Doisneau always felt an urge to get out there and explore what was going on in the street. And so it was: he was just wandering around the streets of Paris, finding out new stories, getting acquainted with new unique personalities and capturing all that with his camera. And that was one of his urban photography tips - to truly het involved.
Diane Arbus
Arbus was one of those famous street photographers who were against conventionalism and snobbism. She wouldn't agree with the fact that a photographer should always stay aloof, cold and never really get in touch with the subject. That was just nonsense to Diane Arbus. She would better break the rules, push the boundaries and find out more about people she wanted to capture with her lens. She considered it to be a great idea, since it was easier then to portray characters, capture their essence. It was absolutely meaningful to her to photograph something or somebody she knew absolutely nothing about. Buildings without histories, people without souls. It would be all to vain, to her mind. Diane Arbus is also well known as a master of poignant street photography. The thing is that she was enamored of queer people like circus artists, transsexual people and so on. Some viewers were shocked and even appalled by such shots, but others were endeared. Some would say she came to the extremes, but it certainly works on the background of conventional snobbism.
Vivian Maier
She was never recognized at life and never truly wanted it. She was a modest creature, always clad in a masculine fashion, always silent and never eager to open herself to strangers. The only thing she would stick to was her photo camera: first and amateurish one, then better with time. No matter where she went, who she met with or how she felt – she was never alone despite what others felt. She was with her camera, the only thing that helped her see the real beauty of life, to capture nice moments, interesting people, unusual places and enchanting objects. Vivian Maier slowly worked her way through street photography, patiently learned how to catch fleeting moments starting from people and then completely shifting to inanimate objects. She was never known as an amazing photographer and never received a penny from it at life. If it hadn't been later for another photographer who accidentally found her negatives and showed them to the publicity, we wouldn't be able now to contemplate her works, her unusual and compelling vision of urban life.
Garry Winogrand
Garry Winogrand was one of those successful and productive street photographers who paved the way to street photography but never wanted to be classified as its representative. He didn't want to be judges but art curators or historians, he just wanted to get indulged in photography, together and all. Garry Winogrand was mesmerized by street photography settings and wanted to explore them with his photo camera. He would just wander around the streets and capture people moving and being in a constant rush, their expressions, moods, gestures, demeanor etc. For Winogrand it was all about how the subject was photographed, how people behaved, but not just the resulting piece of paper. He was vigorous, energetic and was never tired of searching for something new and exciting. Garry Winogrand indeed captures the sole of the urban lifestyle, conveyed in to the crowds and fascinated others with its beauty, inspiring a multitude of other photographers to indulge into the same domain. No wonder he was greatly appreciated in the photography world and received numerous respectable awards.
Henri Cartier-Bresson
One more awarded European photographer who was in love with the world he lived in. Henri Cartier-Bresson was versatile person with a broad outlook who wouldn't stay in one place, continuously be engaged in one activity and devote himself to one kind of profession. He would rather move around, try out something new and find his true self in this way. He used to write, draw and make photos, indulge in journalism and explore social activities. Photography for him was like working with a sketch book: drawing pictures, not exceptionally detailed but complete enough to catch the idea, something brief and a bit vague but quite meaningful at the same time. Cartier-Bresson appreciated candidness and spontaneity. That is exactly the reason why urban model photography was just the right thing for him. He was happy as a clad once he got out into the street and could find a spontaneous and random material to work with. A bit of intrigue and enigma, a bit of someone's soul, a bit of an individual, so lonely against the expanse of urban jungle, but without which it wouldn't be complete any longer.
Joel Meyerowitz
Meyerowitz really pushed artistic boundaries by means of incorporating color to the photography domain. Back then most people were accustomed to seeing numerous shades of gray and were a bit hostile biased towards it. Meyerowitz was one of those street photographers who showed how colors are important, how fun they can be, how much life they are capable of displaying. He first worked with two cameras at a time: monochrome one and a colorful one. Only after his trip to Europe he switched completely to color photography and fully embraced its power. Meyerowitz also tried not to stick to the classic rules of photography but rather experienced with what was usually marked as taboos. He liked experiencing with contrast, light and shadow balance and was eager to shot close-ups. Thanks to his fabulous photographs he was greatly respected by the authorities and publicity in general. Besides, he was the only photographer who was allowed to take pictures of destruction and reconstruction after the 9/11 tragedy.
Paul McDonough
Paul McDonough always ran errands with his photo camera at hand. He was totally convinced that real life if full of interesting stories and abound in curious details, fascinating events. He thought that all you needed to do for capturing an amazing picture was to turn the corner and snap a photo. Initially, Paul McDonough wasn't up to photography. He was eager to pain and photography for him was like sketching ideas he would then display in his paintings. Nevertheless, having discovered that streets were much more powerful than a studio where everything was artificial, Paul McDonough made up his mind to devote himself completely to the art of street photography. He would first make photos the instant he saw something valuable in the moment and then liked to discover new details in the shots which made the images even more enchanting, interesting and special. Although he was fist not famous and appreciated, with the help of one exhibition which displayed two of his works he started to gain more and more recognition which inspired him even more.
Martin Edward Elkort
Martin Elkort was fascinated with photography from very early years and this passion was greatly supported and encouraged by his parents. Those were his parents that made the greatest present to him – an expansive camera thanks to which he developed his artistic skills and even became a member of the NY Photo League. Its members were supposed to make a photo chronicle of the post war society. Although mostly those photo images displayed poverty and social flaws, Elkort would rather capture optimism and humor in every moment of post war American society. Martin Elkort was really that one person who saw beauty and positivity in every instant of life. Unfortunately, he was forced to take up other activities later after having made a family of his own, since he wanted to supply them with all the necessary things. Elkort spend most of his life writing and traveling for livelihood, and only after retirement he found time and inspiration again to get back to his true passion he was so incredibly good at – street photography.
Saul Leiter
Saul Leiter is one of distinguished street photographers who gave color photography its heyday. Just like Joel Meyerowitz, he was one of those ingenious photographers who truly believed in the power of color. And so although being a painter at first, he chose photography as his only artistic passion and decided to show the world how beautiful, colorful and disparate it could. Saul Leiter was quite distinguished at life and had many successful exhibitions of his works. He was also one of the founders of the NY School of Photography accompanied by Arbus and Frank, the elephants, so to say, of the 20th century street photography of the beautiful NY City. Not only does Leiter stand out among other street photographers for his fervor and affection towards color, but his style of photography appears to be quite peculiar as well. He was an ardent lover of abstractionism and perpetually did his utmost to embody this artistic current in his photography works. He would blur his subjects, make photos though rainy windows, from a moving vehicle etc. It certainly paved his way to the photographic podium, Olympus of photography artists, and made him one of the most distinguished and innovative street photographers of all times.
Most famous street photographers of contemporary times
Just like at the beginning of street photography blooming years, now, in the epicenter of technological development, there are tons of worthy photographers and amazing street photography artists who are fascinated with urban model photography and constantly produce new mesmerizing street photography ideas. Just like the photography masters mentioned previously, they are fascinated with the fleeting life that is always in progress in the urban maze. These people are fascinated with life as it is, framed by impetuous urbanism and rapid progress. These people take their time to look around and find something special, something to appreciate in everyday things other people are so reluctant to pay attention to. Some of these urban photographers are those photography artists we mentioned in our article "Amazing photographers you should try in 2017". Some of them may be quite unknown and just on their way of making themselves as artists, but they are still appear to be quite ambitious and have that flicker in their eyes, that outstanding skill to feel the world outside and to display it with their lenses. And exactly those characteristic make them worth paying attention to and appreciating their sublime works of art.
Eric Kim
Eric Kim is quite well known all around the world due to his high social activity, as well as outstanding sense of beauty. He owns a photography blog, a YouTube channel where he helps others embrace the phenomenon of street photography, as well as travels all over the globe to participate in workshops and lectures on how to be efficient with street photography. Kim has an abundant amount of urban photography tips for beginners. For those who have fears when trying to embrace their photography passion. Not only is he ready to give a helping hand and supply others with fruitful urban photography tips , but he is also exceedingly prolific in his own work. His street photos are fascinating and intriguing, displaying curious moments and interesting details. They canst but fascinate your eye and wonder: why no take up street photography myself?
Yanidel
This photographer is mostly known for his Paris street photographs. The guy is so in live with the city that he can meander along the streets until he sees something special and worth capturing. As for him, it doesn't take that much to find something precious, since he definitely has an eye for beauty of the urban life. Yanidel appreciates not only Parisian street photography settings. For the sake of discovering something new and exciting, he travels all over the globe to satiate his passion to photography. What is more, Yanidel has a great blog dedicated to photography where he shares his best urban photography tips and street photography ideas he considers to be worth trying and keeping in the mind.
Benoit Rousseau
Here is one more Parisian street photographer who shares love for capturing sincere moments and interesting pictures of strangers. Paris is his second greatest passion, just after street photography itself. This city is the best inspiration for Rousseau, that little light that keeps him going, searching for new things and fighting for his passion, showing others the beauty of his best encourager in this way. He started his photography career in 2008 and still has the same desire to get ahead and make something worth paying attention to. Street photography settings make him incredibly happy. Benoit Rousseau merely cannot imagine his life without capturing strangers with his photo camera. That's what keeps him happy and motivated to create amazing and interesting photo images.
Michelle Groskopf
This guy has been passionate about street photography for almost 20 years. He is based in Los Angeles but is always eager to travel elsewhere to find out something new. Groskopf may not be so well known, but he certainly stands of from the herd with his peculiar and interesting photos. Not many people appreciate queerness, but there are for sure those people who can appreciate unusual look and quite usual everyday things. He likes paying attention to details that somehow are left unnoticed by the majority of us out there. And that what makes many people gravitate towards his unusual street photography.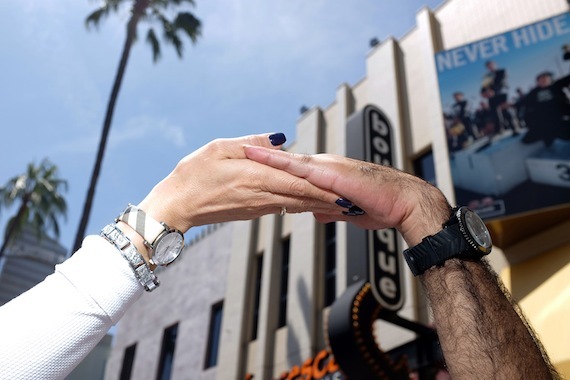 John Diaz
John Diaz is a Columbian street photographer based in New York and having a great NYC Street Photography Company. This person has so many street photography ideas that he wishes there were more time and opportunities for him to realize them in reality. Diaz strongly believes that streets are full of live and magnificent moments. He feels like everyone should try just going out and giving it a shot. There are heaps of interesting things around us but we consider ourselves too busy to look up and notice them, to turn our heads and hold on a minute to appreciate the moment. That's his main idea he adheres to and thanks to which he gets amazing street photo images.
Ryan Tacay
This Toronto-based street photographer is well now for the rich variety of the street photography settings he catches with his camera. Ryan Tacay has an exceptional style which can mesmerize anyone, to our mind. He is vigilant enough to spot perfect moments which precisely describe our contemporary society. This street photographer is apt to catch really peculiar moments or just simple and usual one but in a quite unusual way. This and his love to strangers, streets with all their rush and understanding of beauty of everyday things make him so special, powerful and worth paying attention to.
Jomayra Texeira
Jomayra Texeira ming be one of those Top 10 remarkable Instagram photographers that is recommended to anyone. His instagram account looks fantastic and his street photography is merely amazing. He has an incredible style of embodying the spirit of big and busy New York. He probably never resorts to such tricks as headshot retouching even if he does take street portraits. For Jomayra Texeira, the beauty lies in the natural course of things. Besides, no portrait retouch is required when you shot your subjects with their backs towards the camera or with a blur effect. Overall, this street photographer really has the talent and will definitely rejoice us with his stupendous photography works.
Robert Warhurst
Robert Warhurst is a talented designer and quite a gifted photographer. He does not adhere to one kind of photography. Nevertheless, he has amazing street photographs which display NYC from its best side. Robert, apparently, has a great sense of style and appreciates beauty around him. He makes incredible photos of New York and its suburbs. He is not really into taking photos of strangers that much as other photographers who were mentioned previously. Nevertheless, Warhurst can't but fascinate your with his skill to catch the fleeting moment and capture a beautiful picture. You can check out his instagram account and see it for yourself how mesmerizing his pictures are.
Cocu Liu
Here is one more photographer who primarily works as a designer (product designer to be more exact) but also shares a passion of capturing the beauty of an urban life. He lives his life between two amazing cities – Chicago and San Francisco which definitely has tons of suburb places worth being captured by a skilled photography artist. And one more time, he has and absolutely great instagram account which definitely deserves even more followers than it already has. Cocu Liu is somehow capable of taking breathtaking shots even in places which seem to be perfectly ordinary to other people. Even light cough be his camera lens look majestic and exceedingly beautiful.
Danny Santos
He has first started everything as a hobby and was in love with the streets in Singapore. He used to take pictures of strangers in order to explore his talent. To see whether he is worth something in the photography world, and whether he should keep on going with the hobby. Eventually, hobby turned out to be his vocation. Now Danny Santos is a fully fledged photography who mainly specializes in commercial and portrait photography. However, he has never even though about leaving street photography and still develops himself in this very domain, making absolutely amazing progress. Danny works with numerous distinguished companies as a commercial photographer, with a multitude of famous people as a portrait photographer, but street photography is something that will not only bring money to him, but a tremendous pleasure and inspiration.
Street photography is exceedingly captivating and has much to offer. The only thing that is needed here is to be ready to dive in it all, to be thirsty for exploring something or someone new around you, to discover the beauty of humanity in the era of informational gluttony, perpetual haste and overcrowded spaces. Urban model photography may be extremely exiting, especially when you work with passion and are devoted to your cause fully and ardently. There is so much potential in this very photographic domain, as you can see. There are tons of street photography ideas one may try and instantly fall in love with urban photography. All of the above mentioned street photographers are vivid examples of such a passion. Some of them may do it for fun and pleasure, some may make a pile on it. Most of them, nevertheless, resort to photo color correction services or any other kind of photo retouching for the purpose of making their shots even more outstanding, eye-catching and special in their own way. When you observe their before and after retouch images it more conspicuous than ever that skillful and clever photo editing can make a breathtaking shot to whole different level, and thus make it stand out even more.
Well, some photography artists tend to retouch their shots on their own to make them one hundred percent authentic. Some may just enjoy working with post processing and creating a bit different version of recently taken photo images. Some photographers may enjoy only the creative process, but not the routine of touching up and pruning away minor imperfections. No one desires to get stuck in a tedious rut, right? That is the reason why the majority of prolific photography artists tend to outsource their photo images for retouching to such photo editing companies as ours – FixThePhoto.
Our photo post production services enable photographers pay more attention to their photo session and to be engaged in creative process more than in the routine work of photo retouching. We take up retouching jobs of all levels of complexity and are ready to adhere to you personal preferences, demands and wishes. That's what we are here for – to make your professional activity a bit easier and the issue of photo editing a bit less annoying. Our professional team of highly qualified photo editors is always ready to give you a helping hand and meet your demands, and thus make your career even more highflying with the help of impeccably outstanding photo images. Besides, our photo editing prices are highly affordable, so that any kind of photography artist can afford our photo retouching services, and thus make the creative side of the photography profession a burning priority.
Do you like the article? Please feel free to share it via your social accounts.
---
Pay attention this photography blog which does not require credit for the pictures and photo post production examples listed here . All photographs used in the article are only copyright to their respectful creators . These shots posted as a big admiration of portfolio and photo retouching talent the experienced rt masters have . If you found the photo on this post that is yours and do not want to be promoted on our website , please do not hesitate to write us via online chat on your right and it will be quickly deleted .
---
Rate the article!
The article's rating:
---
You comments or questions are welcome; please share your opinion on the topic.
Use Facebook:
Use Disqus: