Why Should You Stop Retouching Your Photos By Yourself?
If you're reading this article, it may because you really don't know what can help you to keep your time on retouching your photos. You have become one of the most in-demand photographers and you understand that you have to pay more attention to your photo editing. Initially this process was not so demandable. But now you should be careful with details and sharpness. You know about modern standards, to what level you need to increase your retouching. But you do not exactly see how much time you should spend on it.
The answer is obvious – it depends on your technical base and skills in working with edition programs. The best condition is having a big experienced team. Your makeup artist knows his business, the model does not have blemishes on skin, and the hair stylist has a good sense of style and of course the main work of photographer. When all is said and done, you have a right picture on your camera which does not need many changes. How long should photo retouching really take? Let's break it down. Generally, you may spend from 30 minutes to 8 hours and above. Everybody works at their own pace, with their specific attention to the details.
Average Time Spent Retouching
Have you ever thought about time spent to photoshop your shots by yourself? It depends on great variety of facts left undefined. If your picture looks wonderful out-of-camera – this is nice, do not make any corrections. But the typical outline of workflow is following. You start reviewing each photo deleting bad ones. Having chosen outstanding images you make the main adjustments, photo color correction, contrast, white balance, saturation, sharpening, curves, etc. About 20% of your pictures need cropping. Then you go over the specific modifications: vignette, artistic effects or split toning.
If you use Photoshop, it will be from 5 to 30 minutes. Professional photographers confirm that the most time you spend is probably half a day. You will have to work with shadows and highlights because it is a night city scene photo. As we understand, we should find a personal lead-up to each kind of picture, starting with Fashion and Beauty shots, ending with Landscape and Architecture.

Classification Of Things You Have To Retouch
We introduce you an example-list of a common good image. These are the most important elements you have to pay attention to. It may also change due to the complexity of the shot. Memorize them as you read on.
Skin retouching in photo. It is not taking away the gaps; it is a hard work at re-adjusting the contours and correcting makeup. Everything that makes you picture look awful must be evened out and fixed, nothing should be left assumed. See examples of portrait retouching service.
Perfect hair style Hair work may also turn out to be a big deal while retouching. Naturality is always the key to success. But if the picture claims for being edited, you can spend several hours working on hair. Everybody knows that hair is a strand by strand affair. This correction can add up much time.
Image toning Getting the perfect tone really lets the pictures play in the frame. We can compare color work in photos with music edition in movies. Without this effect the image does not touch us to the heart. It depicts picture spirit.
Levels, contouring and sharpening
The cherry on your sweet photo will be post-processing. If you do not know what it means, click here Editing, Retouching, Post processing, Post Production – what is the difference. Having read the facts above you see that retouching time may goes into hours. This is one of the reasons why you should stop editing your photos by yourself.
Retouching Problems Faced By Photographers
We collected the frequently asked questions about photo retouching. They are all about the same point ─ how long should the post production work take. You will find the answers below.
`Now it is a high season and I have too many orders. How can I save my time?`
It depends on how much coverage you give and if you work alone or with assistants. Just do the main edition as removing obvious blemishes and have each picture come in color. You can spend 10-15 hours posting 1000 images. So the best variant will be to hire out a skilful graphic for 10$ per hour who will be responsible for post-production work. Pay them $100 to $150 and spend your time landing new orders.
`Shooting brides won't wait too long – I always have to hurry up. What can I do to make it easier?`
If you usually make from 900 to 1200 photos at a wedding and then want to be edited only 300 – 350 ones, use the Nikon program Capture NX to do 90% to 95% of the work. It has an advanced color point functions. Also you can use Photoshop for the final touch-ups (vignette, selective coloring, etc.) The total time can is less than 12 hours.
`I have a full time work and shooting weddings is my part job. I have a lot going on in my life, and have little downtime.`
If you want to have pretty looking images you should not escape retouching. If you have not enough time for it and you cannot find a good editor ─ use online photo editing services. You can find them just typing `Edition Online` in your web searching system. You can find them by searching in a web search engine or asking recommendations from other photographers. Look attentively at time they need for correcting because many brides would never use a photographer who took more than 2 weeks for the finish. Wedding photography edit is very important because you do not have enough time for posing and correcting light.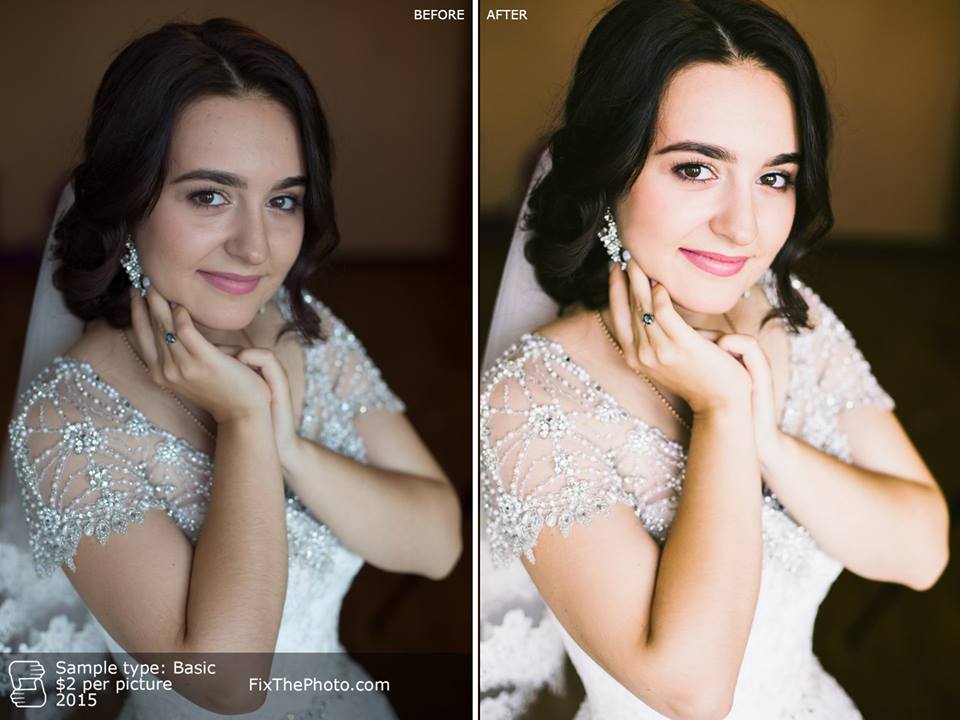 What Is The Solution To Your Time Problem
Some photographers find it monotonous for 50-80 weddings a year and they`d rather be taking photos or creating albums, or working with and talking to other photographers. You can buy another for your freedom. As it was said above, you can hire an assistant who will retouch your photos. One way or another, outsourcing makes your business thrive. But don't you think it be very expensive? They determine a reasonable hourly rate from 15 to 50$.
We agree, it is hard to have business with unknown people, but there are also other wedding photographers too who can post images quicker than you. But if working with such photofinishers is too costly for you, employ online editors' services. Few years ago you bought expensive editing software and thereafter you had to learn it properly and only then could edit your images.
Nowadays you just need to have a laptop or a computer with Internet connection and a good online photo editor retouching service. There are numerous websites that offer tools that can change eye color, correct contrast or saturation, adjust exposure, and restore old damaged photos in a flash.
How To Choose Online Retouching Service
Photographers have wide choice when the question is about choosing the right photo supplier. Experienced retouching web-sites help substantially to serve your time spent on post-production which let your business grow. There are 3 main benefits photographers have when they deal with online edition web-sites: quality, cost, and speed.
When you want to work with the best of them, look attentively at these instructions.
The prominent advantage of editing photos by yourself is the fact that you know exactly what you want and you have creative control over your `creatures`. Somebody calls online retouchers `babysitters`; you can trust them your pictures if you are sure them to be safe. The best ones will work until a client is 100% satisfied.
Look attentively at services they suggest, their skillful work you can see viewing examples. Each photographer has a preoccupation with cost. When you are going to work with the photo retouching website, pore their pricelist and make sure you understand the payment terms and their currency of choice. It is obvious, that everybody wants a fast turnaround for edition of their photos. Some suppliers provide a very high turn around without excellent quality.
Always make sure that you have a clear understanding of their deadlines and what they will do if they fail to follow them.
If online retoucher suits you by all definitions, detailed planning and sound mind will definitely lead you to successful relationships with the retouching company. Outsource your retouching work to a reliable company and you will have more time to find new clients for your photography business.
FixThePhoto provides high-quality online photo post production services from color corrections to digital sketching and from family photo retouching to damaged photo restoration.
We have an affordable price for retouching - from $2 per photo, deadline is during 24 hours.
The next advantage of choosing exactly our photo retouching website is a big amount of discounts. If you order for amount over $300 you will get one-time 35% off the order cost.
If you continue ordering post production services from us for longer than 6 months and have ordered over $1500 in total during the time, you will get 50% off any order during the next 6 months.
To make sure in our quality just look at our retouching examples. Our experienced retouchers plus your wonderful photos are equal to stunning success. We create retouching magic!

Do you like the article? Please feel free to share it via your social accounts.
---
Pay attention this photography blog which does not require credit for the pictures and photo post production examples listed here . All photographs used in the article are only copyright to their respectful creators . These shots posted as a big admiration of portfolio and photo retouching talent the experienced rt masters have . If you found the photo on this post that is yours and do not want to be promoted on our website , please do not hesitate to write us via online chat on your right and it will be quickly deleted .
---
Rate the article!
The article's rating:
---
You comments or questions are welcome; please share your opinion on the topic.
Use Facebook:
Use Disqus: