Professional Photo Editing > Free Photoshop Actions > Free Winter Novel Photoshop Actions
Snow Action Photoshop Free
With these 6 free Snow Photoshop actions, you may add winter magic and atmosphere to any holiday picture. Now you don't have to spend much time waiting for perfect weather and constantly checking metcast. These Snow actions Photoshop are very effective if you need to adjust the tone of winter photos.
Use Ps these actions to create beautiful photos with a lovely winter mood. You may look through various photo samples, that will inspire you and give a clearer idea of how to use each action Photoshop Snow from the bundle. All the plugins are easily adjustable, so you'll surely enjoy both the results and the image editing process itself.
These Snow Photoshop actions were created by the best retouchers and digital artists and look realistic. You need to spend just several minutes to add snow to your photos but no one will ever guess that the picture has been edited. As photographers typically have their hands full of diverse tasks, this collection is a wonderful time saver. You can improve dozens of photos in no time. Each Photoshop action with Snow effect may be also very useful if you want to create a postcard to send to your friends or a gift for your clients.
---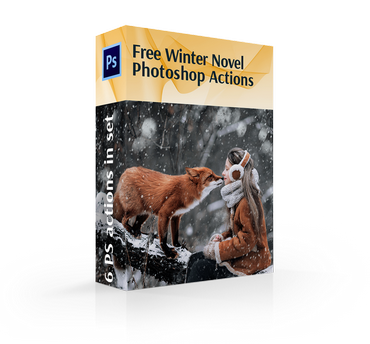 Free Winter Novel Photoshop Actions Bundle:
---
Snow Photoshop Action
Either you have missed a snowfall to take winter shots or the suitable weather hasn't come yet, you may not worry that your clients won't have a winter photo session. Each Snow action in Photoshop from this collection is super useful if you want to add realistic-looking snow to the image. We took care of the tone and depth, so the snow looks like it was really photographed on a camera.
There is no need to spend several hours outdoors waiting for fluffy snowflakes falling from the sky. Organize a photo session for your clients in a beautiful location, take photos, and then decorate them with Snow effect action Photoshop.
We did our best to create a universal collection, which will suit lots of photography genres, so you can apply these plugins to landscape, street, and wildlife pictures to use them for regular winter shooting. Besides, these filters will make every winter wedding photo very atmospheric. Are you engaged in graphic or web design? Wish to create your unique invitations and postcards? Have an idea to make a big winter calendar? Don't waste your time and money! Download these Snow Photoshop actions and get impressive results in several clicks.
---

Free Snow Photoshop Actions
• 6 Free Snow Photoshop actions

• Each plugin comes with Photoshop brush

• You can set the action Photoshop Snow depending on your purpose

• Use any PS version, PSE11-1, and Creative Cloud

• For Mac and PC

• JPG and RAW
Winter Novel Collection - 10 Free Snow Actions Photoshop
---
PS Action #1 "Blizzard"
If you wish to add beautiful falling snowflakes to your winter shots, this Snow action for Photoshop Elements will be very useful. It helps accentuate the main object of a photo, surrounding it with beautiful snowy particles that are evenly distributed across the frame. Thus you may hide or simply distract attention from the background and get an atmospheric picture.
Action's group: Snow Actions Photoshop
Tip: Apply the action to the photo with the bokeh effect and combine it with a suitable Photoshop overlay.

---
PS Action #2 "Christmas Tree"
Do you want to add some shiny small elements to your photo? Think that it looks too monotonous and uninteresting? Choose the second Photoshop Snow action from this kit to add some Christmas vibes to the image. You may adjust the size of the snowflakes in accordance with your needs.
Action's group: Photoshop Action Snow Effect
Tip: Apply it to "pale" photos devoid of brightness and saturation as a result of improper lighting.
---

Ps action #3 "Frosty Morning"
This plugin has a really self-described name. So, if you want to make your photo "colder" and make blue colors even more saturated, you definitely need this Snow action in Photoshop. In such a way, the person or an object in the foreground becomes more prominent and attract all the attention, while the falling snowflakes serve as a beautiful background.
Action's group: Snow Effect Action Photoshop
Tip: We do not recommend using this action for the photos with white color prevailing.
---
Ps action #4 "Garland"
Do you have a real wither shot with big piles of snow and simply need to add tiny spinning elements to the foreground? Pay attention to this action, which will help to make your photos festive and bright.
Action's group: Snow Action in Photoshop
Tip: This Photoshop action Snow is perfect for family photos and portraits, as it helps to emphasize the natural skin tone.

---
PS Action #5 "New Year's Toy"
Lots of photographers strive for the atmospheric winter shots, which will emit joyful emotions and holiday mood. It is difficult to achieve all these at once at the photo session, but you may add the Photoshop Snow action and make your pictures bright and eye-catching. It will work for different pictures, but portraits will look especially beautiful with such an effect.
Action's group: Photoshop Snow Action
Tip: This action will help to make the white color in your pictures really white and will emphasize the rest of the gamut.
---

PS Action #6 "Warm Cacao"
Make your winter photos truly "warm" with this Snow Photoshop action! It makes the background a little blurry, accentuating the bright colors in the foreground. Will be great for portrait and family pictures.
Action's group: Snow Action for Photoshop Elements
Tip: We don't recommend using this action if you have a photo with the snowfall.
---