Professional Photo Editing > Free Photoshop Actions > Free Winter Novel Photoshop Actions
Snow Action Photoshop Free
With these 6 free Snow Photoshop actions, you may add winter magic and atmosphere to any holiday picture. Now you don't have to spend much time waiting for perfect weather and constantly checking metcast. These Snow actions Photoshop are very effective if you need to adjust the tone of winter photos.
Use Ps these actions to create beautiful photos with a lovely winter mood. You may look through various photo samples, that will inspire you and give a clearer idea of how to use each action Photoshop Snow from the bundle. All the plugins are easily adjustable, so you'll surely enjoy both the results and the image editing process itself.
These Snow Photoshop actions were created by the best retouchers and digital artists and look realistic. You need to spend just several minutes to add snow to your photos but no one will ever guess that the picture has been edited. As photographers typically have their hands full of diverse tasks, this collection is a wonderful time saver. You can improve dozens of photos in no time. Each Photoshop action with Snow effect may be also very useful if you want to create a postcard to send to your friends or a gift for your clients.
---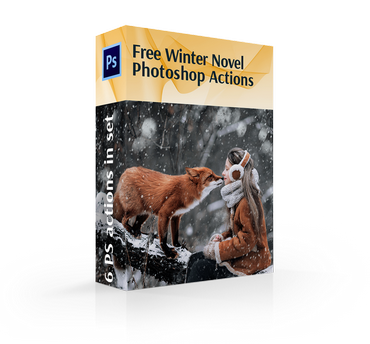 Free Winter Novel Photoshop Actions Bundle:
---
Snow Photoshop Action
Either you have missed a snowfall to take winter shots or the suitable weather hasn't come yet, you may not worry that your clients won't have a winter photo session. Each Snow action in Photoshop from this collection is super useful if you want to add realistic-looking snow to the image. We took care of the tone and depth, so the snow looks like it was really photographed on a camera.
We did our best to create a universal collection, which will suit lots of photography genres, so you can apply these plugins to landscape, street, and wildlife pictures to use them for regular winter shooting. Besides, these filters will make every winter wedding photo very atmospheric. Are you engaged in graphic or web design? Wish to create your unique invitations and postcards? Have an idea to make a big winter calendar? Don't waste your time and money! Download these Snow Photoshop actions and get impressive results in several clicks.
Free Snow Photoshop Actions
6 Free Snow Photoshop actions
Each plugin comes with Photoshop brush
You can set the action Photoshop Snow depending on your purpose
Use any PS version, PSE11-1, and Creative Cloud
For Mac and PC
JPG and RAW

Winter Novel Collection - 10 Free Snow Actions Photoshop
---
Snow Effect Action Photoshop #1 "Blizzard"