Professional Photo Editing > Free Photoshop Actions > Sepia Action for Photoshop Free
Sepia Action for Photoshop Free
Free Photoshop sepia actions are recorded Photoshop tasks that correct color settings and make a sepia effect, which reminds the shades of dry autumn leaves. The photos with the effect of sepia are especially beautiful, and very popular not only in design industry, but in photo retouching as well. Now you do not need to spend a lot of time in front of your laptop or learn the basics of photo toning in Photoshop. All you need to do is download sepia action Photoshop, adjust its settings to your taste, and get a wonderful result.
In this bundle of Photoshop sepia tone actions, you are offered to choose among 6 unique and professional actions that are designed to speed up your photo retouching time and make photo retouching funny. No matter whether you are an advanced user of Photoshop or a beginner, do not hesitate about working with these sepia actions for Photoshop free.
---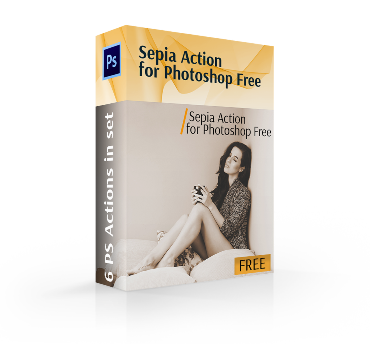 Sepia Photoshop Action Free Download:
---
Free Photoshop Sepia Action
Warming up different kinds of photographs with the help of sepia tones is very popular nowadays. The actions from this collection focus mainly on the contrast in the midtones and adding the yellowish tint. It helps this set of sepia Photoshop actions create a rich dramatic and thrilling effect.
With the help of this pack of sepia tone Photoshop actions, you will finally reproduce that effect of old and faded pictures. Get a wild west, cool retro and matte effect in just one single click.
---
Free Sepia Photoshop Action
• 6 actions Photoshop sepia;
• Convenient .atm format;
• Every sepia action Photoshop can be altered to suit your photographs;
• Compatible to apply on CS3-CS6 PS versions, Creative Cloud software and 11-18 version of PS;
• Comfortable working on Mac and Windows;
• Choose the format you like (.raw or .jpg).
Action Photoshop Sepia Free
---
PS Action #1 "Chocolate"
Who does not like the chocolate shadows on photographs? It looks amazing, especially on the photos, where you want to convey tenderness and warm atmosphere – family group photos, couple images or baby shots. This sepia Photoshop action is perfect for family or wedding photos, where the warm feelings is the most important thing to focus.
Action's group: Sepia Action for Photoshop Free
Tips:
Even if you are a beginning photographer, download and use this toning action for experimenting. Just a couple of simple steps and you will have a great photo with a pleasant and charming effect;
Remember, that sepia effect on the pictures is one of the most neutral variants that are suitable for the most styles of digital photography. It is as classical as black and white conversion.

---
PS Action #2 "Fashion"
Many people think that sepia action Photoshop has nothing to do with fashion photography, but many famous brands use sepia for their portfolios and magazine photography. Applying this effect to the photos, especially to the beauty portraits, you make them more refined and elegant. Experiment and use this PS action on street style or urban pictures too.
Action's group: Sepia Photoshop Action Free Download
Tips:
Pictures with brown shades seem to be softer and more harmonious, you should select appropriate photos with similar mood to let this Photoshop sepia tone action create the best results;
If you want to make the image more realistic, just try to turn down the brightness and the contrast a little.
---

PS Action #3 "Grains"
All the photos are taken to leave some moments or some days in our memory, aren't they? And what can do it better than the grains effect together with the sepia tone? This sepia tone Photoshop action is designed to create the most memorable photos for family albums.
Action's group: Free Photoshop Sepia Action
Tips:
You should be careful while choosing the photo to retouch. Some colors, such as aggressive light blue and pink will look equally light brown on the sepia photos, and this doesn't always look good;
Do not forget that the color elements the photographer focused the attention disappear when applying the sepia effect. So it would be better to take the photo directly for this action, counting on this effect.
---
PS Action #4 "Matte"
Get this sepia Photoshop action download and experiment with all types of photos without hesitating. The matte effects will turn every photo into the restful and pleasant image that will flatter everyone.
Action's group: Free Sepia Photoshop Action
Tips:
Any modern element such as a sport car, a limousine Hummer, a fan or an electric kettle photographed instantly receive a romantic sepia effect of old times;
The photos created with the help of this Photoshop action sepia tone are associated with antiquity but they still look very attractive. That is why we recommend you to apply such action to the portrait, wedding photos, urban landscapes and so on.
---
PS Actiont #5 "Nature"
The nature is very beautiful in itself, but experimenting with its photos and applying some effects makes it even more interesting and fascinating. This free Photoshop sepia action is only for nature images.
Action's group: Action Photoshop Sepia Free
Tips:
It would be better for you to use a photo that has realistic colors and contrast and wasn't edited yet;
You should choose the action of that shade that is the most approximate to the natural features. The grayish-brown shade is good for the landscape photography and for the portraits or naked body, the reddish shades of sepia will look well.
---

PS Action #6 "Pro"
Use this type of sepia action Photoshop download to create your perfect photo with a professional touch. This effect will only complement the atmosphere of the picture and make it really memorable and astonishing.
Action's group: Download Sepia Action Photoshop
Tips:
This action will look great with men's portrait, architecture photography and other types of photos where there are a lot of textures, contrast and details on the background;
Use the action "Pro" to add some charm to the photos with the help of the contrast of cold and warm shades.
---
This set of free Photoshop sepia actions will please everyone from beginner to the experienced photographers, bloggers, photo retouchers. Every sepia Photoshop action was designed by the real professionals for you to have the opportunity to experiment with the photos and make them astonishing in 1 click. Do not hesitate to apply all these actions as they are suitable for every type of photography.