Professional Photo Editing > Free Photoshop Actions > Instagram Photoshop Actions Free
Instagram Photoshop Actions Free
These 6 free Photoshop Instagram actions are real lifesavers for those, who like Instagram filters and want to turn a photo into a masterpiece quickly and effectively. You will spend no more than 5 minutes on adjusting contrast, tones, and brightness with these 10free Ps actions. For this set, we have gathered 6 best Instagram actions for Photoshop with a variety of fantastic filters and effects for any photographic taste. Download the actions and begin to amaze your followers on Instagram and other social networks with incredible images!
It does not matter whether you are an ordinary Instagram user, a blogger or a photographer, every photo you post is supposed to look appealing and draw the audience's attention. Thousands of people are going to look through your images, so make sure that your photo editing and the applied filters are at a high level.
---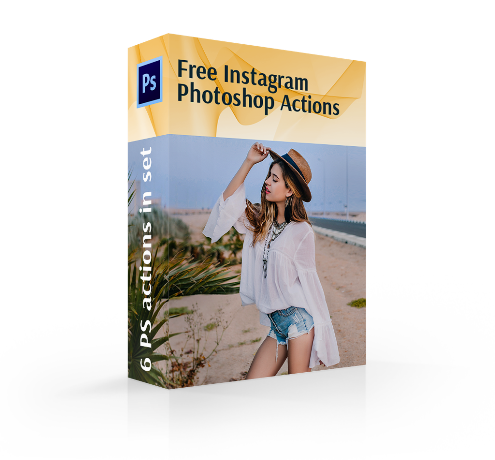 Free Instagram Photoshop Actions:
---
Free Photoshop Actions Instagram
In case you are in search of unique Instagram filters for Photoshop actions for a personal use, you have found the right place. We have developed 6 high-quality actions with the help of which you may repeat any desired Instagram effect in a photo with one click on you Photoshop. Get a hang of an efficient image editing for social networks, actively using free Instagram actions Photoshop. Stop wasting your time applying identical settings to multiple images. With free Instagram filters Photoshop actions, you may do it in a fast and productive manner. Use a suitable Photoshop Instagram action to add extra charm, texture or contribute to a specific atmosphere of a shot. In this way, you can turn a common photo into a stunning and captivating image.
Instagram Actions for Photoshop Free
They are absolutely compatible with PSE 11-1, Adobe Creative Cloud and Photoshop (versions from CS3 to CS6)
They come in a popular file extension – JPG or RAW
Can be configured in accordance with your personal preferences
They are created for both PC and Mac users
The set includes 6 diverse actions for an easy and efficient image retouching

Free Photoshop Action Instagram
---
Instagram Photoshop Action #1 "Green Shadow"