Professional Photo Editing > Free Lightroom Presets > Lightroom Presets Portrait Free
Free Lightroom Presets for Portraits
Our free Lightroom presets for portraits were produced specially for portrait photos retouching. Portrait photo is an imaging of a person or a trickle of people, where the face is a predominate element. The main aim of portrait photography is demonstrating emotional state and individuality of the object. The face is focused at the picture. Working with our free portrait Lightroom presets the photo retouchers have the opportunity to add a glamour effect, remove the greasy luster, smooth the skin, change the light intensity and contrast, add the image unusual gradation and shadows.
---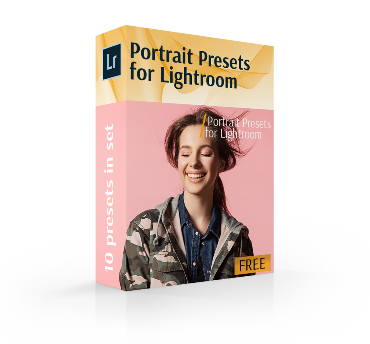 10 Free Lightroom Presets for Portraits Bundle Includes:
---
Lightroom Presets Portrait Free
A lot of retouchers claim, that during the self-retouching they can demonstrate their creativeness and to see the portrait in a whole new light. By means of free photography presets you can do it much easier, they are quite original and varied.
These are the examples of the best presets for Lightroom, which are usually used by professional retouchers during the portrait enhancing. The whole presets are created by specialists and are meant to be used exactly for portrait retouching. If you need really good portrait Lightroom presets free, download these ones and you will make great progress in photo retouching.
Characteristic of Lightroom Portrait Presets Free
10 plugins

with different settings and effects

Compatible with a

ll versions of Adobe Lightroom

Mac and PC

Fully managed
TOP 10: Lightroom Presets for Portraits Free
---
Lightroom Preset Portrait #1 "Contrast"