Professional Photo Editing > Lightroom Presets > Chocolate Lightroom Presets Collection
Dramatic Lightroom Presets - Chocolate Tone
Dramatic Lightroom Presets Chocolate Tone pack softens and saturates the color range of any photograph. Your portraits, landscape or wedding photographs, newborn or architecture pictures are expressed with deep and cinematic colors the best. In order not to damage the outcome during basic retouching, there are special Dramatic presets for Lightroom that perform the image post processing automatically and professionally.
Presented on this page Dramatic presets Lightroom will appeal to photographers of different genres as wedding and fashion photographers, graphic designers and photography bloggers. You will appreciate the advantages of any dramatic preset Lightroom in this pack that will save your time and perform color correction fast and easy.
Chocolate Lightroom Presets
Adobe Lightroom 5.2 and higher
Unlimited Number of Projects
Windows and Mac
RAW and JPEG
Comercial Use25
Size30 Kb
Downloads348
Rank
These Lightroom dramatic presets are designed to speed up your work in Adobe Lightroom and make a certain retouching after several clicks. The presented settings add softness to the photos' lines and make muted dark colors.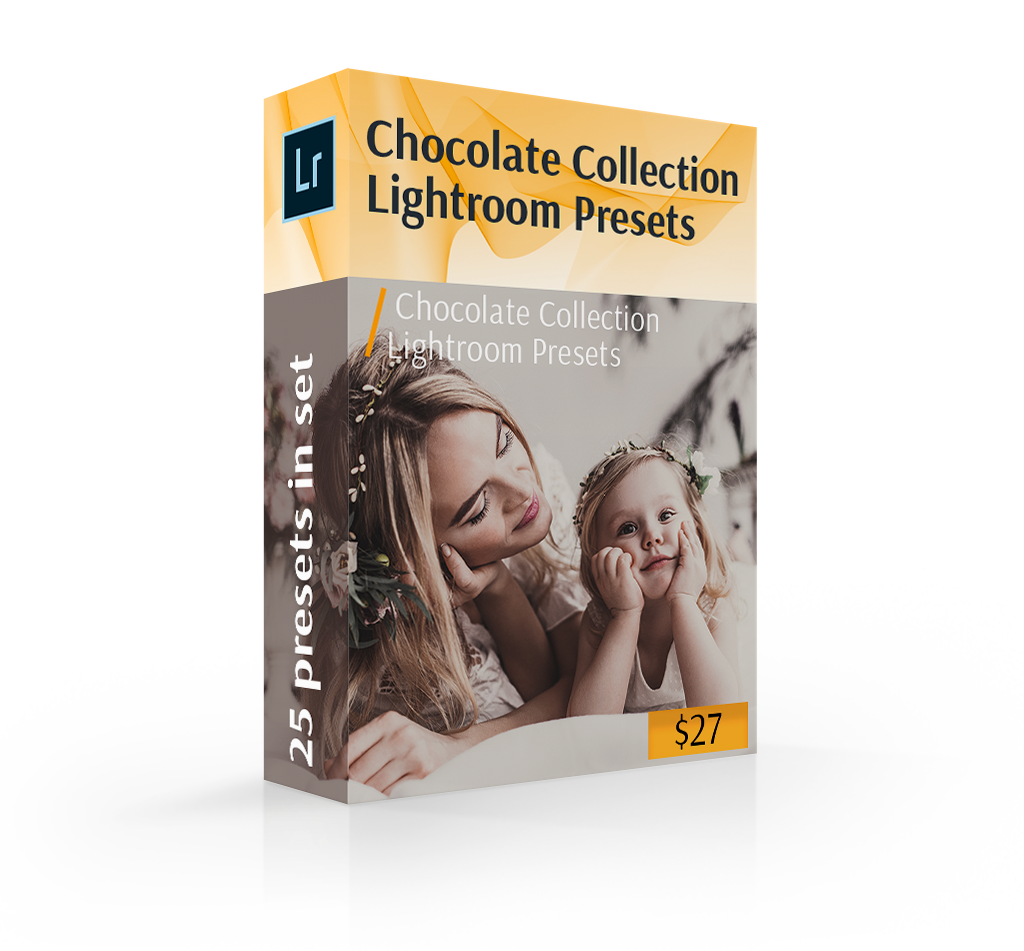 Lightroom dramatic presets bundle:
In the package each user will find a necessary Dramatic preset Lightroom. Among 25 kinds of effects you'll find Chocolate pastel, Chocolate warm tonning, Chocolate Glow, Chocolate Sepia, Chocolate dark mood and many other LR filters with a chocolate color effects.
These LR presets can be easily downloaded and used by the Adobe LR Release 4 and 5, as well as for versions 6 and CC.
Photographers can install the program and apply Dramatic Lightroom presets to any images on their computer or laptop with a Mac or Windows operating system.
Our practical advice is to apply the effects to photos saved in RAW or in standardized JPEG format to receive better outcomes.
The user can make further changes and make personal adjustments to improve the images after applying our LR presets.
Dramatic presets Lightroom
If you do not know how to work with Dramatic presets for Lightroom, here's an easy instruction for those who want to apply our Lightroom filters to their photos:
Install the Lightroom program and download LR presets,
Pick up the effect you like and select an image to apply it.
In the Develop Module menu, window with the LR presets on the left side, select the required LR plugin and click on it.
The program will automatically perform the retouching and color correction of the image.
Additional recommendations:
If you want to add a zest to a photo and give it an old-fashioned look with a reference to black and white and a natural chocolate range, then the following plugins Chocolate-Matte or Chocolate-Film are highly recommended.
Chocolate-BW presets will provide a light toning of black, white and chocolate colors. If you want a gentle and romantic look on your couple or wedding photographs, choose this LR preset.
In this collection of Lightroom dramatic presets, there is a LR filter - Chocolate Colorful preset - that is able to make cross-processing. Sunny and bright colors are guaranteed.
Warmth and gentle streams of sun touch the photo and leave a soft play of hues and colors on the image after applying Chocolate warm tonning.
The Chocolate deep contrast Lightroom preset will help to emphasize the character, idea, details and dramatic concept of the image. Especially it looks good on male portraits, but you can also add straight lines and contrasts into a street photograph with a city landscape.
---
Customers who buy this item also buy: