Professional Photo Editing > Free PNG Overlay > Night Sky PNG
Night Sky PNG
Download these Free Night Sky PNGs to improve starry sky captured on your photos and other creative projects. Using these free plug-ins, you don't have to worry about the weather, the choice of location and time of the shooting. You just apply an overlay and get a great picture with millions of stars. These Free Starry Night Sky PNG Overlays will add some kind of romantic or mysterious atmosphere in several clicks. These overlays help adjust brightness, shadows, sharpness, etc.
Do your night photos seem too boring? Does the sky look dull and unattractive? You can quickly cope with these problems if you use one of the starry night sky PNG overlays. Applying them, you can bring the starry sky closer and create the feeling that you can touch it with your hand. Your pictures will look fantastic and eye-catching. Enhance your images in Photoshop by using wonderful overlays from this set.
These overlays are universal and can be used for various types of photographs. Photo sessions in the night city, landscape photos, and creative portraits can raise one level higher if you add a night sky overlay PNG to them. The final images will look great both on the cover of the magazine and on the pages of your blog or Instagram. This night sky PNG free set was created by professional digital artists and can be used both by photographers and amateurs. All overlays are easy to download and use, so even beginners can apply them successfully. Basic knowledge of Photoshop will be enough to achieve stunning results.
---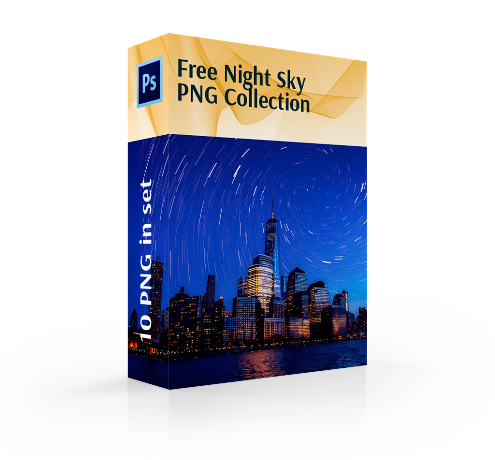 The Bundle of Night Sky Overlay PNG:
---
Free Starry Night Sky PNG
Apply these Starry Night Sky PNGs to urban images, outdoor portraits, and landscape shots taken at night
We don't recommend using these plug-ins for group photos or studio shots
These overlays are perfect for images with a dark background
Pictures near the water will look very impressive after applying these PNG night sky overlays
Avoid using this bundle with too colorful or light pictures
Dull and slightly blurry images will become sharper and more attractive with these plug-ins
Night Sky Stars Overlay PNG
10 Free PNG Night Sky PNG overlays
You can enhance your pictures in a few minutes in Photoshop and Creative Cloud
Completely FREE
Perfect compatibility with Mac and Windows OS
It is possible to edit RAW and JPG images

Night Sky PNG Free
---
Stars PNG #1 "Moon"