Professional Photo Editing > Free Photoshop Overlays > Free Flower Photoshop Overlays
Free Flower Overlays
If your summer and spring photos lack brightness and color, use one of the flower overlays presented in this set for creative photographers and photo retouchers. 10 Free Photoshop overlays help contribute to creating a tender and beautiful image in several clicks. Finally, you are not just getting an attractive realistic result, but also save lots of time.
You can use this kind of Ps overlays for newborn, family, weddings, portrait photos to add a fairytale mood. This is not the full number of photographic genres to work with the following flower overlays. You will surely find an overlay you like and that suits your image because there are 10 universal and different flower overlays for Photoshop in the set: different blossoms, colors, the location, and volume. Include fairy spring atmosphere to your pictures with our charming flower overlay bundle. With 10 adorable floral and leafy overlays, we made it easy to take incredible shots and add this extra special effect fast.
---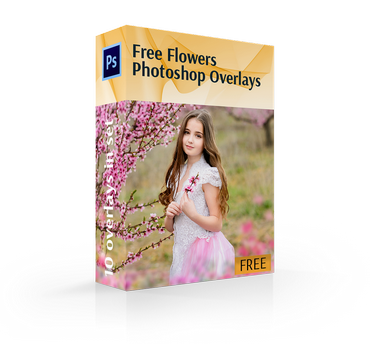 Flower Overlay Photoshop Collection:
---
Flower Overlays Photoshop Free
If you want to have a baby or portrait photo framed by branches and flowers, these Photoshop overlays are what you need. The shots with a flower frame create a deep and awesome look, but you cannot select the best greenery or flowers every time to perform your idea well. If you wish to generate your the special environment or maybe apply a few color shades to your pictures, our flower overlays are the best way out.
Save your time and minimize worries by concentrating your imagination on the main idea of your picture – a model. It makes your shooting more enjoyable if you know that the shrubs or a flowering branch will be added later using our flower overlays. It sometimes difficult to add the floral frame naturally. It may be a challenge for amateurs or beginning photographers. We are aimed here to help you generate nice, fancy pictures with our flowers overlays, no matter what photo retouching skills you have because working with our Photoshop overlays is easy even for young photo retouchers. These flower overlays Photoshop give you a chance to make dreamlike pictures in several clicks. Photoshop is frightening enough, but we prefer to help you feel more confident with this photo editing software with our flower overlay bundle.
Flower Overlays for Photoshop
10 Flower overlays are available
PNG files format
Compatible with Ps 4-6, Adobe Creative Cloud
Fast download
Suitable for Mac and PC
Raw and JPG formats

Free Photoshop Flower Overlays
---
Photoshop Flower Overlay #1 "Green Lawn"