Professional Photo Editing > Photo Editing Freebies > Aurora Presets Free
Aurora Presets Free
Want to use Free Aurora HDR Presets but don't know where to find the best ones? Or do you not even know about the existence of presets for this program? If you use Aurora software to edit your images, get the best settings of colors and shadows in a great bundle ready for download. Give your photos an extra touch of style or color.
---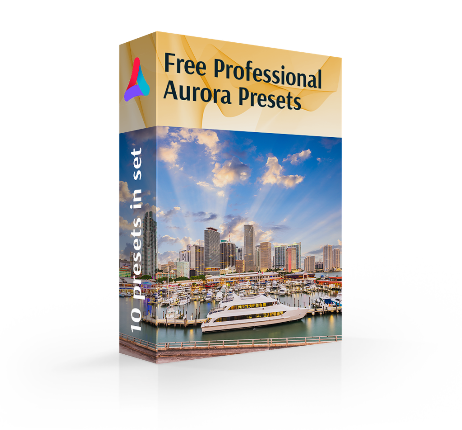 Free Aurora Presets Bundle:
---
What are Aurora Presets?
Aurora HDR Presets are a method of saving particular adjustments you've applied to a photo that can be further used for any other image. Aurora presets can preserve the exact levels of exposure and contrast, save the correlation between the shadows and highlights, replicate values of whites, blacks, or hues, and many other features.
Aurora is powerful software that combines the best features of Lightroom vs Photoshop. You can do minor corrections and adjustments and use a number of layers to make the best out of any image. The presets are a great way to get creative or to save working time.
---
Why do you need free Aurora Presets?
There are lots of photographers, who use presets these days, as well as many those, who carry out their work in this software as opposed to the popular Adobe products.
Working with free Aurora HDR presets allows you to distribute your time more efficiently, saving it on the boring and repetitive task of color correction and devoting more time to removing imperfections off the image. There are many benefits a photographer can get from a set of effects.
• High-quality and quick to use
• Add style and glamour
• Suit a variety of genres
• Work on Mac and PC
• RAW or JPG files
• Photoshop CS3-CS6, PSE11-18 and Creative Cloud






10 FREE Aurora Presets
Here is a selection of 10 free Aurora HDR presets that will save your time and support your reputation among customers as well as help you develop a certain style.
---
Aurora Preset #1 "Brighten"
This versatile and useful preset suits the images taken outdoors and in a studio. The main influence is the brightening of colors that, however, still looks natural.
Give an air of romanticism to your images with a soft look and a touch of green hues. Being one of the best Aurora HDR presets, it will give your image a more professional look.
Another touch of pink makes images look more original. This effect works best in portraits and lifestyle images, especially those destined to be posted on Instagram.

---
Aurora Preset #2 "HDR"
This great preset aims at creating a vignette around the edges. Such an effect can really help in cases when there are many details on the sides which distract from the main object, like a natural or urban background.
This preset also improves the look of water in images so use it for shots of lakes or rivers. In addition, this filter is fully customizable so you can use it for any image in case something looks unrealistic or doesn't suit your vision.
---
Aurora Preset #3 "Matte"
In case you need to lighten up some pictures taken in a dimly lit studio, this is one of the best free Aurora HDR presets for that. As you apply it, the filter brings up brightness, adds warm hues, and softens the skin tones.
With such a reddish-orange hue, photos really look beautiful. If you want, you can apply it to a photo of any genre or shooting conditions; it looks great in most shots.
---
Aurora Preset #4 "Real Estate"
The filter balances brightness and contrast to give your picture a crisp but realistic look. This is a must-have for anyone doing a serious job in real estate, regardless of whether the images show interior or exterior.
When you have to take pictures in gloomy weather, this will be the best tool to conceal the fact. The images will appear clearer and more vibrant, having a very lifelike touch of color. If you need a summertime vibe on your real estate image, this is the right preset.
---
Aurora Preset #5 "Black&White"
If you need to create a monochrome look this is one of the best Aurora HDR presets for that. It will bring the focus to the model's facial features, showing her/his emotions and giving the whole image a special mood.
The effect is also great at concealing minor skin flaws. Go ahead and try it for other styles, especially urban shots.
The effect emphasizes the beauty of cityscapes, bringing out features of architecture and skyscrapers. For the most perfect result, adjust some features that might seem inappropriate.
---
Aurora Preset #6 "Darken"
If the mood you're trying to achieve in an image requires toning down, this effect will be perfect. The image will immediately look more stylish and creative.
Such a tool is a real finding for a professional photographer, who values his/her own time but wants to preserve the quality and artistry of his shots. This is particularly suitable for wedding, family, and portrait genres, where this preset has the best effect.
---
Aurora Preset #7 "Vintage"
Since many people admire the vintage style, this preset can add one to a photo. This works best on a natural background but also look nice on a plain one.
Images become noticeably softer and obtain a somewhat yellow hue, which also makes the colors fade a little. This preset is irreplaceable for people, who work with themed images that are supposed to feel vintage. Therefore, it is not suitable for photographers, whose clients prefer vivid colors.
---
Aurora Preset #8 "Film Effect"
Do you miss the style of the last century when they still used film? Among Aurora HDR presets this one really makes pictures look like they are frames from a movie.
This can look good in a variety of genres but portraits and street pictures benefit the most from it. This filter improves the contrast and makes images appear clearer and sharper, adding some changes to the main and middle tones as well.

---
Aurora Preset #9 "Pure"
This is a kind of preset that can work equally well for any kind of image. You will notice how colors soften and harmonize better among themselves.
The filter will give your images a warmer look by shifting the colors and adding a light red hue. This is proven to look good in retro images. However, there is a variety of other styles that benefit a lot from this preset if you'd like to experiment with those.
---
Aurora Preset #10 "Landscape"
This is one of the most useful free Aurora HDR presets for landscape images. It makes a photo appear cleaner and sharper by bringing up the contrast and shadows, which, in turn, hides away all the unnecessary and distracting details.
With such a cinematic filter you can make any nature scene look more impressive. In addition, you can use it in travel photos, which require a more dramatic effect.
---
Installing Aurora HDR Presets
When you've picked and downloaded the presets you need, make sure you know how to install them correctly. Here are some quick guides.
How to Install Aurora HDR Presets on Mac
Considering the particular features of this system, we will show you the correct and fast way of installing presets in the software.
Step 1. Open the program.

Step 2.Menu – Select the File – Import Aurora HDR Looks Pack.

Step 3.Select the necessary Looks and click Open

Step 4.Use presets.

How to Install Aurora HDR Presets on Windows
Here is the easiest way to set up your presets on Windows that only takes a few steps.
Step 1. Launch the program.

Step 2. Menu – Select the File – Show Aurora HDR Looks Folder.

Step 3. Copy Looks and Paste them into the folder.

Step 4. Use presets.

Editing Photos in Aurora in Video Tutorials
Basic Post-Processing of an Aurora Photo
For those, who are only starting to learn image editing and need to understand some basics, this tutorial would be perfect. Most corrections shown here can actually be done in any other image editing software.
Aurora HDR First Look: Merge Exposures and Editing
In this video, the author is testing out some basic functions of the latest Aurora HDR and also experiments with joining two images with different exposures into one.
Aurora HDR Deep Dive - Beginner to Intermediate Level Photo Editing
The author explains how to edit 2 different photos. The first one is a simple but detailed night shot of London, the second is a panorama consisting of 4 shots made with the DJI Phantom 4 drone.
Aurora HDR + Loupedeck: Getting Started With Hands-On Editing
This is a great tutorial for those, who want to concentrate on the actual image alterations which are more convenient to do with physical controls rather than the interface buttons. You will see how various buttons and dials of Loupedeck work and how they can be used in this software.
Aurora HDR 2018 Tutorial, Part 8: Single Exposure Editing
If you're not into double exposure and don't want to use Aurora HDR presets all the time, this tutorial will show how the tone mapping affects images with a single exposure by explaining its influence on HDR. This will enable you to give images an "HDR look" without the use of the double exposure feature.
Expanded Dynamic Range Photography – Using Aurora HDR
A more advanced video for those, who want to get the most out of their bracketed and single RAW photos by using the Aurora's Quantum HDR engine. Richard Harrington shows how the software can be used as a plug-in to Photoshop and Lightroom.
In the tutorial, you won't just see some values being adjusted up or down, you will fully understand the ways that one software can greatly increase the capabilities of the others by widening the available dynamic range.
How to Fantastically Improve RAW Files Using AURORA HDR
If something is wrong with the exposure of the image, you can try to sort it out in Lightroom. With some twitching of Tone and Curves, plus additional adjustments, and a considerable amount of time, you should be able to improve things to a decent level.
Or, instead, you could transfer that image to your Plug-in Extra names Aurora and have the latter sort things out for you. BY expanding the dynamic range, the program manages to get the maximum information out of one RAW shot.
Aurora HDR Transform and Lens Correction
These tools are irreplaceable in cases when there is visible lens distortion or you have an issue with the perspective in the shot. In the tutorial, you will see how a picture can be easily straightened to look more natural and aligned.
Aurora HDR Enhance Filter
Have you been searching for some enhancing Aurora HDR presets? If you learn how to use this filter, you will easily make your images pop.
Aurora HDR How to Use The LUT Mapping Filter
In case the image requires a more cinematic look, this filter will help you achieve it with no effort.
Aurora HDR Better Chromatic Aberration Removal
Another useful tool that most photographers should master is explained in this tutorial. Learn how to remove any annoying fringes in a simple way.
Creating Dynamic Black & White Photos with Aurora HDR
Another great tutorial from Richard Harrington covers the manual conversion into monochrome. You will see how to merge several different exposures and then convert them into your own grayscale.
To really master this skill, you can use the images from the tutorial, and practice taking all the necessary steps explained in detail.