Professional Photo Editing > Photo Editing Freebies > Aurora Presets Free
Aurora Presets Free
Want to use Free Aurora HDR Presets but don't know where to find the best ones? Or do you not even know about the existence of presets for this program? If you use Aurora software to edit your images, get the best settings of colors and shadows in a great bundle ready for download. Give your photos an extra touch of style or color.
---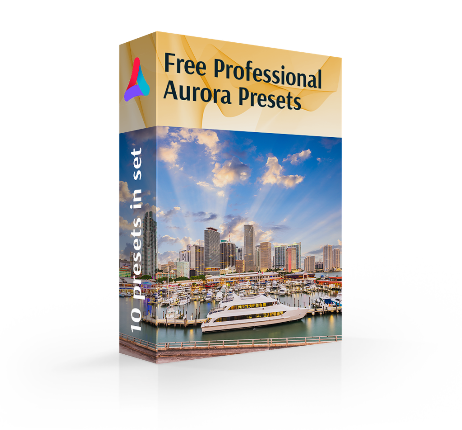 Free Aurora Presets Bundle:
---
What are Aurora Presets?
Aurora HDR Presets are a method of saving particular adjustments you've applied to a photo that can be further used for any other image. Aurora presets can preserve the exact levels of exposure and contrast, save the correlation between the shadows and highlights, replicate values of whites, blacks, or hues, and many other features.
Aurora is powerful software that combines the best features of Lightroom vs Photoshop. You can do minor corrections and adjustments and use a number of layers to make the best out of any image. The presets are a great way to get creative or to save working time.
---
Why do you need free Aurora Presets?
There are lots of photographers, who use presets these days, as well as many those, who carry out their work in this software as opposed to the popular Adobe products.
Working with free Aurora HDR presets allows you to distribute your time more efficiently, saving it on the boring and repetitive task of color correction and devoting more time to removing imperfections off the image. There are many benefits a photographer can get from a set of effects.

• High-quality and quick to use
• Add style and glamour
• Suit a variety of genres
• Work on Mac and PC
• RAW or JPG files
• Photoshop CS3-CS6, PSE11-18 and Creative Cloud






10 FREE Aurora Presets
Here is a selection of 10 free Aurora HDR presets that will save your time and support your reputation among customers as well as help you develop a certain style.
---
Aurora Preset #1 "Brighten"
This versatile and useful preset suits the images taken outdoors and in a studio. The main influence is the brightening of colors that, however, still looks natural.
Give an air of romanticism to your images with a soft look and a touch of green hues. Being one of the best Aurora HDR presets, it will give your image a more professional look.
Another touch of pink makes images look more original. This effect works best in portraits and lifestyle images, especially those destined to be posted on Instagram.
Style's group: Aurora Presets Free
RECOMMENDED PHOTOS: lifestyle, portrait, street, children, couple, wedding