Login
Photo editing service › Photo retouching job
Photo Retouching Jobs Vacancies
The process of retouching is considered really hard, although it is interesting and therefore rewarding. It has gained its popularity over the last few years and now there are professionals all over the world. Even youngsters from different countries dedicate their efforts to such freelance retouching jobs along with their main occupation, or they even choose photo editing job at home to be their primal one. They can easily be understood as photo editing jobs become more and more prosperous these days. But why are photo retouching jobs so appealing to the people who want to become professionals? One of the main reason is that photo editor jobs are very convenient, because they allow you to be occupied in almost any sphere.


Magazines, themed and topic-orientated publications, websites, TV advertisements, billboards, - these are few of the reasons why people can be looking for retoucher. Besides, photographic retoucher jobs are also very challenging as you have to be competitive and quite eager to become an excellent professional, especially in photo editor jobs nyc.
How to submit your resume in 10 steps
1. Create a sign up. If you have a registration, click "Login" and fill in your email address/password and log on. If you have forgotten a password, resume it by email.
2. Fill in the register form: enter your first and last name, relevant email address and create your password. After the conformation, enter a code on a picture. Activate account via email.
3. Choose a job from the list of offered occupations. Submit your resume to the chosen category.
4. Read the description of every editing job offered. Click on necessary job and read about all pros and cons of an occupation.
5. In the section "My Profile" add more contact information about birth date, country you live in, address and photo number. Enter your retouching level experience, links on your portfolios, Facebook or linked In page.
6. Fill in your active skills, languages, employment history and all rewards you have in the sphere of photography.
7.Clear out questions about potential working conditions, enter what amount of working time and level of salary you want, specify you working equipment and software.
8. After entering password and submitting it, your information will be automatically saved.
9. In the section "My Submitted Resumes" you will see all your resumes. You may add new ones or delete them anytime you want.
10. "Log Out" will put you to a starting position. To log on one more time, just enter your email and password.
If you are curious and want to find retoucher specialist, you can rely on our more than ten years of experience. We are willing to give a chance any young talent because we are constantly looking for retoucher as we do not want to stop our development and amelioration. Although we realize that to find retoucher is not an easy task, we know that photo retouching jobs from home are very tempting nowadays to everybody.
You can submit as well! Just follow ten simple steps and become one of us.

Our company knows everything about retouching, so we simply provide perfect post production photography services and pay for retoucher jobs. We constantly update photo editor job description on our website as we find new techniques, methods, and our digital staff learns them. This photo editor job description is very important both for our client who are looking for retoucher to provide an excellent service and for future editors to be, who want to collaborate with our team. Digital retoucher jobs may differ very much so we divided our team into several groups to make the work faster and to enhance quality of our work. Junior retoucher jobs are also important for as, though their work is monitored by the more experienced editors. Thus, our image editing company has people specializing in various spheres as wedding photo retouching services, ground work removal, family photo editing, and, of course, professional portrait editing. You, no doubt, understand, that we do not limit our work activities with so few services, and that we are proud of offering every possible variant and even level of image enhancement that can be demanded by our potential clients and customers.
Retoucher job description
So, we are talking about a very specific profession. Not everyone is capable of dealing with the post production process and providing high end quality. The list of services that a good retoucher should be able to provide is quite large and they depend on the chosen sphere. Every kind of post processing services for photographers needs thorough discussion, but still all duties in our team can be grouped in following way. There are managers, who accept your order and give it to our specialists, and retouchers, who do portraits, backgrounds, and other element of a shot. Managers also discuss the result with the clients and make sure that everything went well and there is nothing to be altered anymore. Some of our photo editor job nyc can even include the process of the photo shooting, so we have several good photographers in our company. Should you acquire enough experience in our editing company, you may be asked to train people, who just started to learn post editing, and to watch carefully that their junior retoucher jobs were proper and satisfying. We are used to the online photo editing jobs, so you will not have to wait long for our answer and for the result.
Work from home photo editing jobs aka freelance
Of course, any retouching work can be organized in its own way, depending on the services, that need to be provided, time, that the retoucher has, and the level of difficulty. But no matter what are forenamed conditions, it is convenient for many people to work not leaving their apartment, and it enhances the quality of their job, this is why photo editing job at home has gained popularity very fast.
In our computer era, when the World Wide Web offers us thousands of various sites and social networks, you can easily find many of them, that are dedicated to the images, pictures, photographs, drawings, and so on. Potential clients can be found there, so most of editors demonstrate examples of their work online. Usually, people who are new to the freelance retouching jobs start with two known websites, Freelancer and Upwork. Here all specialists publish their portfolios with improved works and announce their retouching rates, expected for their services. You can look up the information about all retouchers who are gathered there.
Though good editors earn their living easily, here are also some of the biggest disadvantages. To start with, many people honestly think, that retouching work is easy and they forget about the huge amount of competitors. Only the best from the best can be hired be famous retouching studios or make their way by themselves, so it is one of the newcomers' primal concerns, as they have to get less money and to prove themselves to the customers all the time, until they have a good reputation. Next drawback is that photo restoration jobs online do not let you not only get some clients, but also keep them immediately. Usually, it takes years to create your own permanent circle of customers. Moreover, the biggest part of your clients are people, who did some photo shooting just for themselves or they had some holiday to celebrate and to keep it forever, they will not have the material for your photographic retoucher jobs all the time. And if you want to provide photo enhancement as a member of some retouching company's staff, the photo editor job description becomes even more severe as not only your income will not be enough for you, you can even be denied the possibility to do photo retouching jobs from home.
On the other hand, the work that company provide is usually more stable, possible client find retoucher quickly and you do not have to promote yourself as fiercely, as on your own. Your salary will be stable too, so you can be reassured, that company has its own vivid pluses of collaboration.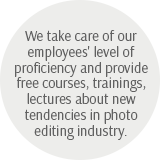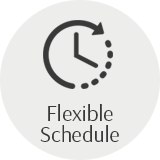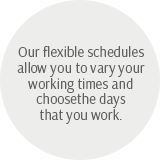 Work from home photo editing jobs with Fix The Photo
FixThePhoto is an excellent choice to try yourself in the retoucher jobs and to acquire knowledge and experience. We guarantee that you will be providing digital retoucher jobs to several people, who will turn to us more than once and whose preferences, tastes, and demands you will learn quickly by heart. We offer you a choice, while we give you your future retoucher job description. There are office-based work and photo editing job at home. You choose whatever you think will be more comfortable and get you more freedom.
Photo editing jobs from home allow our employees make up with their own schedule and it can be as flexible as they need, on condition that they finish every task they have to before the deadline. Retoucher jobs demand as much of your will as most of the other professions.
The quantity of shots you have to edit as a newcomer in the photo retouching jobs (providing that you decided to work for Fix The Photo) is fixed, and you can make as many breaks as you need to. There are certain terms for you to pass your shots when they are enhanced, and they are discussed with supervisors, managers, and head editors beforehand. The time that you have for yourself you can spend studying in your college or university, travelling, seeing your family and friends – i.e. online photo editing jobs give you a great amount of freedom as a pleasant bonus.
If you choose to work from the office, have no doubt, that this kind of photo editing jobs also have some advantages. For instance, our retouchers work in special comfortable working zones with only up-to-date professional equipment at arm's length. All these things enable photo restoration jobs online to be done perfectly and, as a result, our team is considered to be one the most successful picture editing modern commands.
Our team also describes photo editor jobs as thoroughly as possible to hire not some random people, but individuals with talent who can become real masters in the future. No matter if you are looking for photo editor jobs nyc or across the ocean, if you want to become one of us and to explore your possibilities, then send us your application along with your portfolio. You are always welcome not only to register, but to join one of the most effective retouching teams on our planet.

Informative Blog
If you are interested in trending photography and photo editing techniques, tips, competitions, equipment reviews, follow our blog, read the latest news, become the part of a big FixThePhoto team right now.
Use free Photoshop and Lightroom tools
We offer the following freebies for your successful results in product clipping path outsource job. Just download some great free Photoshop actions and overlays, textures, Lightroom presets and more, without registering on our site. Write your email address and get our tools for inspirations free and within 2 minutes.