Professional Photo Editing > Free Lightroom Presets > Free Lightroom Presets Film Look
Free Lightroom Presets Film Look
FixThePhoto is happy to offer you a free collection of free Lightroom presets film look. This bundle is made to imitate the Kodak film by changing some Lightroom color settings on your portrait, event, wedding, street, landscape photos so you can emulate the old analog film touch with your current digital images.
Having explored latest trends, photographers' wishes, bloggers and designers we have found their interest in Lightroom film presets, which give a vintage, dramatic color effect. With each passing day, there are more and more Lightroom presets, actions, filters, but Kodak Lightroom presets free still remain in great request, because everybody's always looking for inspiration and borrowing different details from the past, which seems to be an ideal time for us.
We've watched thousands of old movies and decided to develop 10 free film look Lightroom presets so that photographers, bloggers, designers, and retouchers could transfer a piece of vintage style to their photos and designs with our aesthetic vintage Lightroom presets. The possibilities of the best film presets are endless, they add style, can bring a WOW effect and skillfully highlight key points on your photos, but also speed up the photo editing process. These 10 free Lightroom presets film look are a combination of VSCO vintage filters and all elements of emulating film that we love so much. Below you will see our film look Lightroom presets free, their characteristics, examples and tips to use.
---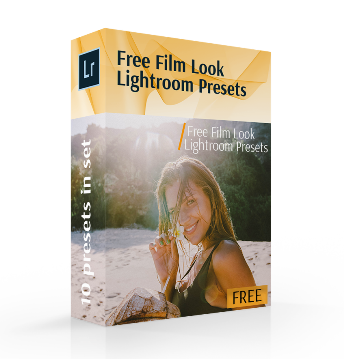 10 Free Film Look Lightroom Presets Bundle :
---
Kodak Lightroom Presets Free
We will help you simulate a Kodak film effect fast and easy, while you can continue to use your favorite DSLR camera, but get brighter and clear photos in the style of analog movies. This is possible with Lightroom presets film look free bundle. Your images will be in a convenient format, have a professional-looking color correction and a ton of enthusiastic reviews. The displayed film look presets for Lightroom free will change the colors on the photo without any difficulties, turning them into slightly fading and discolored images, complement them with bright white tones, bring warm rays and soft brown colors, and create the most stunning effect of old-fashioned photos.
Our film look preset Lightroom free will be useful to photographers who are involved in any genre of photography: portrait, wedding, children, fashion, historical, journalistic, subject photography, images for a blog or a commercial website, any kind of photo will only benefit from applying Lightroom Kodak presets free
---
The Types of Lightroom Presets Film Look Free
---
LR Preset #1 "Pure"
You can enjoy simultaneous sharpness and fade colors with this free film look Lightroom preset. The images will become warm and will take a desaturated look, which are peculiar characters of the film style photo editing.

---
LR Preset #2 "Pinkish"
This plugin is included in the set of the most downloaded pastel Lightroom presets free. A light pinkish toning will fill your photos, while the filter will lighten the pictures, emphasize the shadows and make all the lines clear.
---

LR Preset #3 "Saturation"
This plugin changes the saturation of colors. They will look clean and natural. The juiciness of this free Kodak Lightroom preset is noticeable on red, blue and yellow colors. By the way, you will feel the warmth looking on soft and clean lines and colors together.
---
LR Preset #4 "Black and White"
The most simple and versatile black and white portrait preset Lightroom, which will show more than 50 shades of gray. The transformation will happen instantly by increasing the tons. The pictures taken in the black and white will be enhanced and look better than colored ones.

---
LR Preset #5 "Portrait"
Interesting and distinct adjustments for portrait images. Now you can easily give the image a bluish-green hue, which will show aesthetic purity, gently improving the shade of the skin, and will also make accents in the mid-tones. Highly recommended for close portrait photos.
---

LR Preset #6 "Tonning"
It is one of the few Kodak Lightroom presets free, which is created for portraits, to make soft toning of colors and endow images with the bold look. The photo quality will improve, become sharper. Look at the example and notice barely discernible muted coating on the image.
---
LP Preset #7 "Brighten"
The style of analog movies is not so boring and discolored as it seems, this will be confirmed by this Lightroom Kodak presets free bundle. Your photos will play with new shades and colors after changing the brightness and depth. The lines become clear and accurate, photos pop with their colors.
---
LR Preset #8 "Vibrance"
This free Kodak Lightroom preset will make your photo bright and saturated without creating rough color transitions. The most valuable is Vibrance adjustment in portraits. Changing the saturation of colors on the image, the effect practically does not change the color of people's skin and eye's whites.
---

LR Preset #9 "Street"
From the category of our favorite free moody Lightroom presets, this filter is perfect for any type of photo because its softness of settings makes the images moody. Smoothing the brightness and saturation with natural deep shades change the overall look of the photo and improves its quality twice.
---
LR Preset #10 "Darken"
This free Kodak Lightroom preset will lighten your dark photos. It will add the effect of real daylight. It will slightly change the colors, but they will become less bright and saturated. This filter can be safely attributed to free Lightroom presets wedding collection, which emphasize the white color and purity of the composition.
---
Stop sitting out days and nights editing photos manually. Take advantage of these professional and free film look Lightroom presets, which were created by professional photographers and retouchers with love.
---
Helpful Video Guide about Lightroom Presets
---
More Free Lightroom Presets by FixThePhoto
Do you want more Free Lightroom Presets? Check out what we have.
---
---
---