Professional Photo Editing > Free Lightroom Presets > Free Lightroom Presets Film Look
Free Lightroom Presets Film Look
FixThePhoto is happy to offer you a free collection of free Lightroom presets film look. This bundle is made to imitate the Kodak film by changing some Lightroom color settings on your portrait, event, wedding, street, landscape photos so you can emulate the old analog film touch with your current digital images.
Having explored latest trends, photographers' wishes, bloggers and designers we have found their interest in Lightroom film presets, which give a vintage, dramatic color effect. With each passing day, there are more and more Lightroom presets, actions, filters, but Kodak Lightroom presets free still remain in great request, because everybody's always looking for inspiration and borrowing different details from the past, which seems to be an ideal time for us.
We've watched thousands of old movies and decided to develop 10 free film look Lightroom presets so that photographers, bloggers, designers, and retouchers could transfer a piece of vintage style to their photos and designs with our aesthetic vintage Lightroom presets. The possibilities of the best film presets are endless, they add style, can bring a WOW effect and skillfully highlight key points on your photos, but also speed up the photo editing process. These 10 free portrait Lightroom presets are a combination of VSCO vintage filters and all elements of emulating film that we love so much. Below you will see our film look Lightroom presets free, their characteristics, examples and tips to use.
---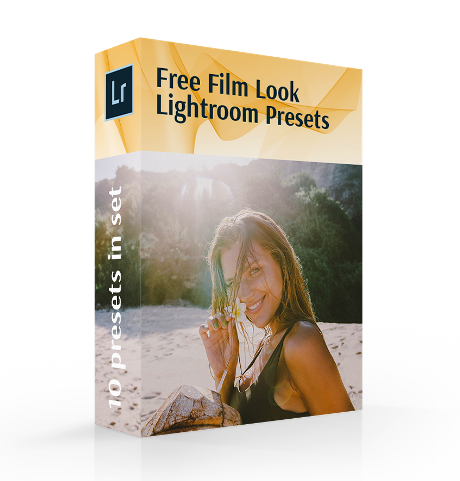 10 Free Film Look Lightroom Presets Bundle :
---
Kodak Lightroom Presets Free
We will help you simulate a Kodak film effect fast and easy, while you can continue to use your favorite DSLR camera, but get brighter and clear photos in the style of analog movies. This is possible with Lightroom presets film look free bundle. Your images will be in a convenient format, have a professional-looking color correction and a ton of enthusiastic reviews. The displayed film look presets for Lightroom free will change the colors on the photo without any difficulties, turning them into slightly fading and discolored images, complement them with bright white tones, bring warm rays and soft brown colors, and create the most stunning effect of old-fashioned photos.
Lightroom Presets Free Film Look
The bundle of 10 interesting Lightroom presets free film look
For all Adobe Lightroom versions
For images only in the specified format (JPEG/RAW) to avoid distortion and quality change
Beginning photo editing skills in Adobe Lightroom
You can edit images and operate with any presets on devices running on the Mac or PC
Fast 2 minutes download via email
The Types of Lightroom Presets Film Look Free
---
Free Adobe Lr Preset #1 "Pure"