Professional Photo Editing > Free LUTs > Free Wedding LUTs
Free Wedding LUTs
Designed by professional videographers, our Free Wedding LUTs will add a spirit of romance and tenderness to your videos. They will make your movies original paying attention to each particular detail. Being warm, bright and gentle, these filters will help you color grade your wedding clips easy and professionally in several clicks.
These Wedding Video LUTs enhance skin tone and make colors vivid. The collection includes 10 LUTs that may be applied to videos recorded in any light. No matter where you are (in the forest, at the beach, in the desert or mountains) and what the lighting is (natural or artificial), our filters are here to make your movies perfect.
Don't waste your time looking for ideal filters, since our video LUTs are available for download here and now.
---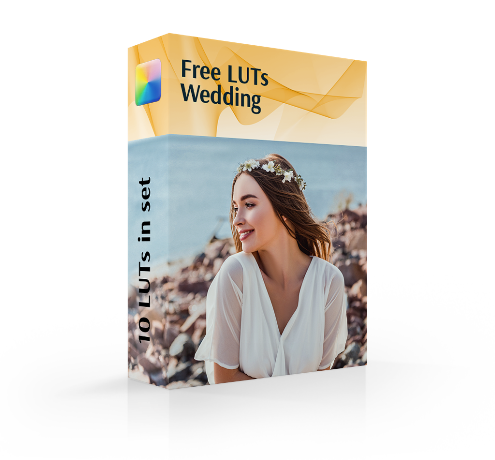 10 Wedding LUTs - Free Collection:
---
Wedding Video LUTs
Creating these Wedding Video LUTs, our experts aimed at producing universal filters suitable for various light conditions. Our goal was to transform a blue-toned city wedding movie into an impressive piece of video featuring light effects of the perfectly lit ceremony.
We were interested in designing wedding LUTs that are equally powerful in the green forest and in the studio. These are filters that balance the colors in your video, making them harmonically enhance your video footage while the sun is hiding over the horizon. We are completely confident in the quality of these wedding LUTs since they've been already tested on different cameras, such as Panasonic, Sony, Canon, etc. The results were really impressive!
Best Wedding LUTs
10 Original Free Wedding LUTs
.CUBE and .LOOK file formats
Compatible with Premiere Pro CC, Sony Vegas, FCPX, After Effects CC, DaVinci Resolve, and more
User-friendly
For professionals and amateurs
Smoothly work on Mac and PC
Easy to download
Wedding LUTs Free
---
Free LUT #1 "Sunrise"