Professional Photo Editing > Free Photoshop Actions > Free Vintage Photoshop Actions
Free Vintage Photoshop Actions
Old photographs always had some kind of charm that could not be confused with anything. Wondering how your favorite photographers make wonderful vintage color correction? We created a bundle of free vintage Photoshop actions that will return that vintage charm to your digital photography. They are designed to find your photo's best color. All photographers use the free Photoshop vintage actions to achieve this old-fashion matte effect. Each editor in her/his toolbox has a favorite vintage action Photoshop or even a few ones that help to enhance the wedding, portrait, travel, all lifestyle pictures.
Any action from this list can be applied to different genres of photography. It does not have a destructive influence on the quality of the image. 6 wonderful free vintage Photoshop actions are waiting for you below with our recommendation to use. These magic freebies will be an excellent addition to your set of PS plugins and tools that impose a vintage matte effect. With our free Photoshop vintage actions, the photo retouching will become a pleasure!
---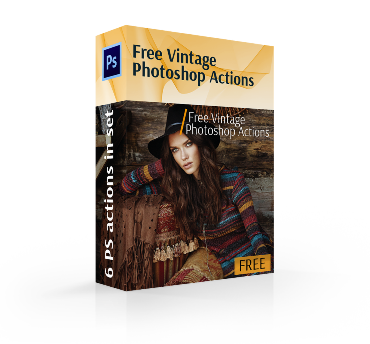 6 Free Photoshop Vintage Actions Bundle :
---
Photoshop Actions Vintage Free
Start to work more efficiently, value your time and do not spend precious minutes on manually adjusting the image settings in Photoshop and seeking this vintage effect when you can download these settings in one set. It's time for professional free vintage Photoshop actions that can cope with this stuff in a matter of minutes, improve the quality of your photographs and put up your photography services to the next level.
You will increase your productivity by speeding up and upgrading the photo retouching. After applying any vintage Photoshop action free, you will get the following benefits:
You will have more free time since the free vintage action Photoshop will do all the main work for you.
You do not need an in-depth knowledge of the PS program. If you are new to working with Adobe Photoshop actions, just a picture and a drop of creativity.
Your images will get a professional look.
No limits for adjusting these PS actions.
Your shots will be more artistic and stylish.
Immerse yourself in the retro style having retouched your photos with these Photoshop actions vintage free. You will be amazed by this excellent collection of vintage styled Photoshop actions, fades, light leaks and more!
---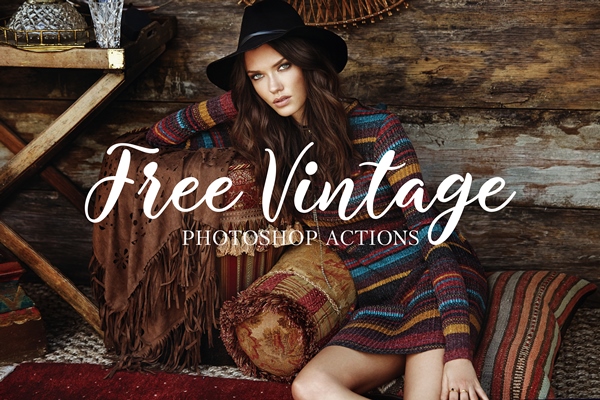 Features of Vintage Action Photoshop Free Download
• 6 Vintage Photoshop Actions
• Each action Photoshop free vintage can be customized
• Support for CS3-CS6 and PSE 11-18, and the Creative Cloud app
• Mac and Windows
• .raw or .jpg format
Vintage Action Photoshop Free
---
PS Action #1 "Matte"
With this free action Photoshop vintage you will create a warm blurred vintage-matte effect, give your photos warm colors filled with a blurred contrast.
Action's group: Free Vintage Photoshop Actions
Recommendations:
Use a photo that has realistic colors and contrast, since the vintage-matte effect perfectly complements the raw picture.
Highly recommended to apply to portrait photos.
---
PS Action #2 "Vintage Effect"
In order to achieve the maximum vintage effect, use this action Photoshop free vintage effect, which will add light leak and dust textures to your images.
Action's group: Free Photoshop Vintage Actions
Recommendations:
Use this free vintage action Photoshop for high-resolution images to get the best result.
Note that the old photos have never been very bright. Therefore, do not use too bright, rich and colorful photos.
---

PS Action #3 "HDR"
The Photoshop actions vintage free with HDR effect will reveal a vintage touch on the photo in a completely different light. The photos will turn out to be voluminous and bright by adding highlights and shadows.
Action's group: Photoshop Actions Vintage Free
Recommendations:
To get the best result with this action Photoshop free vintage, it is important to expose lighting.
We recommend using this free Photoshop action vintage photo for landscape and architectural photographs.
---
PS Action #4 "Ivory"
This free vintage Photoshop action will add a bit of a gentle pink color, so we completely accomplish and repeat the effect of the vintage photo. As a result, we get a beautiful, gentle, soft, and romantic photograph.
Action's group: Vintage Action Photoshop Free Download
Recommendations:
This vintage Photoshop action free is ideal for wedding photos, especially those made outdoors or in the woods.
The best photos for this action are taken in warm colors.
This vintage action Photoshop free is universal, it will complement any photo, and especially it looks good on the close-up photos.
---
PS Actiont #5 "Vintage Style"
This free vintage Photoshop action adds light toning without destroying the image quality and changing the color gamut a lot. The Photoshop action improves the overall appearance of the picture, adds a retro shade and gently changes the white balance so that the images are in soft and muted tones.
Action's group: Vintage Action Photoshop Free
Recommendations:
If you have a photo with much light, this vintage action Photoshop free will add retro hippy look to it. Perfect for travel and lifestyle photos.
Use for the images of old cars, grunge clothes, rustic frames, antiques and easily recognizable vintage things.
---

PS Action #6 "Vintage Tone"
This free vintage action Photoshop will give the photos that dreamy, timeless look like on your parents' old photographs. In addition to fast rendering and non-destructive photo retouching, this filter will apply amazing settings to your photos with just one click!
Action's group: Vintage Photoshop Action Free
Recommendations:
Vintage Photoshop action free will show itself best in photos with much contrast.
Recommended using for outdoor, lifestyle, and non-studio photos.
Use this free action Photoshop vintage only for those images that have high resolution (about 2000 px) not to damage the contrasting lines.
---
Working with these free vintage Photoshop actions, you will understand how to make a classical retro photograph in 2 clicks.