Professional Photo Editing > Free Photoshop Actions > Free Vintage Photoshop Actions
Free Vintage Photoshop Actions
Old photographs always had some kind of charm that could not be confused with anything. Wondering how your favorite photographers make wonderful vintage color correction? We created a bundle of free vintage Photoshop actions that will return that vintage charm to your digital photography. They are designed to find your photo's best color. All photographers use the free Photoshop vintage actions to achieve this old-fashion matte effect. Each editor in her/his toolbox has a favorite vintage action Photoshop or even a few ones that help to enhance the wedding, portrait, travel, all lifestyle pictures.
Any action from this list can be applied to different genres of photography. It does not have a destructive influence on the quality of the image. 6 wonderful free vintage Photoshop actions are waiting for you below with our recommendation to use. These magic freebies will be an excellent addition to your set of PS plugins and tools that impose a vintage matte effect. With our free Photoshop vintage actions, the photo retouching will become a pleasure!
---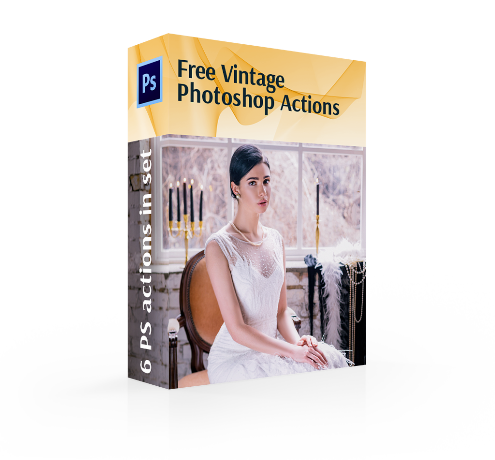 6 Free Photoshop Vintage Actions Bundle :
---
Photoshop Actions Vintage Free
Immerse yourself in the retro style having retouched your photos with these Photoshop actions vintage free. You will be amazed by this excellent collection of vintage styled Photoshop actions, fades, light leaks and more! You will increase your productivity by speeding up and upgrading the photo retouching. After applying any vintage Photoshop action free, you will get the following benefits:
You will have more free time since the free vintage action Photoshop will do all the main work for you.
You do not need an in-depth knowledge of the Ps program. If you are new to working with Adobe Photoshop actions, just a picture and a drop of creativity.
Your images will get a professional look.
No limits for adjusting these PS actions.
Your shots will be more artistic and stylish.
Features of Vintage Action Photoshop Free Download
6 Vintage Photoshop Actions
Each action Photoshop free vintage can be customized
Support for CS3-CS6 and PSE 11-18, and the Creative Cloud app
Mac and Windows
.raw or .jpg format

Vintage Action Photoshop Free
---
Photoshop Vintage Action #1 "Matte"