Professional Photo Editing > Free Lightroom Presets > Preset Lightroom Street Free
Free Lightroom Preset Street Photography
What attracts photographers working in the genre of street photography? Fixing a moment that will never happen again, ancient buildings and fashionable skyscrapers, smiles of random strangers and pensive silhouettes lost somewhere at the end of the street. It is necessary to correctly edit photo in order to emphasize all the details and convey the idea. Our street photography Lightroom presets can help you with this.
Beautiful but sometimes gray landscapes of the city and the US street photographers inspired our photo retouching company to create a LR filter pack that will help turn your street photography into a masterpiece. These street photography Lightroom presets add color saturation, different shades and subtle mattes to your photo so you can set the correct color settings for them.
This package you can use for a day and night photography. Your day photos will receive eerie glow and desaturated colors. Night images will acquire color in the shadows and a little bit of vibrance, which slightly transforms the usual boring landscape.
---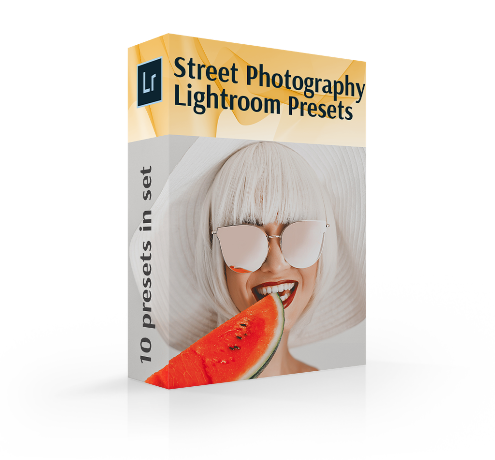 10 Free Lightroom Preset Street Photography Bundle Includes:
---
Free Street Photography Lightroom Presets
The objects of street photos are mostly people in public places. City street photography can be described as a genre of digital art in where there is no posing. Contemporary street photographers should edit the photos carefully not to spoil all the magic of it with unnecessary Photoshop or LR effects.
For this, we recommend using street photography Lightroom presets that have been developed by our professionals, taking into account all the characteristics of street photography.This photo genre is not limited to photographing the plot with a set of variables such as geometric, contrast, color or semantic rhythm. Sometimes the photographer should pay attention to the hands, faces, cloths or a lonely standing object. With our free Lightroom presets, you can easily visually emphasize any details, increase contrast and brightness and street photography post processing will become easier.
Try black-and-white or monochrome urban photography presets, thanks to which the photos convey human emotions better, caught in some decisive, interesting moment. When you edit street images, you should pay attention to the background and lighting. Our plugins will be able to add extra expressiveness and attractiveness to your photos by correctly tuning these indicators.
Preset Lightroom Street Free
10 specially selected Lightroom filters
You can apply them in all versions of Adobe Lightroom
Appropriate for editing of JPEG and RAW images
Perfectly work with both Mac and PC
Full and easy regulation
Street Preset Lightroom Free
---
Street Photography Lr Preset #1 "Golden Hour"