Professional Photo Editing > Free Lightroom Presets > Free HDR Lightroom Presets
Free HDR Lightroom Presets for Qualified Photographers
To organize support for current photographers, our company offers free HDR Lightroom presets. We realize how difficult it is to find suitable HDR presets for Lightroom free and want to improve this situation by presenting our Adobe presets for Lightroom.
All natural HDR Lightroom presets are easy in application, adjusting and internationally popular, but this fact does not mean that all photographers know about the possibility of getting HDR presets Lightroom without paying money. In reality this opportunity exists and the variety of Lightroom presets is vast.
Today Fix The Photo's free Lightroom HDR presets will be discussed from the size of their types, peculiarities of application and possible achieved benefits.
To understand what are free HDR presets for Lightroom is the most useful component. These presets enable photographers and retouchers to establish the successful image retouching process that ends up in getting an improved image with a Wide Dynamic Range. These are presets that allow adding more contrast, highlighting those areas that are necessary to be more visible, and applying other popular artistic effects.
In terms of potential benefits the opportunity of time-economizing is foregrounded as there is no need to repeat the same actions. Every preset HDR Lightroom also makes the retouching process easier, because for achieving desirable result you will need only one click. There is no need to care about their quality as all adobe Lightroom HDR presets are thoroughly developed by professionals that account on all possible HDR effect features. They know how to increase saturation, luminosity of every picture.
---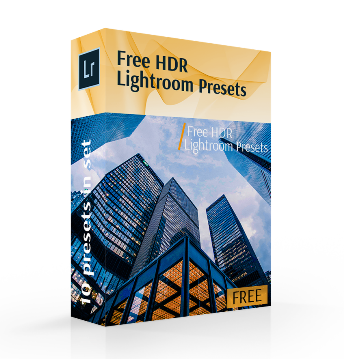 10 Free HDR Lightroom Presets Bundle Includes:
---
Functions of Free Lightroom HDR Presets
The best free Lightroom presets are usually the most effective in terms of editing landscape pictures, because often they are overexposed, too dark or have other problems captured during a photo shoot. In order to cover this issue, the best HDR Lightroom presets can:
Highlight object placed in shadows and darken overexposed areas.
Fill a photo with saturated colors.
Create textured and voluminous photography.
Add colors that are usual for our eyes.
Obtain photos with high contrast scene that are natural.
Enhance even the smallest details.
Create a photo that will have a special contrast range.
Features of Free HDR Presets for Lightroom
10 Lightroom HDR presets free
Compatible with all versions of Adobe Lightroom
Work with both Mac and PC
Suitable for editing of JPEG and RAW images
Easy in use
Fully managed

The Description of our Free HDR Lightroom Presets
---
Lightroom HDR Preset #1 "Black and White Medium"