Professional Photo Editing > Free Lightroom Presets > Free HDR Lightroom Presets
Free HDR Lightroom Presets for Qualified Photographers
To organize support for current photographers, our company offers free HDR Lightroom presets. We realize how difficult it is to find suitable HDR presets for Lightroom free and want to improve this situation by presenting our Adobe presets for Lightroom.
All natural HDR Lightroom presets are easy in application, adjusting and internationally popular, but this fact does not mean that all photographers know about the possibility of getting HDR presets Lightroom without paying money. In reality this opportunity exists and the variety of Lightroom presets is vast.
Today Fix The Photo's free Lightroom HDR presets will be discussed from the size of their types, peculiarities of application and possible achieved benefits.
To understand what are free HDR presets for Lightroom is the most useful component. These presets enable photographers and retouchers to establish the successful image retouching process that ends up in getting an improved image with a Wide Dynamic Range. These are presets that allow adding more contrast, highlighting those areas that are necessary to be more visible, and applying other popular artistic effects.
In terms of potential benefits the opportunity of time-economizing is foregrounded as there is no need to repeat the same actions. Every preset HDR Lightroom also makes the retouching process easier, because for achieving desirable result you will need only one click. There is no need to care about their quality as all adobe Lightroom HDR presets are thoroughly developed by professionals that account on all possible HDR effect features. They know how to increase saturation, luminosity of every picture.
---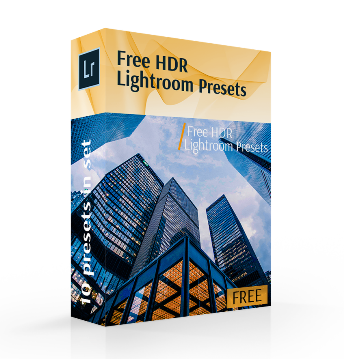 10 Free HDR Lightroom Presets Bundle Includes:
---
Functions of Free Lightroom HDR Presets
Our top Lightroom presets are a professional must-have for photographers with different amount of experience. Their main peculiarity is that they are equally easy for application both for photographers with much experience and for beginning specialists. Only a single click activates the chosen Lightroom HDR preset and allows it to improve photography with High Dynamic Range effect. Such presets suit for photos of various styles. Usually photographers use them for enhancing portraits and wedding pictures, for improving nature and landscape images, for fashion photos and so on. These free professional Lightroom presets have bonuses for every kind of contemporary photography.
The best free Lightroom presets are usually the most effective in terms of editing landscape pictures, because often they are overexposed, too dark or have other problems captured during a photo shoot. In order to cover this issue, the best HDR Lightroom presets can:
Highlight object placed in shadows and darken overexposed areas.
Fill a photo with saturated colors.
Create textured and voluminous photography.
Add colors that are usual for our eyes.
Obtain photos with high contrast scene that are natural.
Enhance even the smallest details.
Create a photo that will have a special contrast range.
Adobe Lightroom presets HDR also allows photo retouchers to add such recognizable effects as film, hard vignette, hard warm and even B&W medium.
---
The Description of our Free HDR Lightroom Presets
---
LR Preset #1 "Black and White Medium"
After applying this Lightroom HDR preset efficiently, the attention of viewers will be devoted not only to general coloring of clothing, surrounding details and backdrop, but to the things that are the most essential. These presets for Lightroom also do not get a recognizable effect of "overdone" pictures, like we have with common black and white images. After using these HDR presets Lightroom 6 an alternative effect of photo naturalness can be achieved.

---
LR Preset #2 "Soft Hard Vignette"
Free HDR presets for Lightroom of this kind are used to create a dark border around photos` edges. This effect is possible due to light reduction from the central part of an image. Such free Lightroom presets for photographers make viewers pay special attention to the center of a picture. Such presets are especially good for those photos that have varied details that may disturb and distract people`s focus.
---
LR Preset #3 "Landscape"
These popular adobe Lightroom presets suit a seascape, nature or sophisticated landscape pictures. They are capable of adding free spirit and depth to your images. The main purpose for applying such HDR presets for Lightroom 4 is bringing out natural coloring. Lightning up and making photos sparkle are also in the list of possible bonuses of these the best Lightroom presets of high contrast.
---
LR Preset #4 "Film"
Contemporary photographers use such effective top free photo Lightroom presets for adding a specific filmy and recognizable cinematic effect. For the last years this Lightroom HDR preset hold leading positions in post-production, as at that time film-styles and tendency to old-school trends were popular. Depending on the fact this preset Lightroom HDR should be taken into using at least once.

---
LR Preset #5 "Sepia"
Such 100% free Lightroom presets are capable of generating photos of classical tonality and look that are of black and white coloring. They also add a recognizable dramatic effect to all pictures. In most editing cases sepia free HDR presets for Lightroom are applied to night photography.
---
LR Preset #6 "Cold"
This popular preset Lightroom HDR is effective in case a photographer wants to add a wintery or more general cold effect to photography. It can get a duotone look that is appealing in landscape pictures. The main peculiarity of this Lightroom HDR preset is that in case the result is not satisfactory, you can change the color temperature by saturation decreasing or increasing. They also may make photos "colder" and pull back or bump up special toning settings.
---
LR Preset #7 "Warm"
Such free photography presets are effective on landscape photo, but they also can be applied for pictures of other styles, for instance for portraits. The main peculiarity is that such Adobe Lightroom HDR presets add pleasant warm tones that give the whole image a considerable boost of brightness. To achieve the maximum effect we advise you to try different settings to find an exactly suitable variant.
---
LR Preset #8 "Hard Vignette"
Lightroom HDR effect after these presets turns every average photo into a rich and contrasting landscape photo sample. They are used to highlighting the central part of a picture focusing viewers` attention on it. Darkened edges help in this effect. In terms of coloring, such Lightroom HDR presets free and powerful, help to acquire cold shades for retouched photos.
---
LR Preset #9"Architecture"
These natural HDR Lightroom presets are in frequent use by modern retouchers, because they enable to retrieve information from all areas of a photo not depending on the existing exposure. This option of HDR presets Lightroom 5 gives opportunity to create various details in the dark and the lightest image parts on the real estate photos.
---
LR Preset #10 "Hard Warm"
These modern HDR presets Lightroom create the effect of highly detailed image. The algorithm of their work is simple. Firstly, HDR presets Lightroom 6 effectively balance the post processed photo and then improve it with warm tones, which main aim is to get a natural tone of skin. For this ability natural HDR Lightroom presets are mainly applied to portraits with landscape backdrop.
---
All presented the best free Lightroom 5 presets have been thoroughly created by professionals for various photo styles, such as landscape, portrait, architecture or wedding. HDR presets Lightroom by Fix The Photo are the best in terms of choosing high-quality presets for making photography realistic and live.
---
Helpful Video Guide about Lightroom Presets
---
More Free Lightroom Presets by FixThePhoto
Do you want more Free Lightroom Presets? Check out what we have.
---
---
---