Professional Photo Editing > Free Photoshop Actions > Free Interior Design Lightroom Presets
Free Black and White Photoshop Actions
This is a wide popular type of editing, we specifically created free black and white Photoshop actions for receiving natural editing of portrait, bridal, street, landscape photography styles. A pro correction is not an easy challenge. Nevertheless, we know many extra tricks that can make natural tones and enhance the general atmosphere of the image. We included these tricks into this pack's settings. The package includes basic and the most popular settings for b&w editing: Classic, Hard Contrast, HDR, Matte, Old film and Soft Contrast.
The given PS actions highlight the darkened areas, correct the tonal range, unusual shapes, patterns or textures of your pictures. They are created for people who need to spend more time on taking photos rather than editing them.
---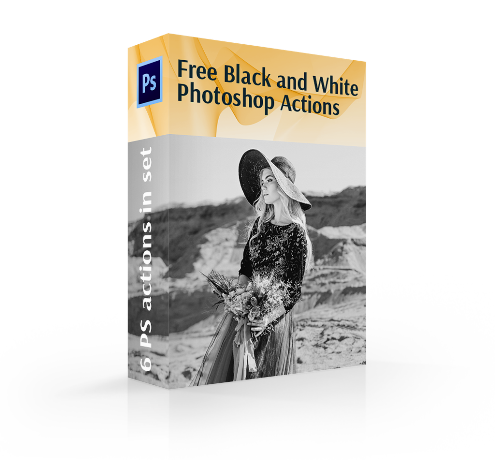 6 Free Photoshop Black and White Actions Bundle:
---
Black and White Photoshop Actions Free
Our team of experienced retouchers made these automated tools not only to improve the quality of the picture but also add a certain old-fashioned look on the portrait photographs. It combines diverse print approaches, which ultimately add a certain monochrome touch with b&w notes to the image. Natural photographs are guaranteed.
These bundle will enhance your pictures and give them a delicate old-fashioned feel, without big changes and destroying the initial quality.
Features of Black and White Actions Photoshop Free
6 unique and free actions.
Suitable for any genre of digital photography and are completely accessible to additional manipulations.
These free Photoshop black and white actions can be installed to the Adobe PS versions from CS3 to CS6, as well as on Creative Cloud and even on PSE devices 11-18.
For Mac and PC devices
May be handled with images in RAW or JPEG formats.

Photoshop Black and White Actions Free
---
Black and White Photoshop Action #1 "Classic"