Professional Photo Editing > Free Photoshop Overlays > Free Sun Splash Photoshop Overlay
Free Sun Splash Photoshop Overlay
Liven up your photos taken outside, make them more natural with the help of free sun flare overlays for Photoshop. The professional collection of free Photoshop sun flare overlays for photographers consists of 10 high-quality filters that will add realistic sun flares to your pictures by means of photo editing. Turn a boring photo into a quite dramatic, beautiful and natural image.
It is often very difficult to get a good shot of a natural sun flare, especially when nothing but natural light is used and the contrast between light and dark areas of the image is very strong. Fortunately, FixThePhoto retouchers have designed this sun splash Photoshop overlay bundle to simplify and speed up photo editing for you.
---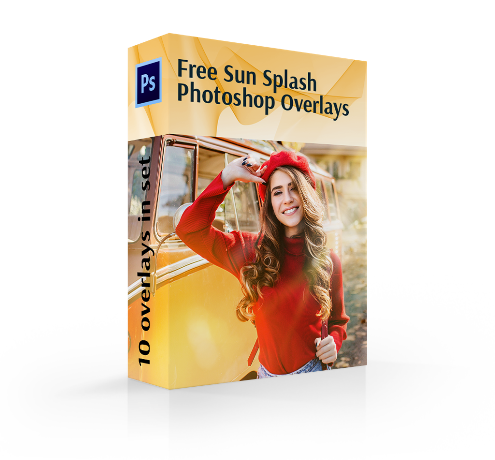 Sun Flare Overlay Photoshop Free :
---
Free Sun Flare Overlays for Photoshop
It is very easy to turn an ordinary portrait photo into something special. All you need is a set of free sun flare overlays for Photoshop, any version of Adobe Photoshop, basic knowledge of the usage of this program and a flight of imagination.
Just choose the photo you like and feel free to experiment by adding free Photoshop sun flare overlays that will change the color, brightness and hue of the photos, add a little magic in several clicks!
The free sun flare overlays for Photoshop were created in our professional studio with the help of special light equipment, such as a high-end camera and a reflective glass. We were constantly changing light sources, its temperature and managed to achieve absolutely unique sun splash pictures of high quality which will make your simple photo look like an incredible piece of art.
Free Photoshop Sun Flare Overlays
The set includes 10 overlays with a variety of light effects
Overlay files are in the most widely used *. jpg format
Compatible with Adobe Photoshop versions from 4 to 6 and Adobe Creative Cloud
Can be easily downloaded, within a few clicks
Supported by PC and Mac
Can be applied to both JPG and Raw images

Free Sun Flare Overlays Photoshop
---
Free Ps Sun Flare Overlay #1 "Rainbow Lights"