Professional Photo Editing > Free Photoshop Actions > Landscape Photoshop Action
Landscape Photoshop Action
If you're still looking for landscape Photoshop actions, this is the best free bundle to enhance your nature photos in several clicks. Look through our 6 Free Photoshop Actions for Landscape Photography and choose your favorites. They add clarity, saturation, correct white balance, highlight tones and shadows. This set will significantly simplify your picture editing and color correction turning it into pleasure.
This Landscape Photoshop Actions Bundle is designed primarily for outdoor photography. These Ps filters make the sky, water, and landscapes pop in your pictures.
---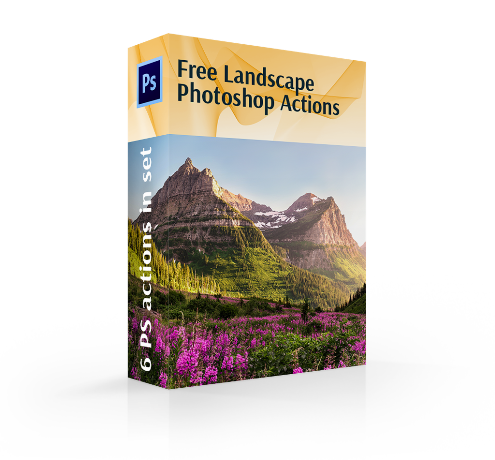 Photoshop Landscape Actions – Free Bundle:
---
Photoshop Actions for Landscapes
This set includes the Best Photoshop Actions for Landscapes offering you all kinds of plugins necessary for image editing and color correction. You have a chance to create the best image ever, so don't miss this opportunity! These tools improve light, colors, contrast, etc. resulting in an impressive professionally edited image. Don't worry, after applying these Photoshop actions for landscapes you will not lose originality and damage photo quality. The actions save the time during image editing maintaining your personal unique style. The PS actions are really user-friendly allowing you to apply some sophisticated techniques if you want.
Photoshop Actions for Landscape Photography
The collection consists of 6 Photoshop actions
Fully customizable according to your personal taste and style
Compatible with Photoshop CS3-CS6, Creative Cloud and PSE 11-1
Work on Mac and Windows
Both formats (RAW or JPG) are supported

Free Landscape Photoshop Actions
---
Landscape Photoshop Action #1 "Colorful"