Professional Photo Editing > Free LUTs > Free Film LUTs
Free Film LUTs
Give your videos a professional film-like look with these Film LUTs from FixThePhoto. To create this collection, our video editing specialists have studied many film styles and did their best to create a set of 10 Film Color LUTs for beginners and experienced video colorists.
You can make colors in your films warmer or add saturated blue tones, give a vintage vibe or tender matte finishing to the footage. There are many before & after video samples you can check before applying these filters, to see how each film LUT affect the video.
Now color grading will take no more than several minutes, as lookup tables are one of the best tools to transform your film in a quick way. Choose the LUT that matches your theme and atmosphere of the story. Such plug-ins can brighten some colors or accentuate details in RAW footage. You will have no difficulties using our film color LUTs, as they are made for work in any video editing software.
---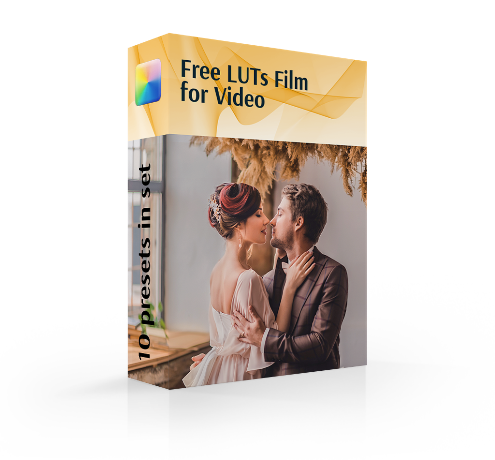 Film LUTs Free Collection:
---
Film Look LUTs
As an inspiration source while creating these best film LUTs, our videographers used different instant films, which were presented by Polaroid Company for their instant cameras. Such films had special chemicals that made the photo developing process fast and simple.
The film look LUTs from this pack have pastel colors, deep and slightly gloomy tones with interesting color combinations. Experiment with different LUTs and try them on a variety of videos, if you want to make them pop and intriguing.
Our Collection of Film Color LUTs
10 Professional Film LUTs
Available in .CUBE and .LOOK formats
Can be used in Sony Vegas, After Effects CC and other video editing softwares
Understandable even for beginners
Compatible with Windows and Mac OS
Instant downloading
Best Film LUTs
---
Free LUT #1 "Dusty Light"