Professional Photo Editing > Free Photoshop Actions > Winter Photoshop Actions Free
Winter Photoshop Actions Free
Check out this magical bundle of 6 Free Winter Photoshop Actions to add a touch of winter miracle to your outdoor and Christmas photographs. The collection is universal, so all Photoshop actions may be applied to outdoor and studio images, which lack some special joyful vibes. We made this winter effect Photoshop action bundle that match professional image editing standards. The collection includes 6 beautiful plug-ins, which will help beginning and professional photographers develop an individual style and express the charm of this season.
You may forget about long hours of monotonous image editing. With these Winter Photoshop actions, you may create a gorgeous picture in several clicks. Don't be afraid to experiment. Even if you lack some Photoshop experience, the actions are so easy to use, that you'll easily achieve the desired effect. You can use every Photoshop action Winter separately or combine several plug-ins for a more interesting look.
Many photographers face a challenge when winter shots are too bleak and deprive of bright, rich colors. In fact, it may be rather difficult to take a perfect image in snowy weather. Fortunately, you won't need to wait for suitable conditions or spend several hours retaking shots. Having downloaded this Photoshop Winter actions package, you get powerful and effective tools, which will help add necessary holiday atmosphere, snowy effect, falling snow, as well as adjust brightness, white balance, and saturation. If you are looking for a fast and creative way to improve winter images, you'll surely like this free Photoshop action Winter collection.
---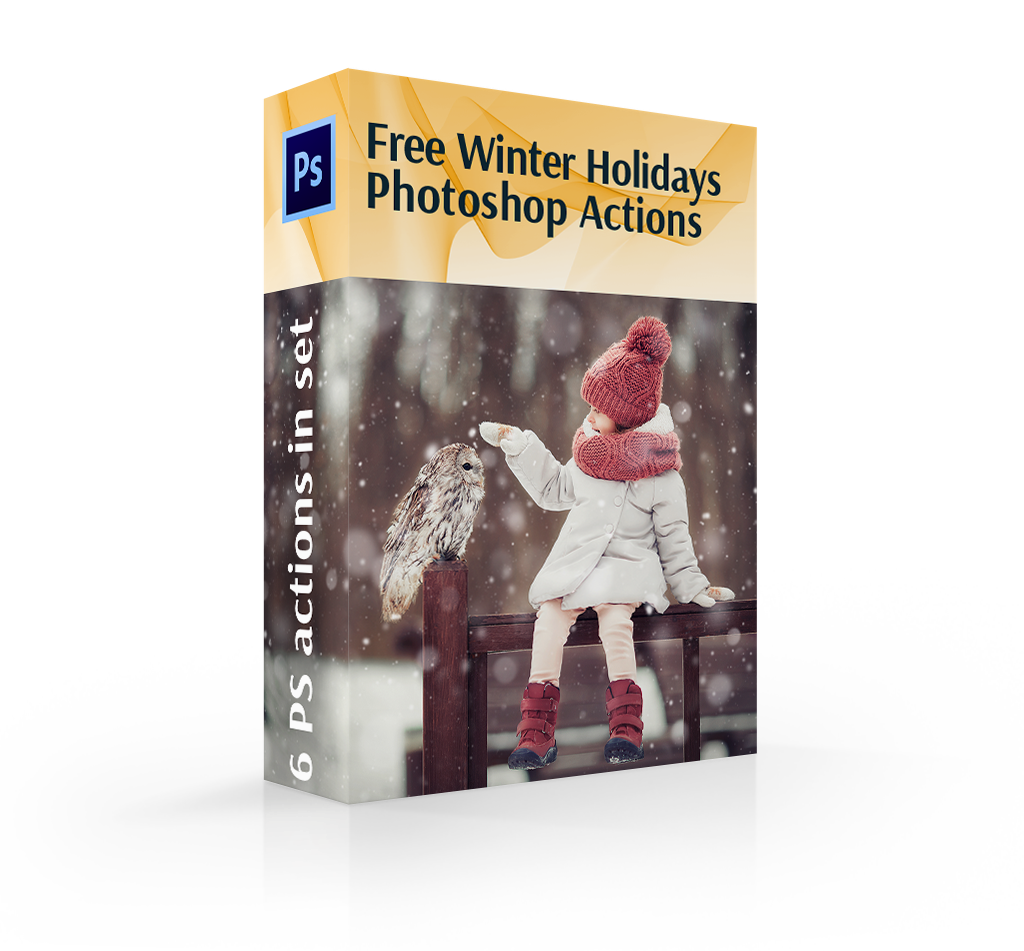 Winter Photoshop Action Pack:
---
Free Winter Actions Photoshop
These plug-ins are created by our digital artists, who know how to make dull and trivial winter shots pop. You can download the kit free of charge and improve sky coloring, eliminate deep shadows and brighten cold tones. There are 6 Winter Photoshop actions, so choose any you like in accordance with the picture you want to edit. They are primarily meant for winter photos, you can also use them for party photographs or other images that lack some holiday spirit. The actions are available in a convenient .ATN format, so you'll have no problems adding them to Photoshop. Simply press "Play" in the Actions panel and enjoy the process. It is advisable to evaluate the final result and customize Opacity manually if needed.
These Winter Photoshop actions are rather new but they have become very popular. There are some obvious reasons:
Speed Up Work. Photoshop actions are created to make the image editing process very fast. No need to adjust every parameter individually. Choose the suitable action and improve your personal or commercial photo projects.
Easy to Use. Both newbies and professionals can greatly benefit using these filters.
Perfectly Organized. The collection consists of six customizable Winter actions Photoshop that create an organized layer structure after they've been used.
Tested. To ensure flawless work, the designers tested each action on 100+ pictures. Thus, there will be no errors.
Cool Results. You need to use high resolution images, to get great results. If you are going to edit small photos, the small details will be almost invisible.
---

Winter Action Photoshop for Free
• 6 beautiful Winter Photoshop actions in the pack

• You can use both Windows and Mac

• Choose any convenient file format (JPG or RAW)

• The plug-ins are compatible with PSE 11-1, Creative Cloud and all PS versions

• You can adjust the action according to your needs
Photoshop Winter Action for Holidays Photos
---
PS Action #1 "Christmas Tree"
Do you want to add tiny falling snowflakes to your pictures? This action will do just great. The snowflakes are evenly distributed across the entire frame and serve as a beautiful winter background. May be used for portraits, but it looks especially awesome with children pictures.
Action's group: Winter Photoshop Action
Tip: Apply it to dark photos that are taken without natural light.

---
PS Action #2 "Cracker"
This Winter Photoshop action is useful if you need to highlight the main object of the photo, keeping the background slightly blurred. You get large snowflakes, which even help to hide distracting elements in the background.
Action's group: Winter Actions Photoshop
Tip: It is suitable for both outdoor and indoor photos. The bokeh effect that appears will look beautiful in both cases.
---

Ps action #3 "Elf House"
The third plug-in from this kit makes the colors brighter. It suits holiday photos, and you can try it for wedding shots taken outside.
Action's group: Photoshop Winter Action
Tip: We recommend using this action to get a photo in cold colors.
---
Ps action #4 "Frosty Morning"
All the Winter actions Photoshop are very realistic, so if you want your pictures to acquire a frosty look – use this tool. Blue color becomes even colder, while warmer shades appear more distinct. Though, it is initially meant for outdoor pictures, you can apply it to studio photos to show a cozy atmosphere.
Action's group: Photoshop Action Winter
Tip: Apply this winter action for Photoshop to portraits to get a natural skin tone.

---
PS Action #5 "Hot Chocolate"
What can be more appropriate for a cold winter photo session that a "Hot Chocolate" action? The background becomes blurred and all the attention is attracted to your model. It is a win-win variant for indoor shooting, but you can also experiment with outdoor pictures.
Action's group: Winter Action Photoshop
Tip: We don't recommend using this action for photos with a snowfall.
---

PS Action #6 "Winter Tale"
Make your winter photos magically beautiful. If you wish to surround your model with glittering particles or large dancing snowflakes, this Photoshop winter action will be super useful.
Action's group: Winter Action for Photoshop
Tip: Use it to show the smallest details in your snowy pictures.
---