Professional Photo Editing > Lightroom Presets > Real Estate Lightroom Presets
Real Estate Lightroom Presets
The team of professional retouchers of our company made a set of the best Lightroom presets for real estate photography, which will simplify the photo editing and make it fast. All real estate photographers, bloggers, designers and realtors will appreciate the comfort in using these real estate presets Lightroom, their wide selection and saved settings of the curves, levels and contrast indicators.
Real estate Exterior Presets
Adobe Lightroom 5.2 and higher
Unlimited Number of Projects
Windows and Mac
RAW and JPEG
Comercial Use

41

Size

200 kb

Downloads

1254

Rank
These 41 real estate Lightroom presets cope with darkened places in the interior, remove unnecessary yellowness in the bathroom easily and quickly. The landscape and sky will get fresh colors and tones on your exterior photos. Any Adobe Lightroom preset for real estate from this bundle will make basic and thematic color correction on your property photos.
After applying the Lightroom presets real estate images will get a complete look and become more commercially attractive.
---
Lightroom presets for real estate photography bundle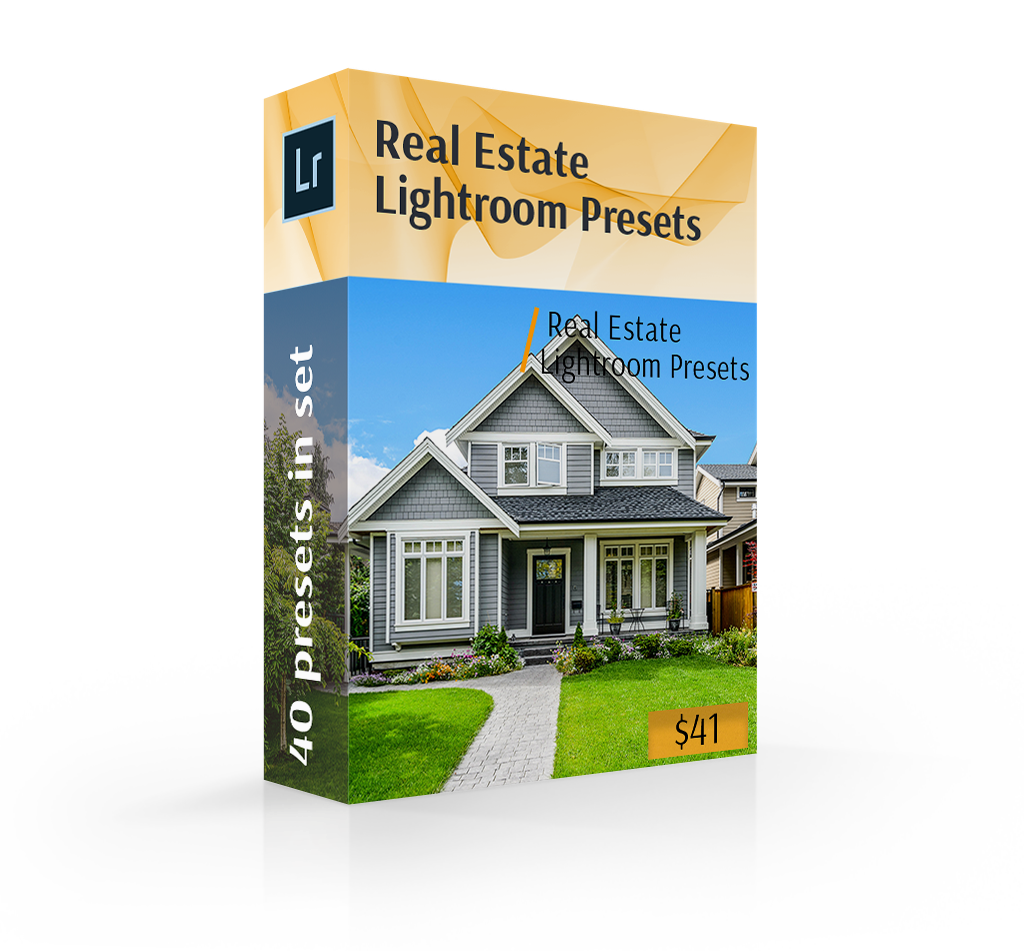 41 Lightroom presets for real estate photography
All Adobe Lightroom presets real estate from this package are suitable for working with any version of the program, from the 4th release to the CC version.
You can download and work with real estate presets for Lightroom on any device (including PC and devices on iOS and Windows).
A general recommendation concerning to any photo editing and operating with these Adobe Lightroom real estate presets is to use photos in RAW or JPEG format to preserve the overall quality of the image.
You can adjust all real estate photography Lightroom presets in this bundle to your taste and your clients' desires.
The best Lightroom presets for real estate
The presented Lightroom real estate presets are designed according to the basic principles of quality and universality, and have the following advantages:
This amazing pack of real estate interior Lightroom presets will easily cope with keeping the white colors white, the interior will stay cozy and light. If you have window light in the room – these LR presets will correct the white balance and make the outcome amazing.
The most common corrections in real estate photo editing are working with white balance, lighting dark places (especially the room's corners), contrasting dark spots, making accents on the exposure and the ability to convey the atmosphere of the room with textures of objects and correctly expressed color scale. In such cases, these best Lightroom presets for real estate will make these corrections in one click and improve your property photo.
This set includes the basic Lightroom presets for real estate photography that should be in the collection of each photo retoucher who work in the real estate photography business. Such Lightroom plugins are Real Estate Contrast, Real Estate Dramatic Details, Real Estate Sharpening, Real Estate Saturation, B&W, HDR, and White balance.
All users will appreciate the usability of real estate presets in Lightroom. Fast and easy installation of all LR plugins are guaranteed.
Made by experienced real estate photo retouchers. FixThePhoto's team developed each Lightroom real estate preset in this bundle, which has its own photographic style and specific Lightroom settings, so that they can be used to make natural photo editing.
This collection of Adobe Lightroom presets for real estate will speed up your photo editing, simplify your working process, and increase your efficiency. Make your customers be shocked by your turnaround.
Click on the real estate Lightroom presets download button and save your time for marketing your services and communicating with potential clients.
---
Customers who buy this item also buy: