Professional Photo Editing > Lightroom Presets > Matte dream lightroom presets
Soft Lightroom Matte Presets
Got tired of spending nights in front of a laptop? If you desire to apply a soft and gentle effect to your portrait or wedding photographs, we recommend downloading our set of Matte Dream Lightroom Presets. Our set has 70 LR filters designed by the retouchers who work in our photo retouching services. Each matte Lightroom preset will give a dramatic and romantic effect on the pictures, and improve your portfolio with amazing outcomes.
Matte Dream Presets Bundle:
Adobe Lightroom 5.2 and higher
Unlimited Number of Projects
Windows and Mac
RAW and JPEG
Comercial Use70
Size200 kb
Downloads986
Rank
Natural, creamy and classic, all matte presets for Lightroom will be perfect for any genre of digital photography.
The following Matte Dream Lightroom Presets are specialized in balanced color correction and creamy tints. The filters make any photographs beautiful. Each matte Lightroom preset of this package can be good for wedding photo sessions or graphic designers. Everybody will find something magic in these LR plugins. If you want to enhance your background or correct colors and shades – download the described Lightroom matte presets, after only 1 click realize your wishes.
---
Outstanding matte presets for Lightroom bundle: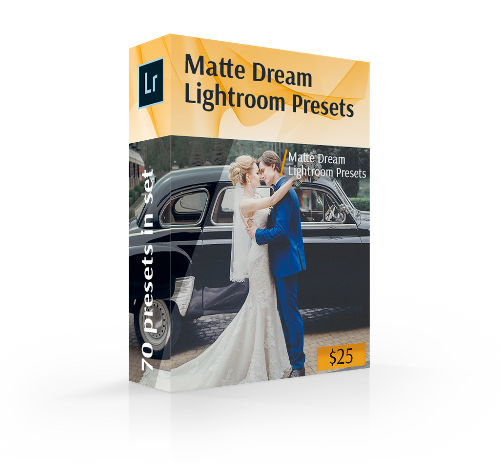 Premium package of 70 stylish LR presets
Can be downloaded to LR 5, LR 6 (CC), LR CC 2015
You can work with the plugins on Mac and PC devices
RAW and JPEG formats available
Can be simply corrected to fit your pictures and photography style
Amazing Lightroom presets matte
Be sure the following romantic matte Lightroom presets satisfy all photography needs and retouch pictures professionally and very fast. The following first-class pack of LR filters are created for every day working photographer and amateurs.
Why to choose FixThePhoto's Matte Bundle?
Speed – All settings and plugins are simple to adjust and are made for 1 click perfect outcomes. Spend your time for developing your photography business or relax!
Fashion magazine effect – These matte presets for Lightroom transform any picture from simple to a High End photograph from a billboard that your customers will absolutely like.
Easy – It is the fastest and simplest way to retouch photos in Lightroom!
Stand out – Be unique and amaze the potential customers with beautiful samples. These matte presets for Lightroom were approved after testing on many of varied portfolios to come up with a unique and soft look reminiscent of film.
---
Customers who buy this item also buy: