Professional Photo Editing > Lightroom Presets > Matte presets for Lightroom
Matte Lightroom Presets
The Matte effect and blurriness is very trending editing technique in digital art industry – wedding, portraiture, event, couples, family, children photography. Such filter is used to emphasize the mood on an image. It looks especially great in combination with warm vintage shades that are available with our Lightroom matte presets. The effects produce classic nostalgic sentiments for your shots. Our experts have decided to facilitate a time-consuming process of photo adjusting and prepared matte Lightroom presets. Now you can quickly achieve this effect using all versions of the LR program and non-destructive image post processing methods.
Use Lightroom Presets for:
Comercial Use
Unlimited Number of Projects
JPG & RAW photos
Lightroom 4-6, CC
Comercial Use30
Size115 Kb
Downloads687
Rank
Download the Lightroom presets matte submitted below, and you will have the opportunity to edit photos, improve their quality, literally in one action. You can appreciate all the variety of Lightroom matte presets, which has 30 effects in one concept but for different styles of photos. Lightroom presets matte, which our professionals created, are based on warm tones and blurred contrast, as in old analog films. You will achieve this result with the help of corrective layers and overlay modes of our automatic matte presets for Lightroom.
---
Matte Lightroom preset bundle:
Focal points of plugins are the next: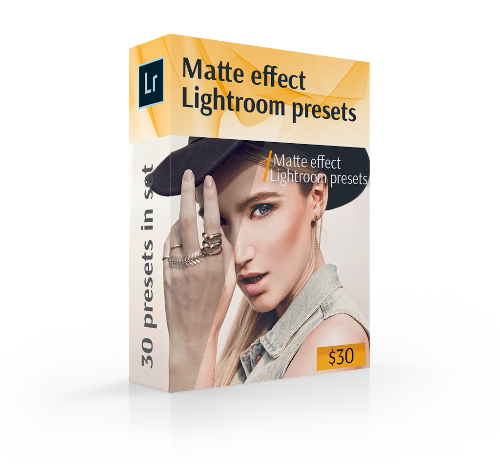 A selection of original effects with one style included 30 Lightroom matte presets and you can check them downloading as we wrote.
Our matte presets for Lightroom 4 are suitable for other versions of the program, such as 5.6 and CC releases.
Any matte Lightroom preset will ideally be applied to photos independent of software (PC or Mac).
For the trouble-free use of these matte presets for Lightroom and for convenient storing, it is better to use the images in RAW and JPEG format.
The entire selection of our matte Lightroom presets is fully fallen under the additional settings to get the desired result.
Lightroom presets matte
(technical features of the given effects)
Our matte presets for Lightroom collection is perfect for varied genres of photos: landscapes, portraits, wedding and children's photos, boudoir images and simple everyday photos. Each photo will have its own personal style, depending on the applied matte Lightroom preset color gamut will be muted or on the contrary shaded, the defects are eliminated, the details are highlighted, and the quality is improved. Matte Lightroom presets will enhance the quality of photos taken on the phone or in poor conditions, and their ease of use will be clear even for beginners.
Universal and unique at the same time Lightroom presets matte will automatically perform a skin retouch, give a professional touch, and the color effects of any matte Lightroom preset will provide you with an infinite number of transformations of photos into a work of art.
The matte presets for Lightroom bundle components:
---
Matte soft
Matte cold
Matte purple
Matte saturation
Matte soft light
Warm contrast
Nice colors
Tonning blue shadows
WB for warm
Soft contrast
Matte light
Matte medium
Medium contrast vignette
Soft light grains
Medium for light
Matte tonning

WB medium
Bright warm
Soft color
Matte warm colors
Warm colors vignette
Chocolate for light
Chocolate for dark
Matte chocolate medium
Chocolate hard
Chocolate vignette
Matte soft
Warm tonning
B&W grains
B&W medium contrast
---
Save your time on photo post processing, show artistic taste and then this process will bring you pleasure.