Professional Photo Editing > Free LUTs > LUTS for Premiere
LUTS for Premiere
There are so many LUTs for Premiere Pro and you can find many color grading filters to give your video footage a professional look. You can create LUTs on your own but there is no need to do it, as we have compiled a collection of the best LUTs for Premiere that is available free of charge.
You'll find many high-quality plug-ins that suit different video styles – vintage, cinematic, wedding, travel, landscape, etc. If you need to alter the coloring of your clips, these free LUTs for Premiere will also come in handy as they can make tones warmer, more saturated, add bluish tints, rich shades, etc. All the LUTs in this package help regulating basic parameters such as brightness, contrast, shadows, highlights, saturation to make your footage look refined.
Trying to satisfy the need of both experienced and novice video editors, we created the collection of the best free LUTs for Premiere that are easy to use and that can boost your creative potential. Using these tools, you can save your time and shorten the video editing process twice. All the LUTs are developed by experienced specialists, so the final result doesn't require fine-tuning.
---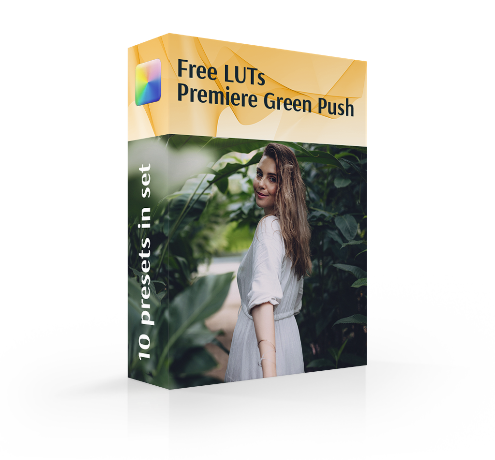 Free Luts for Premiere Collection:
---
Best LUTS for Premiere Pro
If you have ever tried editing your videos with the help of LUTs for Premiere, you know how effective color grading becomes. The tasks that used to take many hours are now performed in a matter of second. These filters are also an awesome possibility to expand your skills and learn new features of the software.
Adobe Premiere has been one of the main programs for video editing for a while. That's the main reason why video editing specialists decided to improve its functionality even more with the help of LUTs. Premiere Pro is a perfect tool for video post-processing, no matter what footage you are going to enhance. The software is equally popular among professionals and amateurs. That's why we decided to please our users with a powerful kit of the best free LUTs for Premiere.
All LUTs are available in the universal .cube format, so you can use them in other video editing programs as Vegas Pro, After Effects CC, FCPX, DaVinci Resolve and more. Either you need to improve colors, give your footage a certain mood or turn it into a Hollywood-looking movie, you can safely rely on this set of free LUTs for Premiere. The diversity of plots they go well with is truly endless – romantic, trip, urban, nature videos and anything you can imagine.
Download LUTS for Premiere
10 Best Free LUTs for Premiere Pro
Available in .cube and .look formats
For smooth work in many video editing programs
User-friendly
Suit beginners and professionals
PC and Mac
10 Best Free LUTS for Premiere
---
Free LUT #1 "Obsidian"