Professional Photo Editing > Free Lightroom Presets > Food Photography Lightroom Presets Free
Food Photography Lightroom Presets Free
Good food pictures can make a viewer hungry, convince the visitor of the restaurant to buy a dish, and sell a lot of food and cooking books online. But creating a quality food picture requires special effects and color correction which you can achieve by using food photography Lightroom presets free by FixThePhoto.
We have gathered a bundle of 10 different and unique food photography Lightroom presets free, which you can apply to enhance the photos of dishes if you want to get results similar to those that you see in glossy magazines and books.
Our free Lightroom presets food collection will be useful and take a liking among food photographers, bloggers. The food photography Lightroom presets free will come to the aid of the owners of food establishments who need colorful catalogs and attractive advertising in social networks.
Your photos will be charged for success, they will gain an individual style. Bright and juicy photos are sold much better because smart photo editing really enhances the boring images. Lightroom presets for food photography are an excellent tool to induce the appetite of the spectator and make him/her eat or buy this meal.
10 stylish Lightroom presets food photography are created by professionals and are ready to download. You are not limited only by these effects settings, as you can edit each LR presets according to your taste. FixThePhoto Lightroom presets food free will become an assistant and the key basis for mouth-watering images of food.
---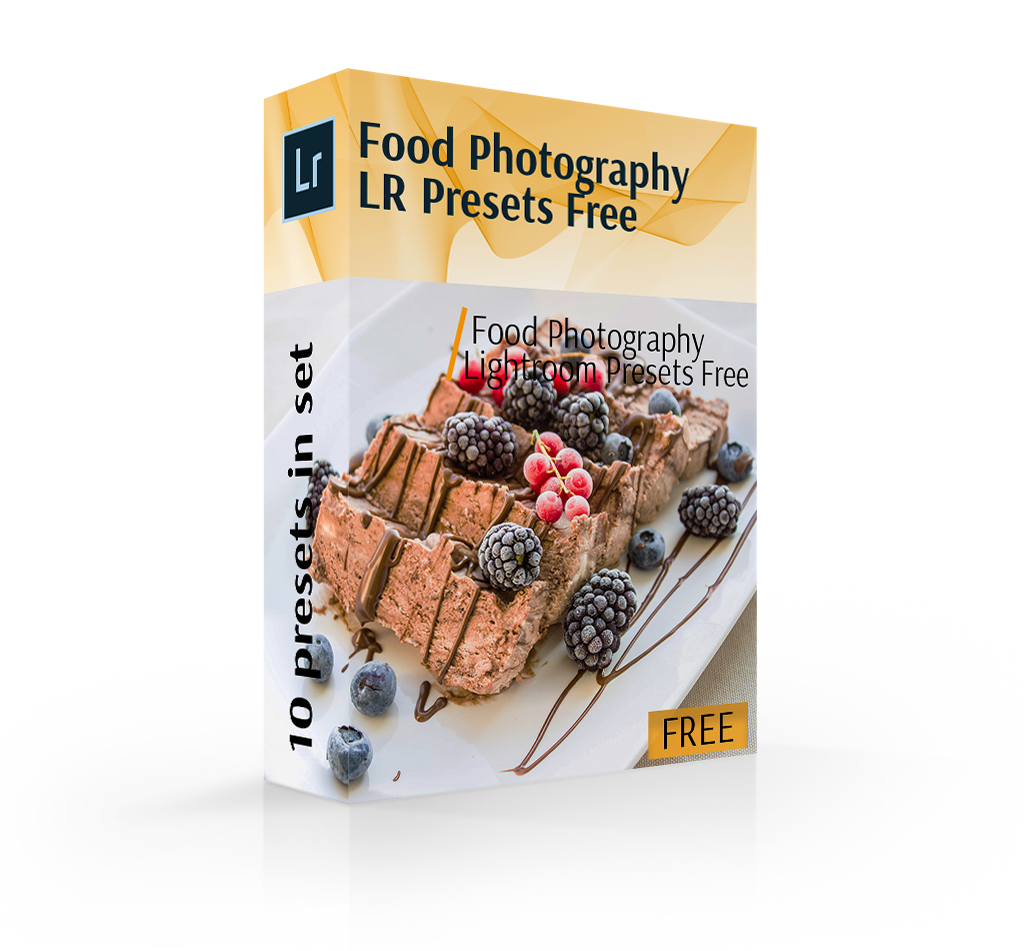 10 Lightroom Food Presets FreeBundle Includes:
---
Free Lightroom Food Presets
This set is recommended for all food photographers, from amateurs who take pictures of their breakfasts and food in a restaurant on a smartphone to professionals who are working on restaurants and shoot menus using a professional camera. These free Lightroom food presets will be useful in both cases and give your dishes life, juiciness and brightness to the colors. The settings of the given free food photography Lightroom presets provide the instant improvement of the picture, its quality, infuses the style and makes the food look tastier.
The photos will become visually appealing, the photo editing process will be quicker, and you will have more time for creativity. You can apply Lightroom presets food free with a single click, besides, the downloading does not take much time. Our Lightroom food presets free will fix the white balance, adjust the contrast and brightness of your food image, help to place the necessary accents, add shadows and correct the exposure. You can appreciate the quality, diversity, and style of our free photography bundle right now.
---
Free Food Photography Lightroom Presets
---
LR Preset #1 "Saturation"
Today, the pictures, which are taken in dark balances with bright light elements, which give depth to the image and simultaneously place the necessary accents are in the trend. With this food preset Lightroom, you can achieve the minimum saturation that spice up the photos.

---
LR Preset #2 "Reduce Bright"
Any Lightroom food photography must carry a certain style, which will be easily recognized. Make color toning of the food images, experiment with the settings of this preset and you will get a wonderful result.
---

LR Preset #3 "Contrast"
You can spark the desire of the viewer to eat or drink the contents of the image, changing the its contrast and making the photo composition sharper. This preset makes the colors literally jump out, and the note of the cross processing Lightroom will help make the photo juicy.
---
LR Preset #4 "Matte"
Bring some magic into the image with this food preset Lightroom. It is a soft but bright touch, which will be in the result of warm toning. It will not make the photos yellow, but on the contrary, will emphasize the beautiful pale and cool mood. It is usually used by Instagram food lovers.

---
LR Preset #5 "Clarity"
The next one in this food photography Lightroom presets download list is the clarity effect, which settings change the indicators of the tone curves and the figures of color scale. Together all these changes turn your food photos into the pages of a top cookbook.
---

LR Preset #6 "WB Contrast"
When you need to make your food photo naturally b&w, and other food Lightroom presets cannot cope with this, only this effect can make the necessary adjustments in overall lighting and emphasize the main details of the food.
---
LR Preset #7 "Warm Contrast"
This effect is included in the list of the best presets for food photography, thanks to the contrasting colors it gives your photo, which goes along with a separate toning of the image. The preset makes magic warm contrast which reminds the dishes been prepared at your childhood.
---
LR Preset #8 "Brightening"
To show juiciness, clarity of food and feel it exactly in a mouth can become real having used these Lightroom presets food photography, which are forwarded to increasing the brightness of the image. Pieces of food look appetizing when they are falling glare.
---

LR Preset #9 "Bright Yellow"
This professional food preset Lightroom will help you bring harmony into the image by increasing Clarity and lowering Highlights. Photos will become warmer, and the color gamut of food images will be enhanced.
---
LR Preset #10 "Magic"
This is the simplest and exclusive food preset Lightroom at the same time, which will transform any photo where there is food into stylish one. The settings are aimed at adding light to the picture, the volume of elements is achieved by increasing the shadows.
---
Turning a set of ordinary food photos into the delicious images will make some difficulties even for a professional. That is why using food Lightroom presets free is the best way to make your photos more appetizing and stylized for both Instagram and a cooking book. Make sure that our Lightroom free food photography presets can force you to "eat" your photos.
---
Helpful Video Guide about Lightroom Presets
---
More Free Lightroom Presets by FixThePhoto
Do you want more Free Lightroom Presets? Check out what we have.
---
---
---